Kansas City, Mo. — A man of few emotions and even fewer words, Kansas sophomore Udoka Azubuike was particularly engaged during top-seeded Kansas' Wednesday afternoon practice at Sprint Center.
There was, however, a problem.
Azubuike's elevated activity and energy at the practice came with him wearing street clothes and serving purely in a supporting role ahead of his team's opening game of the Big 12 tournament. The Jayhawks will face Oklahoma State at 1:30 p.m. Thursday.
Azubuike will not play in this weekend's Big 12 tournament, no matter how long the Jayhawks stay alive, Self announced early Wednesday afternoon, because of a sprained medial collateral ligament in his left knee.
The injury occurred with about 10 minutes remaining in Tuesday's practice, one of two consecutive practices that Kansas Self classified as solid, featuring the Jayhawks going hard the entire time. According to Self, who lamented the timing of the injury and said he felt as bad for Azubuike as anything else, his center was injured on "a routine basketball play."

Photo Gallery
KU Basketball Practice at Sprint Center - Big 12 Tournament 2018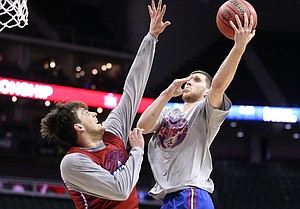 KU Basketball Practice at Sprint Center - Big 12 Tournament 2018
"The ball was shot and he kind of ran around his man to get the rebound and a body kind of crashed into his man and knocked him off balance and he just kind of fell into him," Self explained. "Total freak thing."
Self said he did not know at the time that Tuesday's collision would cost Azubuike playing time and added that even Azubuike's teammates were saying, "Come on, Dok. Get up."
"I could tell the longer he stayed down that (KU associate director of sports medicine) Bill (Cowgill) was concerned," Self added. "He didn't have a lot of pain. It was just loose."
Azubuike had an MRI as soon as practice was over and the results of that, along with a diagnosis from Dr. Jeffrey Randall, revealed a Grade 1 sprain, which, in the medical world, is the least severe sprain a person can suffer.
"Similar to an ankle or whatnot, there's obviously a ligament that's strained or stretched and it's too loose to put him back out there," Self said. "But these are injuries that I've been told the healing process can begin very quickly, at 48-72 hours."
Azubuike, who missed all but 11 games of his freshman season because of a broken wrist, displayed a positive attitude almost immediately.
"Dok's young, and last year, when he broke his (wrist), it messed with him," Self said. "This year, it seems to me, would mess with him more, and he's been coaching the guys."
Added KU senior Devonte' Graham, who shared Self's disappointment for Azubuike: "Last year was the first time he had been injured like that so he was real down and depressed. But he's actually had a pretty good attitude since this morning and at shoot-around, he was out there clapping and stuff like that. He didn't seem as down as he was last year."
Self told the team the news Wednesday morning, before Azubuike got to KU's team meeting. When the KU big man did arrive, Self had instructions for him.
"I said, 'Dok, these guys need help,'" Self shared, referencing KU forwards Mitch Lightfoot, who will start in Azubuike's place, and Silvio De Sousa. "And he sat there and he talked to Silvio the whole time about certain things. He's maturing. He's disappointed, but he can help us win games. Not as much as he can from being on the court, but he can put his handprint on it being off the court, too."
Azubuike continued to take his mentor role seriously during Wednesday's practice, encouraging De Sousa and Lightfoot throughout the session and talking individually to each one when the other was on the court executing Self's instructions. He walked stiffly and with a slight limp and appeared to be wearing some kind of brace on his left leg under his black McDonald's All-American Game pants.
While Azubuike was playing the role of temporary coach, KU's actual coaches continually yelled, "Talk to him, Dok," reminding the sophomore that KU's healthy big men needed him Wednesday more than ever.
It remains to be seen what the Jayhawks (24-7) will look like with Azubuike out of the lineup, but both Self and Graham said the team had options.
"We can maybe play to shoot the 3-ball more and play some zone to rest some guys," Self said. "We can do some different things. But certainly ball screen defense is what I'd be more concerned about than anything, because Dok's as good a ball screen defender as there is."
Graham, who leads the team with 224 assists (7.2 per game), many of them coming on lobs to Azubuike, said not having the 7-footer on the floor would be "different," and added that he thought his team would likely rely on jump shots a little more.
"You can't throw the ball up to Mitch and Silvio like you can to 'Dok just because of how athletic he is," Graham said before discussing a possible five-guard lineup. "We ran it earlier in the year. It didn't look too good. So we're probably going to stick to the four guards and one big. But if they get in foul trouble then we might have to do something with five guards and maybe just throw it out there and see how it works."
Azubuike's injury, the latest in a line of bad luck for KU big men near the end of the season — a back injury cost Joel Embiid the end of the 2013-14 season and Cliff Alexander missed the end of the 2014-15 season because of eligibility issues — is similar to the one suffered by former KU forward Perry Ellis near the end of the 2014-15 season.
Ellis suffered a mild sprain of his MCL in a Senior Night game on March 3, 2015, sat out the season finale at Oklahoma four days later, missed KU's Big 12 tournament opener on March 12 and was back in the starting lineup for KU's Big 12 semifinal game on March 13.
Even though Ellis was not quite his normal self upon his return, he averaged 28.3 minutes per game during KU's final four games of the season — including 34 minutes in a second-round NCAA Touranment loss to Wichita State — and Self is optimistic that Azubuike could follow a similar timeline in the days ahead.
"We just don't have much time to deal with it," Self said. "But he's definitely not playing this weekend regardless."
In the statement announcing Azubuike's injury, Self said, "our expectation is that he'll be back on the court next week."
"That's what the doctors have told me," Self said. "They said there's no guarantees because you don't know how fast some guys heal."
With both options still in play, Graham and the Jayhawks are proceeding with cautious optimism.
"I just feel bad for him," Graham said. "It's just terrible timing. You know he wants to be out here playing."
Asked if he had a feel for whether Azubuike would play again this season, Graham sounded hopeful.
"Like coach said, if his attitude is right and he approaches recovery and treatment like he's supposed to then he should be back," he said. "(If he doesn't play), we're going to have to be (OK). We can't think about it. If he's not playing, we just have to do next man up.
"The talk this morning was just, it is what it is. You can't make him play through that. We've just got to go on and play. If it's a week or two, we've just got to go on and figure out how we're going to do it without him and the best thing for us to do is win so that we can get him back."
https://www.youtube.com/watch?v=xrsMU7g_kUw
https://www.youtube.com/watch?v=qFubcYNpRxY
https://www.youtube.com/watch?v=6ivEQeFmwyA