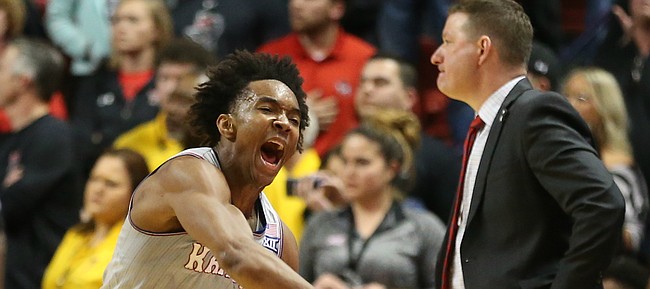 To assume that Devonte' Graham was named Big 12 player of the year simply because he is the best player on the best team is to sell him way short.
That always helps a player's chances, but in the case of Graham, he also happens to have had the best conference season of any player in the Big 12.
And he did it with very little help in areas where Kansas point guards typically have no shortage of capable assistants.
Sherron Collins had Russell Robinson and Mario Chalmers sharing the load early in his career, Tyshawn Taylor late.
Frank Mason had Graham by his side for his final three years.
Graham? He's flying solo.
"You know, there are a lot of things that I wish that we could do that would take pressure off of Devonte'," Kansas coach Bill Self said Monday. "When I look at Malik (Newman) or Lagerald (Vick), I almost look at, 'Well, here's what you do, but what did you do to help him?' I'd love to see Malik be able to say, 'I want to guard the other team's best perimeter player.' I would love to see us be able to initiate offense with Malik so Devonte' doesn't have to. And those don't have anything to do with stats, but those are things that would help our team a tremendous amount."
That's why Graham played 40 minutes in 12 of the final 14 games of the regular season.
"If you need to rest Frank, you can play Devonte' at the point," Self said, looking back. "We don't have that luxury this year."
All of Graham's intangibles contributed to him unanimously winning the award, for which coaches can't vote for their own player, but the tangibles were good enough as well.
Averaging 18.7 points in conference play, Graham ranked behind only Oklahoma's Trae Young (27.4) and Kansas State's Dean Wade (18.8).
Graham's seven assists per game put him second to Young (8.1), but Graham's 2.6-to-1 assists-to-turnovers ratio blows away Young's 1.3-to-1.
Graham shot .408 from 3-point land in Big 12 play, Young .328 to go with 6.1 turnovers per game.
Young's coach figured Graham would win the award.
"Devonte' had a terrific year and was the leader of their squad," Lon Kruger said on Monday's Big 12 conference call. "I'm not surprised or disappointed to see Devonte' win the award. He impacts the game in so many different ways. He hits a lot of big shots, hits his free throws late, he's a very good defender, team leader. You can go down the list a long way with outstanding qualities with Devonte'."
K-State coach Bruce Weber appreciates Graham's versatility.
"I think he's improved every year since he got there, and added stuff to his game, went from being the other guy to being the guy," Weber said.
"He's been very good handling the basketball, running their stuff. He's good in their ball-screen (offense) and good in transition, always making the right play. He's very good at probing the defense. They have good shooters on the outside and he knows how to set them up."
Point guard is the deepest position in the Big 12 and Graham consistently found a way to prevail against varying styles.
"He took it upon himself to make it be his team and did all the things necessary to help them win," Baylor coach Scott Drew said. "Trae's been really, really good with unbelievable numbers. I just think coaches appreciate it when a player helps his team be successful and that's what Graham has done."
Nobody has played as big a role as Graham in KU's multiple comeback victories against West Virginia in recent seasons. In seven games vs. the Mountaineers the final three seasons of his career, Graham has made 22 of 43 3-pointers (.512) and averaged 14.3 points.
"I think it starts with 14 consecutive championships," Huggins said, explaining his vote for Graham. "Then I think the fact that he's had really big games when he had to, that's the biggest thing that I see. When they have a challenge, he's the guy who's right in the front of the team leading them to victories against the better teams in the league."
None of the coaches sounded as if they had a difficult time stuffing the ballot for Graham. It was an easy call.