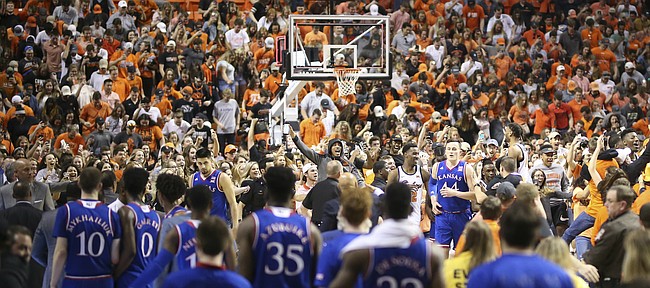 STILLWATER, OKLA. — The idea for sixth-ranked Kansas heading into Saturday's regular-season finale at Oklahoma State was to use the game as a mulligan of sorts to avenge a subpar effort that led to a home loss to the Cowboys back in February.
Instead, the Jayhawks got more of the same.
In a game that started poorly and merely got worse as the afternoon wore on, the Jayhawks (24-7 overall, 13-5 Big 12) suffered their worst defeat of the 2017-18 season and will enter postseason play on the heels of an 82-64 loss instead of six consecutive wins.
Although Saturday's beatdown had a handful of big-picture ramifications that included coach Bill Self being swept by an opponent in a home-and-home series for the first time in his KU career and the Jayhawks' NCAA Tournament seeding possibly becoming a little more up in the air, the only thing on the minds of the KU players and coaches on their way out of Gallagher-Iba Arena after this one was figuring out why it happened and how they could prevent it from happening again.
Photo Gallery
Kansas basketball v. Oklahoma State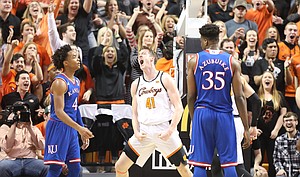 View a gallery of images from Saturday's game between the Jayhawks and Cowboys at Gallagher-Iba Arena in Stillwater, Okla.
"We don't put fear in anybody," Self said half an hour after overjoyed OSU fans stormed the court to celebrate OSU's first sweep of Kansas in 35 years. "We used to play people and there was doubt before they played us whether or not they could play with us. There's not that doubt this year."
That showed on Saturday's very first possession.
After Kansas won the tip and put the ball in the hands of potential Big 12 player of the year Devonte' Graham (15 points and eight assists in 39 minutes) to start the game, the Jayhawks turned it over when a Graham pass intended for Malik Newman was plucked away by OSU senior Tavarius Shine, who simply outworked Newman to the ball.
"First possession, you run something and a guy doesn't even try to get open, doesn't even try," Self said. "So that kind of set the tone. … Once it went bad, it started going worse."
Added Graham: "From the jump, they pretty much had our number."
KU's defense was vulnerable from start to finish and, for the second time this season, had a hard time slowing down OSU point guard Kendall Smith and the rest of the OSU perimeter players in the game's opening few minutes.
"They're a lot more athletic than us at four spots," Self said when asked what it was about the Cowboys that made them such a tough matchup. "Their perimeter guys are more athletic than us and then their big guy (Mitchell Solomon) is such an anchor, and he played great today (16 points, seven rebounds in 23 minutes). Of the teams in our league, I think we probably match up with them as poorly as anybody, but also we helped them by not playing any tougher than what we did."
Offensively, the Jayhawks were out of sync and a step slow all half, struggling to the tune of 41-percent shooting and 30 points. The Cowboys, meanwhile, matched their Allen Fieldhouse first-half total with 46 points and took a 16-point lead into the locker room.
KU was better at times in the second half and actually came out with better rhythm, spacing and ball movement. That allowed the Jayhawks, who never led, to briefly trim the OSU lead to single digits. But Kansas never truly threatened during the game's final 20 minutes and continued to struggle defensively to the end.
"I don't know what it is," Graham said when asked why the Cowboys give Kansas such a hard time. "They just do a good job. You have to give them a lot of credit. They played very well today, shooting the ball, and they defended us, I feel like, better than any other team."
Asked what was most disappointing about Saturday's loss, Graham kept his response short.
"Just losing," he said. "I don't like losing. So, that's it."
If ever there were a one-two combination punch that knocked the Jayhawks to the mat, it came with just more than six minutes to play and the Jayhawks trailing by 14.
After an errant OSU miss just beat the shot clock, Graham picked up the rebound and quickly pushed the ball ahead to Newman, who took a couple of dribbles and launched himself toward the rim.
Newman was hit, the ball fell through the net and it looked as if KU might have an opportunity to trim the Cowboys' lead back to 11.
Instead, the official ruled that OSU guard Lindy Waters had drawn a charge and, 14 seconds later, Waters rose up over a flat-footed Newman and drilled a 3-pointer that put the Cowboys up 68-51 with 6:03 to play.
Like someone on roller skates headed downhill on ice, things really got ugly from there.
With 5:56 to play, after a lengthy conversation with one official about the Newman charge during a timeout, Self was slapped with a technical foul after charging 10 feet onto the floor following an illegal screen call on Svi Mykhailiuk. The ensuing free throws put the Cowboys up 70-51 and sent Gallagher-Iba Arena into full-on party mode.
"I deserved the technical," Self said.
The game was over long before the 2:25 mark, but Smith's shake-and-bake 3-point dagger over Graham was the final blow and illustrated clearly the one obvious thing that popped off of the stat sheet in both KU-OSU matchups — the Jayhawks had no answer for Smith either time.
In Lawrence, Smith torched the Jayhawks for 24 points and made several clutch plays down the stretch to help the Cowboys pull off the win in Allen Fieldhouse.
On Saturday, Smith outdid himself, scoring 25 points and exiting after yet another deep 3-pointer that sent the home crowd into a frenzy and allowed OSU coach Mike Boynton to pull him from the game for his Senior Day standing ovation.
Although the loss hurt in the moment, it did nothing to take away from what Kansas accomplished this season. The Jayhawks still won the Big 12 by two games. They set an NCAA record by winning their 14th consecutive conference title. And they're in the conversation for a No. 1 seed in the NCAA Tournament for the third year in a row.
With all of those things being true when the Jayhawks woke up on Saturday, it would be easy to see how Kansas could have entered the game with Oklahoma State (18-13, 8-10) feeling like it did not have much to gain.
But the Jayhawks refused to use that as a reason for their poor showing after the loss.
"It shouldn't have been a problem for us," said sophomore forward Mitch Lightfoot. "We could (say), 'Oh, we've won 14 straight already,' but, no, we can't use that as an excuse. We've got to come every game with intensity and a certain level of focus and we messed up on that, but we'll come back stronger."
That's the hope, according to Self, who said his message to the team after the game was "better now than later." But the KU coach just could not quite get past the idea of his team laying an egg in a game against a team it had every reason in the world to be fired up to play.
"I've always thought that losses aren't awful if you can learn from them and be better because of them," Self said. "We don't know if that's going to be the case. It's usually the case. We usually compete or get better through it. So hopefully we'll get better because of it. But what's sad to me is when somebody already kicks your ass once — it seems like, to me, that's plenty of motivation."