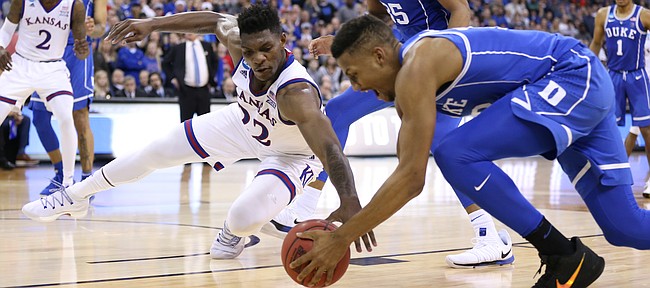 It's been more than two months since a federal indictment alleged the guardians of two unnamed University of Kansas basketball players — widely believed to be current KU big man Silvio De Sousa and former forward Billy Preston — received illegal payments in a scandal orchestrated by an Adidas executive.
But nothing that has transpired since leads head coach Bill Self to think De Sousa will be ineligible to play as a sophomore this coming season.
Speaking with reporters inside Allen Fieldhouse on Tuesday afternoon, Self was asked about his understanding of the extent to which the FBI's findings had been shared with the NCAA, and whether he was confident De Sousa could still play.
"I haven't heard one thing to the contrary with any of our guys," Self began. "Now that doesn't mean that that can't happen. But I haven't heard one thing to the contrary — all our guys were cleared by the NCAA. They were eligible last year and we haven't heard anything that that was not the case still."
The superseding indictment alleges two KU players received money. In the case of the first player, whose family was alleged to have received $90,000, it states the agreement to pay the family was made in or around October 2016 "shortly after the student-athlete, who was considered one of the top recruits in his class, unofficially committed to attend the University of Kansas."
On Oct. 1, 2016, Preston attended KU's "Late Night in the Phog" event. He then officially committed to KU in November. Preston never played in a regular-season game for KU during the 2017-18 season, and he hopes to hear his name called in this week's NBA Draft following a January departure from KU.
In the case of the second player, whose guardian allegedly received at least a $20,000 payment through Adidas executive Jim Gatto, the indictment states the player announced on Aug. 30, 2017 his intentions to attend KU, and that's the day De Sousa announced his commitment in an interview with the Journal-World.
Although Self stated neither he nor the university have access to all the details surrounding the allegations, he painted an optimistic picture regarding De Sousa.
"Based on what we've been told," he said, "right now we're in a good place."
De Sousa, who played in 20 games for KU this past season, has been on campus this summer taking classes and working out with the team. He's expected to be a major contributor in the Jayhawks' frontcourt during the 2018-19 season.
"What we've read is the same thing as everybody else has read," Self said. "But to the extent of how that translates to eligibility, we haven't been told anything on that."
KU's 16th-year head coach concluded his discussion of the 6-foot-9 forward from Angola by asserting his belief that De Sousa will be eligible for his upcoming sophomore season.
"And I know Silvio is very confident on it," Self added.