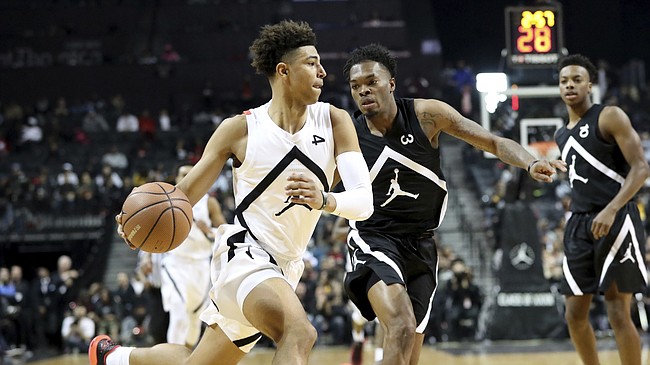 New to representing USA on an international stage, University of Kansas freshman Quentin Grimes took some time to feel out his surroundings this past week at the FIBA Americas U18 Championship.
Although Grimes entered the event in a unique position, playing for his college coach, Bill Self, the 6-foot-4 guard didn't interpret his situation as a green light to assume a starring role on a roster full of talent.
While versatile enough to find ways to affect the game regardless of his point production, Grimes eased into group play in St. Catharines, Ontario, Canada, scoring eight points on 4-of-9 shooting in USA's opener versus Dominican Republic. The next day, Grimes' 4-for-6 shooting gave him nine points in a 92-point mega-rout of Panama.
The US, of course, fared just fine with Grimes not seeking to take over offensively. But the 18-year-old from The Woodlands, Texas, revealed shortly after USA wrapped up a 6-0 week with gold medals that his KU coach made sure early on at the event to set his incoming McDonald's All-American free on offense.
"The first couple of games I was being a little bit passive," Grimes said during his post-game interview, shortly after USA beat Canada and he was named the tournament's MVP. "Coach Self took me aside and let me know I had to be a lot more aggressive for our team to go out there and compete for the gold medal. I just had to put my foot on the gas and not let up."
Though he never quite found his 3-point stroke during his week abroad (6 of 25 from downtown), Grimes finished the FIBA Americas Championship averaging 14.7 points on 49-percent shooting, with 4.0 rebounds and 3.8 assists averages to his credit. A 9-of-17 shooting night and 20 points versus Puerto Rico to conclude group play set Grimes up for the remainder of the event. His most productive outing came in the semifinals, when he put up 26 points on 10-of-21 shooting against Argentina.
"I guess that helped me get MVP," Grimes said of his talk with Self early in the week, also admitting the award surprised him a little.
KU's head coach obviously knew an unchained Grimes would benefit USA Basketball.
"He's a good player. I'll go on record and say he played terrific," Self said while speaking with reporters in Canada, after the gold-medal victory.
The coach made a point to add USA's Cole Anthony, Coby White, Matthew Hurt and Jeremiah Robinson-Earl all stood out throughout the tournament, as well.
"To me the individual things don't mean as much. I'm happy for (Grimes), or anybody that would have won it," Self said. "But, I was probably more proud and liked watching them play and how they tried to make each other better, and I think that's hard to do with a kind of all-star cast."
He only spent six games playing for Self, but Grimes attested to already learning "a lot" about himself and his potential through his early introduction to his new college coach.
"These past two weeks, Coach Self pushed me to limits that I didn't even know I could push myself to," Grimes said. "A lot of parts of my game – I didn't know I could lock down defensively like I can. So, with Coach Self, it's going to be great to go out there and play for Kansas. And it's been great to play for my future head coach."
USA's dominance
Overall the USA led in most of the major team statistical categories in the eight-team field at the 2018 FIBA Americas U18 Championship, including points averaged (114.5 ppg.), margin of victory (+49.3 ppg.), scoring defense (65.2 ppg.), field-goal percentage (.533), free-throw percentage (.752), defensive field-goal percentage (.340), rebounding defense (35.3 rpg. allowed), rebounding margin (+18.0 rpg.), blocked shots (6.83 bpg.), assists (29.0 apg.), steals (12.0 spg.), turnover margin (+9.17) and assist to turnover ratio (2.23.).
"Guys did a good job all week," Self said. "They like each other. I think when you're together for 20 days, if you don't like each other it can make for a long trip. That made this trip much shorter."
Coaches leaving a mark
Assisted at the event by former KU star and assistant and current Wake Forest head coach Danny Manning, as well as Dayton head coach Anthony Grant, Self said the coaches made a point to be "honest" with their assembled USA standouts.
Self said that not only involved telling the players how much the coaches liked them, but also pointing out what they had to do to improve.
"I would hope they understand better on how they're going to have to play at higher levels," Self said, when asked what kind of lasting impact the coaches may have made. "How they're gonna have to share it, how they're gonna have to enjoy playing for others as opposed to having others play for them, and I think that should go a long ways with them. I really do. Because I think what makes a good player isn't what the stat sheet says, and I hope they're buying into that."