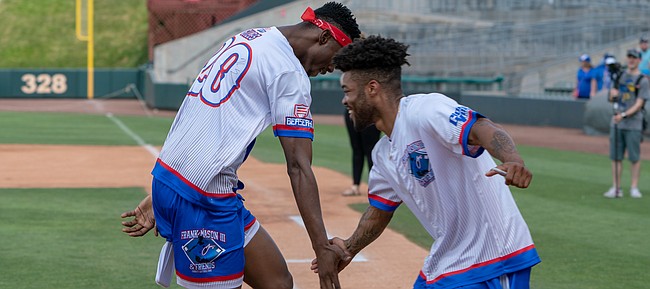 Kansas City, Kan. — Moments before the first pitch was even thrown, Frank Mason was hopeful that his charity softball game could become an annual event.
Mason, who played for the University of Kansas between 2013-17, will forever be attached to the area. And that is why the first charity event he coordinated — since getting drafted by the Sacramento Kings in 2017 — was held at a place close to Lawrence.
Satuday's softball game featured several former Kansas players at Community America Ballpark, an event that Mason created to benefit the Children's Mercy Kansas City and the National Youth Foundation.
"It's a great feeling," Mason said. "This is a special moment for me. This is my first time doing something like this. I plan on doing this yearly. I'm just excited about the whole process."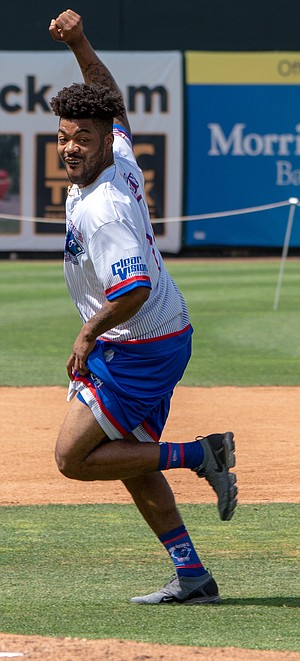 Mason, who won the Naismith Player of the Year along with many other accolades during his senior season, invited several of his fellow Jayhawks to help put on a show for the fans.
Wayne Selden, Travis Releford, Landen Lucas, Sherron Collins and assistant coach Jerrance Howard all supported Mason's efforts. In addition, Harry Giles of the Kings and Wesley Iwundu of the Magic competed in the event.
Mason's squad, which was the White team, jumped out to a 13-2 advantage in the bottom of the first. Everyone in the lineup got at least one hit, clubbing four homers in the process. Collins, who played at Kansas between 2006-10, belted a pair of home runs in the opening frame. His first blast hit the warning track in left-center field to drive in three runs.
"(Sherron) was a good baseball player," Howard said. "He was a good football player as well. Coach (Bill Self) always talked about going to watch him play football. He never got hit, he would just run out of bounds."
However, the final result and the individual performances had minimal importance on the afternoon.
"To do this and see all the kids, this is something special," Howard said. "When you go into kids' homes, this is what you talk about. You talk about life after Kansas basketball."
Even players with different collegiate roots were happy to help Mason. Giles spent the 2016-17 season with Duke, but agreed to help out his current teammate. Iwundu, who played for Kansas State, faced Mason several times throughout his four-year career.
Yet the two of them formed a bond over that span, which grew stronger during draft workouts before Iwundu was selected by Orlando with the 33rd pick and Sacramento took Mason one pick later.
"I'm excited to be here," Iwundu said. "I had to come out and show some love to Frank, he's a good friend of mine. It feels good to be back in Kansas City, a little bit closer to Manhattan."
The turnout demonstrated Mason's impact on those he has interacted with during his basketball career.
His biggest fan, however, was unable to attend. Kansas head coach Bill Self is currently directing USA Basketball's under-18 men's national team at the FIBA Americas U18 Championships in St. Catherines, Canada.
"If he didn't play, he would have come," Howard said. "Everyone knows how coach feels about Frank and his passion for Kansas. When we got him as a freshman to what he is now, coach sometimes tears up when talking about Frank. He definitely would have been here."
One season down
Mason finished his first season in the professional ranks, playing 52 games (two starts) for the Kings. Mason averaged 7.9 points per game in 18.9 minutes per contest. He also shot 38 percent from the field, including a 36 percent clip from long range.
But Mason is already looking ahead to next season, hoping he's more prepared for the lifestyle after his rookie campaign.
"It's been a great experience so far," Mason said. "It's great to have year one under my belt. Coming back with a year under my belt, I'm excited about that. I think I got everything figured out as far as traveling and schedule wise. I'm excited about this upcoming season."
Draft conversations
Mason is also ready for the upcoming NBA Draft, which will take place at 6 p.m. Thursday. His former teammates Sviatoslav Mykhailiuk and Devonte' Graham are both expected to hear their name called.
Mykhailiuk worked out in Sacramento this summer, in which Mason was in attendance. He did not see Graham's workout with the Kings, though he's stayed in contact with both players during the draft process.
"It's a big day," Mason said. "I can't wait to see where some of the guys end up going. I'm excited for all the guys, just growing up with them over the years and seeing their dreams come true."