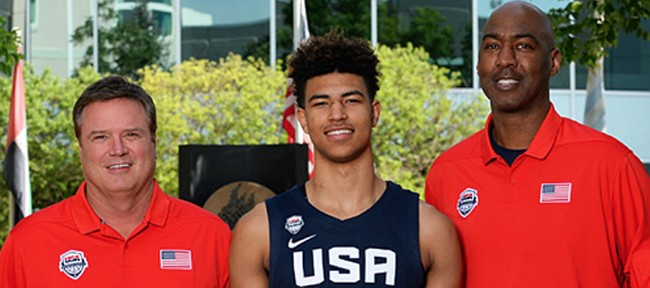 USA Basketball's U18 team faced its toughest competition to date at the FIBA Americas Championship Friday evening, but with University of Kansas freshman Quentin Grimes leading the way, head coach Bill Self's group of U.S. players knocked off Argentina, 104-92, in the tournament semifinals.
"We haven't really been challenged much," Self said of the first four games in St. Catharines, Ontario, Canada. "I thought Argentina played very well and smart. I think they exposed us in ways, because we've been able to be a little careless and loosey-goosey and not pay for our mistakes against some of our other opponents, and they made us pay for our mistakes when we weren't very sound."
The U.S., which improved to 5-0 at the event, took a 12-point lead into the fourth quarter and saw its cushion shrink to nine less than two minutes in, when Juan De La Fuente knocked down a 3-pointer. However, the Argentinians couldn't trim the margin any closer in the final quarter.
With the victory, USA secured its spot in Saturday night's final, against host Canada.
"It was a good win. Argentina's really good," Self said, before adding the absences of both Argentina point guard Francisco Farabello and U.S. guard Tyrese Maxey may have been a wash. "Canada beating them the way they beat them in the first game, by 17, it may be as impressive a win that there's been in the tournament so far."
A 6-foot-4 guard from Texas, Grimes scored eight of his game-high 26 points in the fourth, while also dishing two of his four assists.
"We showed that we can definitely bounce back even though they were cutting close," said Grimes, who also grabbed eight rebounds. "We didn't execute coach's game plan (in the first half). We came out executing it in the second half and came away with the win."
USA, which also got 25 points out of Alec White, as well as 16 from points and eight rebounds courtesy of KU recruiting target Matthew Hurt, shot 51.8-percent from the field. But Argentina, led by Francisco Caffaro's 22 points, made 50 percent of its attempts.
"We need to lock down on defense," Grimes said. "We gave up a lot of fast 3s (Argentina hit 6 of 19 overall)… Defensively we have to lock down a lot more tomorrow to win in the gold medal game."
Similarly, Self said the U.S. players would need to "amp up" their intensity versus Canada (7:15 p.m. CT) in order to go home with gold medals.
"You don't always play well when you have limited practice, but you can do a lot more to make sure the other team doesn't play well," Self said. "Hopefully we'll be better tomorrow, defensively."
Canada also improved to 5-0 Friday, defeating Puerto Rico, 95-89, in the other semifinal.
FIBA Americas games are live-streamed online at USA Basketball's Facebook page, as well as on FIBA's YouTube channel.