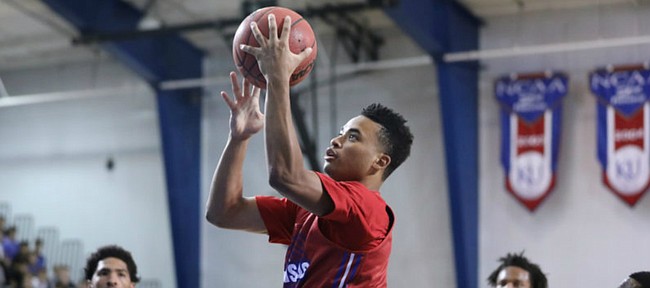 After back-to-back years of playing an All-American at point guard, the position will look distinctly different this coming season at the University of Kansas.
No Frank Mason III. No Devonte' Graham. No upperclassman in waiting.
So how do the Jayhawks go about replacing that kind of star power at such an important college basketball position?
"That won't be easy," longtime KU assistant coach Kurtis Townsend admitted this week.
While no one on Bill Self's staff would expect any player on the 2018-19 roster to immediately replicate the play of Mason or Graham, Townsend explained why the coaches feel optimistic about the merits of KU's current point guard options.
This season will be Charlie Moore's first in uniform at Kansas, but his third in a college program. Moore averaged 12.2 points and 3.5 assists in 34 starts at Cal, in 2016-17, before transferring to KU and spending his redshirt year practicing with the Jayhawks.
Moore, a 5-foot-11 redshirt sophomore, will compete with incoming 6-2 freshman Devon Dotson for the starting job.
"Devon's a McDonald's All-American, which Frank or Devonte' weren't coming in," Townsend pointed out of KU's famously overlooked floor generals. "So he's got all the tools. I think he's going to be really good."
Plus, sophomore Marcus Garrett can fill in at point guard when needed, Townsend added.
Selden expects Graham to stick in NBA
A 6-2 point guard hoping to hear his name called in next week's NBA Draft, Graham has worked out for several teams over the past month.
One of his recent stops took the projected second-round pick through Memphis, home of his former KU teammate Wayne Selden Jr.
"I heard he did really well," reported Selden, back in Lawrence this week to participate in various charity events tied with the Rock Chalk Roundball Classic, as well as Mason's charity softball game on Saturday, in Kansas City, Kan.
Selden caught up with Graham in Memphis after the fact, before both traveled to Lawrence for the festivities.
"Devonte' is not gonna praise himself or anything like that," Selden said of how Graham thought the Grizzlies workout went. "He's gonna just keep it how he is. But our guys that were in the gym told me he did really well."
Most mock drafts predict Graham will be selected late in the second round. Selden, though, expects his fellow Jayhawk to surpass the expectations of some evaluators.
"I think he's one of the best guards in the draft just because of intangibles," Selden said. "He's a leader. Shoots the ball really well. He can guard. He's a point guard. I think he has a lot of different tools that will make him a real good pro in the NBA."
Pierce headed to Kansas hall
Likely to one day join Self as a member of the Naismith Memorial Basketball Hall of Fame, former KU star Paul Pierce will have his name enshrined alongside Sunflower State greats in a different hall later this year.
The Kansas Sports Hall of Fame announced this week its plans to induct Pierce in its 2018 class, on Oct. 7, in Wichita.
The NBA Finals MVP with the Boston Celtics in 2008, Pierce retired from playing in 2017, after 19 seasons.
During his three-year KU career, Pierce was a 1998 Consensus All-American. Pierce ranks 10th on the KU career scoring list with 1,768 points and also ranks in the top 20 in rebounds and steals. He was most outstanding player in both the 1997 and 1998 Big 12 tournaments and his jersey was officially retired from KU.