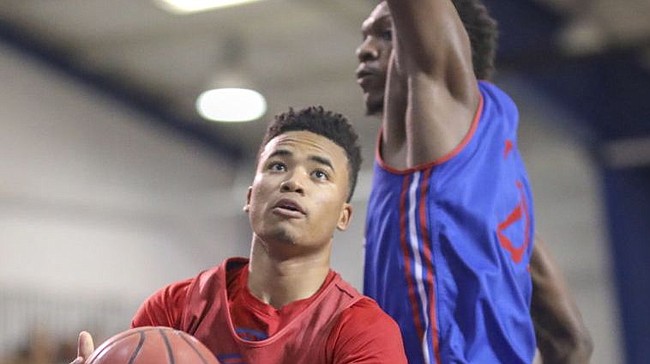 For freshmen, one of the more enjoyable aspects of the first days as Kansas basketball players involves playing with and against NBA athletes that they, in the past, had seen only on television.
For example, Devon Dotson was able to meet and share the court with free agent Mario Chalmers, a veteran of nine NBA seasons.
"It was fun," Dotson said after Wednesday's camp scrimmage. "It was definitely fun playing against guys who are in the NBA and are successful."
Dotson looked above the nearby glass door through which Chalmers was about to walk and said, "I was in my family room, watching Derrick Rose, watching that shot right there."
The glass image of the shot referenced by Dotson, of course, was the 3-pointer Chalmers hit over Rose's right hand to push the national-title game into overtime.
If, at the age of 8, Dotson could see his future, he might have leapt out of his chair to celebrate the shot. Not then.
"I'm a Chicago guy," Dotson said. "I'll be honest, I was rooting for Derrick Rose, but I'm here now."
Rose had the biggest name of any player in that game, but fellow Chicagoan Sherron Collins had the bigger game in San Antonio.
Photo Gallery
Kansas basketball summer camp scrimmage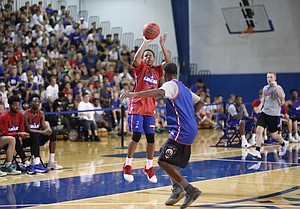 Current and former members of the KU men's basketball team participate in a scrimmage on Wednesday, June 13, 2018, at the Horejsi Athletic Center.
Dotson moved to Charlotte, N.C., from Chicago in sixth grade and is the latest Kansas guard who played high school ball in ACC country, following in the footsteps of Frank Mason III and Devonte' Graham.
Neither Mason nor Graham played in the McDonald's All-American game, but both quickly showed they were worthy of such an honor.
Dotson and fellow incoming guard Quentin Grimes were teammates in the McDonald's game.
"We talked a lot there and we talked at different camps and stuff," Dotson said of Grimes. "We played well together at McDonald's. It should be fun playing alongside him. It should be a good time."
Dotson is 6-foot-2, Grimes 6-4. How are they alike and how are they different?
"We're similar," Dotson said. "Both fast, athletic, like to get the ball up and down the floor, can handle it, pass it. We can do a lot of the same stuff. We can play alongside each other and just play our game."
Dotson has the quickness and know-how to get to the paint, which will create opportunities for others. Cashing in on open shots created by teammates getting to the paint isn't his strength yet.
"Everything can be tweaked," Dotson said. "I'm focusing on my shot a lot, getting that more consistent, more pure, and being more vocal out there, coming in as a freshman and being able to lead."
Graham hasn't sugar-coated what awaits Dotson as a first-year KU player.
"He said it's going to be hard, not going to be easy," Dotson said. "Just have to fight through adversity and just keep pushing."