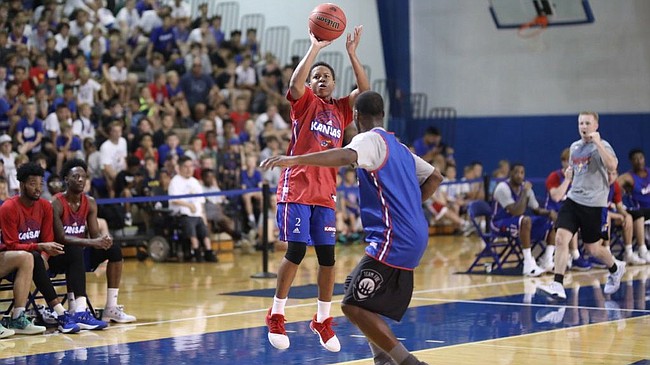 Over the course of the past several years, Wayne Selden Jr. has played in enough Kansas basketball summer camp scrimmages that they all basically blend together in his mind.
The former KU guard, now with the Memphis Grizzlies, finally experienced one that took on a different feel Wednesday afternoon inside Horejsi Family Athletics Center.
Although Selden's Blue team also featured former KU stars Mario Chalmers and Devonte' Graham, it was the current crop of Jayhawks on the Red team that controlled the made-for-campers exhibition, 80-44.
Photo Gallery
Kansas basketball summer camp scrimmage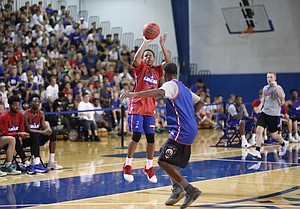 Current and former members of the KU men's basketball team participate in a scrimmage on Wednesday, June 13, 2018, at the Horejsi Athletic Center.
Had Selden ever seen a summertime scrimmage so lopsided?
"I don't know what you're talking about," the 6-foot-5 guard deadpanned.
Selden jokingly claimed that organizers changed the rules this year, with a first-to-80 wins format, instead of using a game clock.
"We were going to catch back up if we had the time," he continued, knowing without a doubt the glorified pickup game never involves a clock.
While there might have been more incentive for the Red team's Charlie Moore, Sam Cunliffe, Dedric Lawson, K.J. Lawson, Udoka Azubuike, Devon Dotson, Mitch Lightfoot, Marcus Garrett and Ochai Agbaji to prove themselves with their young legs against a team featuring more established KU players of years gone by, the 2018-19 Jayhawks weren't exactly expecting to dominate.
"Actually, we didn't," Garrett said. "Charlie just got hot there and he just kept letting it fly."
Indeed, the redshirt sophomore point guard who sat out this past season after transferring to KU from Cal seemingly couldn't miss as Red ran away from Selden, Graham, Chalmers, Elijah Johnson, Travis Releford and current members of the KU roster David McCormack, Silvio De Sousa, Garrett Luinistra, Chris Tehan and E.J. Elliott.
Moore easily led all scorers in the defense-optional show, with 26 points, draining six 3-pointers in the process, and finishing off the victory with a steal and a layup.
Garrett attested to seeing Moore take over in such fashion before, behind closed doors.
"Of course. He's been shooting it like that since I got here," Garrett said of the 5-11 Chicago native.
The display by Moore impressed Chalmers.
"Charlie's good. I'm one of the guys rooting for Charlie," said Chalmers, a Grizzlies teammate of Selden's. "I think he can have a good career. He's got the perfect opportunity to step up and lead the team with Devonte' gone."
While 7-foot center Azubuike scored with ease inside (14 points), Moore picked up some help on the perimeter. Freshman point guard Dotson contributed seven points, scoring twice simply by pushing the ball in transition. Garrett added four, first converting a difficult reverse layup and later draining a fade-away jumper. Cunliffe chipped in nine, making one 3-pointer and finishing two different alley-oops. Agbagi and K.J. Lawson each scored two, with a dunk apiece.
Asked for his assessment of KU's backcourt, Johnson retorted with wisecracks.
"I didn't appreciate what they did to us," Johnson said after Blue lost by 36. "I told Charlie, 'We're just getting off planes. Wayne just gets here 40 minutes ago. I was still sleepy and you all want to run the score up on us?' I don't appreciate that. Have more respect for your elders."
Actually, Johnson said he "loves" the way Moore and the Lawson brothers play, in particular, after spending some time with them earlier this year.
"I'd rather them do it to me first," he continued, on the subject of the younger guards, "so then, when I see them do it to other people, I can be like, 'Yeah. Fall in line.' I liked the way they play. I like this team."
De Sousa, who delivered all 10 of his points off dunks, led the Blue group in scoring. McCormack put up eight more, with all but one of his baskets coming on slams.
Perhaps the most surprising development of the afternoon was that Graham took part in the show. The All-American point guard has spent the majority of the past several weeks working out for various NBA teams in preparation for next week's draft.
While some prospects might have worried about a freak injury in such a setting, Graham played anyway, scoring eight points. Although he mostly — and wisely — refrained from exerting too much effort, Graham obliged when campers began chanting his name, draining an NBA-range 3. When they demanded a half-court shot, he delivered, too, although he misfired.
"I was not surprised at all with Devonte'," said Selden, adding he had never seen one draft hopeful play in the June scrimmage immediately after finishing a collegiate career. "I think he just answers to the fans."
Red 80
Sam Cunliffe 9, Udoka Azubuike 14, Dedric Lawson 10, Charlie Moore 26, K.J. Lawson 2, Devon Dotson 7, Mitch Lightfoot 6, Ochai Agbaji 2, Marcus Garrett 4.
Blue 44
Wayne Selden 6, Devonte' Graham 8, Mario Chalmers 0, Travis Releford 4, Silvio De Sousa 10, Elijah Johnson 5, David McCormack 8, Chris Teahan 3.