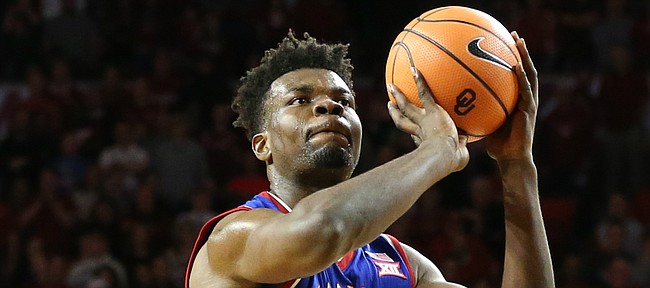 Sure, Udoka Azubuike spent most of May hearing from NBA evaluators about his draft stock and potential as a player at the next level. That doesn't mean the big man returned to the University of Kansas with the notion of adding a 3-pointer to his repertoire, to replicate the skillsets of many professional centers.
Near the end of a drill that played out in front of young basketball campers on Monday, the 7-foot junior connected on a couple of jumpers from beyond the arc, while shooting them casually with fellow KU bigs.
Assistant coach Kurtis Townsend, when made aware of the development, joked KU head coach Bill Self may have to rethink his strategy when it comes to utilizing Azubuike this coming season.
"So coach'll probably let him pick and pop," Townsend declared in jest.
Since the conclusion of KU's season, the longtime KU assistant went on to say, Azubuike has made a point to spend time working on his form as a shooter.
"But I just hope he can hit the rim from the free-throw line," Townsend added of the Jayhawks' returning starting center, who connected on only 45 of 109 attempts (41.3 percent) as a sophomore. "I'd be happy with that."
Azubuike said he plans to continue diligently shooting from the foul line throughout the off-season, to become more effective at the charity stripe.
According to Townsend, the big man's stroke already at least looks better.
"But we really haven't worked on it much since the season ended. But we will," Townsend clarified. "And he's in there shooting them himself, so we know it means something to him. It's just gonna be repetitions. I guarantee he'll be a lot better next year, because he'll have so much more confidence."
KU workout standouts?
In the summertime KU coaches are allowed to directly work out players four hours each week.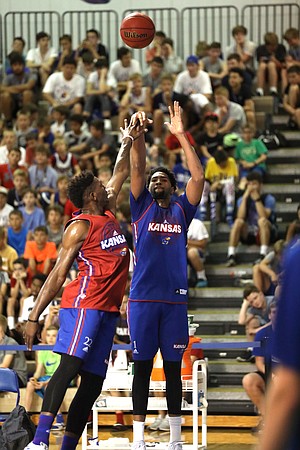 Townsend said the Jayhawks currently on campus — every member of the 2018-19 roster except freshman guard Quentin Grimes, who is playing for Self's USA U18 team in Canada — go through an hour-long session four times each week.
From what the assistant coaches have witnessed so far, no KU players have truly set themselves apart.
"Stars? Nah. I wouldn't say there's any that stand out yet," Townsend said. "But I think we're gonna have a really, really good team. I think Silvio (De Sousa) is much improved and his body looks great."
According to Townsend, the coaches know Azubuike will be "really good," too, and they anticipate junior forward Dedric Lawson becoming an All-Big 12 type of talent in his debut season at Kansas, after transferring from Memphis and sitting out a year.
"So our front line's gonna look much different than it did last year," Townsend said.
New role for Lightfoot?
Considering KU's significant frontcourt depth, with 6-10 freshman David McCormack joining the aforementioned Azubuike, De Sousa and Lawson, one way to assure every post player minutes would be inserting one of them at small forward for certain stretches.
This past week, at KU's camp scrimmage, 6-8 big Mitch Lightfoot knocked down six 3-pointers, leading one reporter to ask whether the junior could play small forward.
"I don't know. We've got so many wing guys," Townsend replied. "I can't see him playing a lot of three. I think (Self would) let Dedric play the three before he would Mitch. It'd just be hard for either one of those guys to guard a three-man in the Big 12."
Jayhawks who could potentially play the three-spot on the wing this season include Dedric and K.J. Lawson, Marcus Garrett, Quentin Grimes, Sam Cunliffe and Ochai Agbai.