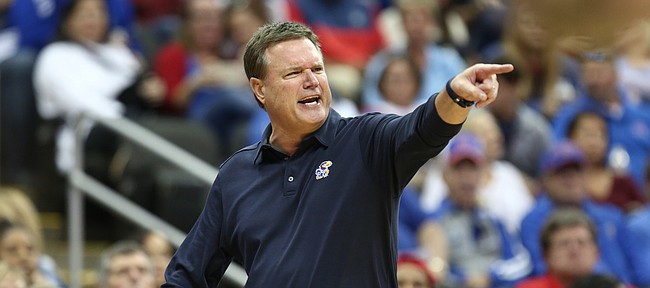 Bill Self didn't face many snags during his debut as head coach of USA Basketball's U18 team Sunday night at the FIBA Americas championship.
Nevertheless, after the US rolled past Dominican Republic, 105-73, in its preliminary-round opener, in St. Catharines, Ontario, Canada, the University of Kansas head coach sounded as demanding in June as he would in the heat of Big 12 play in January or February.
"We executed poorly the first half," Self said, in a release from USA Basketball. "But, in the second half we looked a little better. Our athleticism and depth really wore them down and they got tired. All in all, considering the number of missed layups and the number of missed free throws, it's pretty amazing that we scored over 100 points."
The group of young USA prospects went on a 19-0 run in the fourth quarter.
"It was the best stretch of ball," Self said. "We had a 20-point lead and I subbed the last three minutes of the third and they cut it to 13. And then we put the starters back in and the next thing you know, we go on a 19-0 run. That's the way it is a lot of times with aggressive, athletic teams. You can putter around and putter around and then a three- or four-minute segment could be the segment that puts enough separation between you, where the other team can't come back, and that's what happened."
Although incoming Kansas freshman Quentin Grimes didn't take over the spotlight while playing for his college head coach, a pair of younger KU recruiting targets emerged as two of the team's six double-digit scorers.
A 6-foot-9, five-star power forward in the Class of 2019, Matthew Hurt nearly delivered a double-double, with 12 points and nine rebounds.
Also a 6-9, five-star power forward and a rising high school senior, Bishop Miege standout Jeremiah Robinson-Earl added 10 points and six rebounds for the US.
Grimes, an 18-year-old guard from Texas, wasn't far behind them in the scoring column. A likely starter at KU this coming season, Grimes contributed eight points on four-for-nine shooting, but missed all three of his 3-point tries, while distributing three assists, with two turnovers in his 23 minutes of playing time.
Point guard Cole Anthony led USA with 18 points and shot seven of 13 from the floor, as USA hit 49.4 percent from the floor and knocked down 10 of its 25 attempts from beyond the arc.
Alanzo Frink led Dominican Republic with 16 points on 5-for-14 shooting.
USA out-rebounded its opponent, 51-44, with Hurt's nine boards tying Armando Bacot for the team lead.
USA plays again Monday (approximately 7:15 p.m. CT) against Panama, which lost, 84-51, to Puerto Rico in its opener.
Following the preliminary round, teams will be seeded within each group, and all eight teams advance to the Thursday quarterfinal games. The semifinals will be played Friday, and the finals on Saturday. The top four finishing teams will qualify for the 2019 FIBA U19 World Cup.