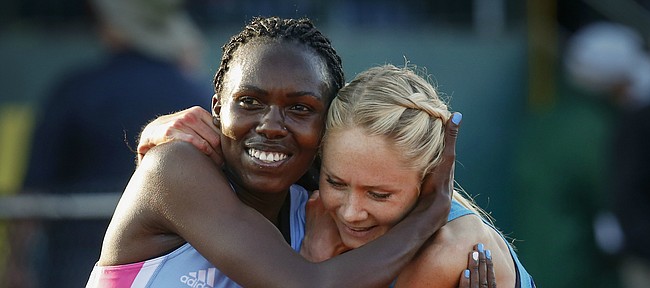 Kansas standout distance runner Sharon Lokedi won the 10,000 meters on Day 2 of the NCAA outdoor track and field championships on Thursday at Oregon's Hayward Field with a meet record time of 32:09.2.
"It was just pure joy just like, 'I'm a champion.' I was just so happy," Lokedi said in a post-race interview on the Kansas track and field's Periscope account. "I just did not expect that. It was just pure joy, honestly. I just could not believe it. I still cannot believe it right now."
Lokedi shattered the 30-year-old meet record that was previously held by Cal State Los Angeles' Sylvia Mosqueda (32:28.57) to win her first national title in her decorated distance running career. The top-five finishers all eclipsed Mosqueda's previous meet record time.
Missouri senior Karissa Schweizer, who won an indoor and outdoor NCAA titles in the 5,000 meters in 2017, started to break away from the pack with just under a mile to go, but Lokedi was able to stay on her heels. Lokedi made her move with 600 meters to go and didn't look back.
"I just believed in myself. With like 600 (meters) to go, I was like, 'Just believe in yourself and just go,'" Lokedi said. "I just took it. I just took the opportunity and went for it."
The race marked the final time that Lokedi will run the 10,000 meters as a Jayhawk since this is her last season of eligibility for outdoor. Lokedi still has a year of eligibility remaining for cross country and indoor track, and will run the 5,000 meters on Saturday.
"I've worked so hard for it and I'm just so grateful for everyone who was there cheering for me," Lokedi said.
Fellow KU distance runner Courtney Coppinger punched her ticket to the 3,000-meter steeplechase final after finishing 10th in the semifinals with a time of 9:57.09. The final is scheduled for 5:54 p.m. central time on Saturday.
In the field events, Andrea Willis tied for 18th in the pole vault with a clearance of 4.00 meters and LaTyria Jefferson placed 24th in the long jump with a mark of 5.71 meters.