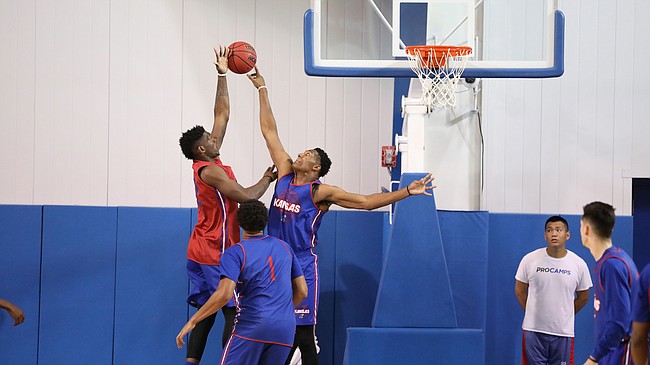 Seeing a teenage post player competing for the first time generally means listening to opinions of those who don't come right out and say it but drop hints that they were expecting to see more.
"For his size, he didn't dominate," is a popular complaint.
Or: "You didn't even notice he was out there half the time. I honestly don't see why he's ranked that high."
It's usually not the post player's fault because in AAU ball or at summer basketball camps, the guards have the ball and decide who gets the shots, which usually means the guards get the shots. Plus, big men become comfortable with their bodies at a later stage and sometimes need to be coaxed into aggressiveness.
So, I always tamp down my expectations when taking a first look at a young big man playing basketball. And then there was Tuesday afternoon's scrimmage at Horejsi, home of the Bill Self basketball camp.
I leapt (two inches off the ground and winced upon landing) at the chance to see Kansas freshman David McCormack play for the first time.
Rivals ranked McCormack No. 33 in the Class of 2018.
There were 32 better college basketball prospects in the senior class than McCormack? After watching him play and then listening to him talk basketball, I have only three words to say about there being 32 better prospects in one class: Hoe lea cow!
Nothing about the way he looked, played or talked suggested this was a teenager.
First, most high school players listed at 6-foot-10 appear to be closer to 6-8. Not McCormack. He looks 6-10, and a rocked-up 6-10 at that.
His impressive motor stayed revved throughout the scrimmage. He has great hands, tremendous leaping ability, and even has a nice 3-point stroke, although there won't be much point in letting him stray that far from the basket because his hard dunks trigger louder responses from the crowd and soften the rims to almost the extent that Udoka Azubuike's do.
And one more thing: He loves to block shots.
Talking with McCormack is a lot like talking to KU sophomore Mitch Lightfoot. Their lips move and your mind deceives your eyes into thinking they're wearing headsets, providing color analysis of a game. Your mind messes with you again and you see gray hair because nobody but a veteran of decades in the booth after decades playing and/or coaching can deliver that much insight so smoothly.
McCormack's so impressive, especially considering he's a recruit who hasn't generated nearly as much excitement as Memphis transfer Dedric Lawson and incoming freshman guards Quentin Grimes (ranked No. 8 by Rivals) and Devon Dotson (No. 18).
McCormack and sophomore Silvio De Sousa were going at it hard, playing physically in the scrimmage and just within that short period of time, evidence of adjustments and improvements, were easy to find. De Sousa put up a shot early and McCormack swatted it. So the next time De Sousa looked to score down low he initiated contact to create a little space and put up a hook shot that rattled in.
"It's a great feeling playing against another high-level, elite athlete and we're just making each other better all the time," McCormack said. "We're both competitive, both strong, both big, so we push each other to do better."
Azubuike didn't play and even without him the quality of big-man play was what stood out.
"Outstanding frontcourt, by far," McCormack said. "Me, Silvio, Dedric, Mitch, Dok, of course, we're all skilled, all powerful. We all know how to play the game and we know how to play to our strengths. So I feel we can have the best frontcourt in the nation."
McCormack played at the nation's most famous prep-school basketball factory, Oak Hill Academy, so he's no stranger to strong competition.
"This is definitely a different experience, with this many well-trained and developed bigs," McCormack said.
Boasting isn't obnoxious if the talk is backed up with results.
If all KU's big men make it through the season healthy and eligible, no reason to think the Jayhawks can't have the nation's strongest collection of big men.