It was a sneaky-quiet 20 points and it came in a camp scrimmage against his teammates, but the particulars were not important.
What was noteworthy was the way Kansas forward Dedric Lawson scored those 20 points during the Blue team's 81-74 loss to the Red squad at the first Bill Self Basketball Camp scrimmage of the summer on Tuesday afternoon at Horejsi Family Athletics Center.
Photo Gallery
Bill Self Basketball Camp scrimmage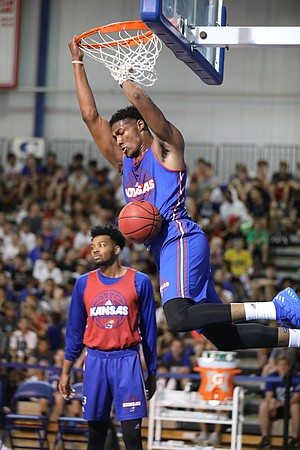 The Bill Self Basketball Camp scrimmage was Tuesday, June 5, 2018, at the Horejsi Athletic Center.
Inside. Outside. Off the dribble. Up and under. Up and over. All of that with the handles of a guard and the balance and control not always associated with someone who plays the power forward position.
In short, it was the perfect sneak peek at all of the things that the Jayhawks hope Lawson will do for them this winter when he finally puts on the KU uniform for real and is able to impact the team in ways in that extend beyond the practice gym.
"I'm very ready," said a smiling Lawson after the scrimmage, which, he added, was just as much fun because of the smiles it put on the faces of the campers in attendance as it was for the points he put on the scoreboard. "I'm very intense for the season and I'm just putting in the work trying to stay ready."
Pegged a couple of weeks ago by KU coach Bill Self on an Andy Katz podcast as a player who could join teammate Udoka Azubuike in competing for Big 12 player of the year honors during the 2018-19 season, Lawson said he versatility, which was on full display on Tuesday, was something that always had helped him stand out on the court.
"Lamarcus Aldridge," Lawson said when asked for the name of a player who has a similar game. "He scores all over the floor, in the post, knocks down outside shots. I like his game a lot."
Even mentioning the former Texas standout and current San Antonio Spurs big man as a sort of target to hit showed the confidence Lawson has in his game.
Sure, some of that came from his monster sophomore season at Memphis back in 2016-17, when he averaged 19.2 points and 9.9 rebounds per game. But those were just numbers, the product of an athletic and naturally gifted 6-foot-9 forward doing things that others simply cannot.
What he gained at Kansas while sitting out the 2017-18 season is the reason Lawson — and so many others — believes he can be an even tougher player to stop than he was before.
"Man, Coach Self helped me with a lot of things from the scout team standpoint," Lawson said. "He just helped me focus in. There were certain days when I came to practice and I didn't feel like I had nothing to practice for and coach would tell me, 'Come on, Dedric. Stick with it, push through it, work on your game.' Things like that."
So Lawson did and he now believes he has his game in the best shape it has ever been.
That was evident on Tuesday, when Lawson teamed with freshman big man David McCormack (18 points) to lead the Blue team in scoring. With McCormack, Red team forward Silvio De Sousa (17 points) and others glistening with sweat and playing all-out on every possession possible, Lawson simply found the sweet spot and delivered when called upon.
His 10 first-half points featured a little bit of everything — drive to the rim for a scoop shot to get it started, two jumpers along the baseline (one on a fade-away, another over the outstretched hand of Mitch Lightfoot) and two easy lay-ins, one off of a rebound.
His 10 second-half points came off of a driving spin move, back-to-back 3-pointers and a deep jumper.
Asked after the scrimmage how comfortable he felt shooting from distance, Lawson said he was "very comfortable" and added that he spent a good chunk of his time back home in Memphis working on that shot with a former high school teammate.
The goal now is to maintain that level and improve upon it before the start of the season.
"It does feel like it's starting," Lawson said of the 2018-19 season, which officially kicks off with KU's annual Late Night on Sept. 28. "I already knew from my freshman year, the summer (goes) by fast. And it was like, 'Dang, what did I really do with my summer?' That's why you have to take it seriously and going out there every day is a must. You got to work on something, just to improve anything, your mind, your body, things like that."
As for the rest of Tuesday's scrimmage, which featured just one former Jayhawk — Travis Releford, who scored 10 points for the Red team — Lightfoot's six 3-pointers led to a game-high 22 points and helped pace the red team to victory.
Lightfoot opened the game with a 3-pointer and looked as confident as ever while stepping into each one.
Walk-on E.J. Elliott, after a slow start, drained four 3-pointers while Cal transfer Charlie Moore and K.J. Lawson, Dedric's brother, also showed the ability to hit the outside shot.
Junior center Udoka Azubuike did not play because of an illness and freshmen guards Quentin Grimes and Devon Dotson also did not play.
Grimes is in Colorado Springs with Self working with USA Basketball's U18 team. Tuesday afternoon, USA Basketball announced that Grimes made the final 12-man team that will head to Canada later this week to open play in the FIBA Americas.
Joining Grimes on the team are Class of 2019 top targets Matthew Hurt and Jeremiah Robinson-Earl.
"It was tough getting it to 12," Self said in a press release. "I think the committee made some good selections and I'm excited about working with this group. One of the things I think they bring to the table is versatility. They're very interchangeable. I can see us playing four little guards around a big. I could see us playing two bigs, two little guards and a three. I think this team has some different things they'll be able to do, depending on how we stack up against our opponents."
---
SCRIMMAGE BOX SCORE
Red 81
Mitch Lightfoot 22, Silvio De Sousa 17, Charlie Moore 12, Sam Cunliffe 11, Travis Releford 10, K.J. Lawson 9, Garrett Luinstra 0.
Blue 74
Dedric Lawson 20, David McCormack 18, E.J. Elliott 12, Ochai Agbaji 10, Marcus Garrett 8, Chris Teahan 6