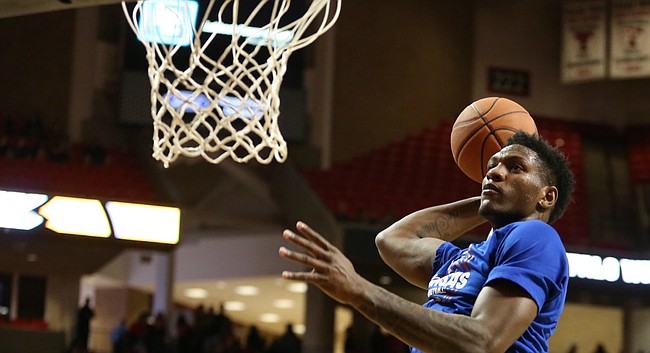 With KU's star-studded and mostly new cast of guards scattered all over the place on Monday — one at the USA Basketball tryout, others working camps nearby and one more yet to arrive on campus in the first place — the Jayhawks' first day of summer workouts took on a decidedly bigger look.
Featured in the various drills that played out in front of the hundreds of Week 1 Bill Self Basketball Camp attendees were big men Dedric Lawson, Silvio De Sousa and David McCormack, each of whom wowed the crowd with their ability to throw down hammer dunks and move like players much smaller in size.
"Missed it. Missed it. It's nice to have," said KU assistant coach Norm Roberts, who typically works closest with KU's post players. "I was telling coach we've got bodies like we used to have when we had Tarik (Black) and Joel (Embiid) and Landen (Lucas) and Perry (Ellis). So we're going back to that and it feels good to have those big bodies."
With Udoka Azubuike and Mitch Lightfoot returning and the trio that took center stage during Monday's workout giving Kansas five viable options at the 4 and 5 spots, Roberts sees great potential for KU's crop of big men.
While that kind of depth and talent would be welcomed any year, it's particularly pleasant to see this year, with the Jayhawks coming off of back-to-back seasons in which they played four guards and were undersized at the 4 spot.
But it's not just on the court during games where the Jayhawks' abundance of bigs figures to pay off. Roberts said the spoils start to show up as soon as this month, when both the newcomers and returning bigs improve their individual skills and push each other to make the whole group better.
"I think they'll make each other a lot better," Roberts said. "What happens is you want them to be quick but not in a hurry. They all want to impress and do well, but I think all the young guys are doing good and our other guys, who came back, their bodies look good and I think they're excited about the summer."
As for a timeline of progress that Roberts might be tracking, the veteran KU assistant said the big picture was what mattered most right now, not necessarily hitting any milestones or checking off any boxes. That can come in the weight room, with strength coach Andrea Hudy, who also got her first look at the newcomers on Monday.
"I think what you want to do is just work on their footwork, let them understand getting angles, how to go score, get into their shot quickly," Roberts said. "And everything is repetitions. They get more and more reps so they get more comfortable.
"We want them to enjoy being here in the summer, obviously academics is important, and just get a feel for playing with their teammates and get a feel for doing what we do from a skill standpoint, a technique standpoint. That way, when they come back in late August and September, they know what's going on and it's easy for them and we can get right into it."
Although he did not offer thoughts on every big man on the roster, Roberts offered up a quick breakdown of two of the newest Jayhawks at his suddenly deep position group.
On Memphis transfer Dedric Lawson: "Can play inside and outside. He can shoot the ball from the perimeter, handle the ball."
On freshman center David McCormack: "A power player, so now you have another big body to go up against Udoka every day. I think that helps."
That theme, bigs helping bigs, seems to carry any conversation about the Kansas forwards and centers at this stage in the game and it figures to be something Roberts, KU coach Bill Self and the Jayhawks as a whole try to find as many ways to capitalize on as possible.
"We've got so many guys that are versatile and they can really get after each other and make each other better," Roberts said. "It's got a chance to be a very, very good group. I think our skill level, as big guys, has to improve. I think that's going to be a big key for us, and they understand that.
"They've been good. They just got here like a half a day ago or so and this was the first kind of team workout that we've had, but the kids are just excited. I think other colleges think they've got good players, too. I'm just glad we've got (these) five guys."