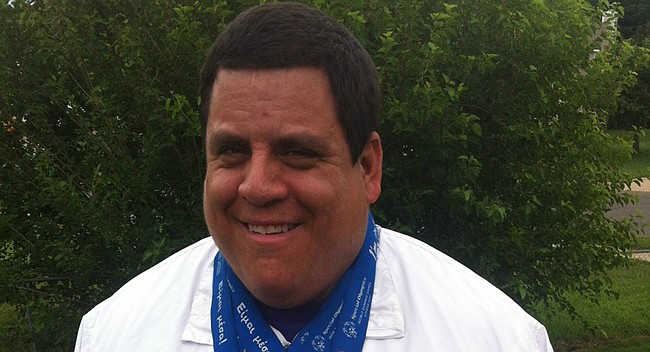 Regardless of what Brady Tanner's Friday entailed or where it took him, he would be smiling. Tanner's grin just might stretch a little wider tonight, though, when the Special Olympics inducts the Lawrence athlete into its Kansas hall of fame.
During the opening ceremonies of the state's summer games, in Wichita, Tanner, 38, will be honored for his years of making an impact as a Special Olympian in Kansas, as well as his dedication, courage and passion.
Born with Rubinstein-Taybi syndrome, Tanner first got involved with the Special Olympics three decades ago, trying everything from bowling to basketball, track, tennis, volleyball, softball, soccer, swimming and even cheerleading. But it was powerlifting that became his specialty.
In 2011, Tanner traveled with Team USA to Athens for the world games, and he returned home with gold medals representing his prowess in the dead lift (522.5 pounds) and bench press (335.5 pounds), as well as a silver in squat (495 pounds).
According to his father, Gary, when Brady learned Special Olympics Kansas planned to make him a hall of famer, he replied with two words, the second elongated for emphasis: "All righhhhhht!"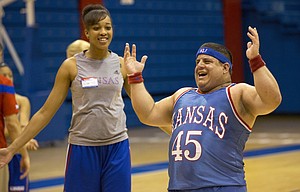 Positivity and Brady Tanner are basically synonymous. As his father explained, Rubinstein-Taybi syndrome delayed Brady's mental growth, and negativity isn't even a concept that he understands.
It's that quality that has defined Brady's life, as well as his athletic endeavors. And he is predictably joyful to be recognized for those efforts.
"He likes it because he knows it's a good thing," Gary said of his son's opinion on entering the Special Olympics Kansas Hall of Fame. "He knows people are proud of him. He understands that part of it. He knows that it's good and people like it."
The opening ceremonies at Maize South High seem a fitting stage for the renowned crowdpleaser. Through the years, Brady has won 17 state Special Olympics powerlifting titles, as well as 12 national championships from the Natural Athletic Strength Association and 15 more from the World Association of Benchers and Deadlifters.
Brady approaches it all with his trademark smile.
"He's a people person," Gary said. "I wouldn't call him a socialite, but he hasn't met anybody he doesn't like."
The past few years, Brady brought his infectious personality to University of Kansas football practices, where he is a regular on the sidelines and routinely greeted with high-fives and "what's ups" by players and coaches.
"He loves them," Gary related. "He treats them like that — as much as you can without saying you love them."
Brady used to attend football practices at Haskell Indian Nations University, where he first got into weightlifting. Once HINU dropped its program in 2015, KU head coach David Beaty opened the door for Brady to go to Kansas practices, so that spending time around a football team could continue to be a part of his life. The Tanners attend every KU home game and venture to drivable road games, as well.
"He loves it," Gary said.