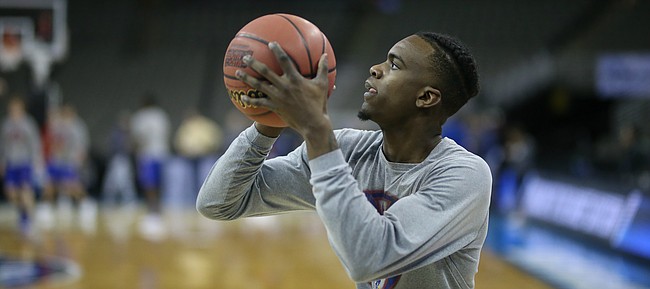 Fresh off of his experience at the Professional Basketball Combine in Florida in late May, former Kansas guard Lagerald Vick has pulled his name out of the 2018 NBA draft pool and is undecided about his immediate future.
According to his mother, LaLa Vick, returning to school remains one of Vick's options, but that does not necessarily mean a return to KU.
"We're looking at all options," LaLa Vick told the Journal-World on Friday night.
Included among them are the possibility of going straight to the NBA's G League, which LaLa said was the only option that Vick had mentioned to her specifically. At this time, it does not appear that Vick has any interest in playing overseas.
LaLa Vick said her son, who announced he was leaving KU on April 6 — saying "I have nothing but great memories and times with the Jayhawk family ... It is now time for me to move on to the next chapter of my life" — has not hired an agent and chose not to do so intentionally in order to keep his options open.
At the time he announced his decision to leave Kansas with one year of eligibility remaining, Vick's mother told the Journal-World that her son's time at KU was done.
Although that may still be the case, there appears to be at least a sliver of a chance that Vick could find his way back to Kansas, provided the KU coaching staff is willing to take him back.
"That option is still on the table," LaLa said, noting that she and her son planned to call KU coach Bill Self soon to look further into the possibility of a return to KU.
Should Vick elect to return to college but not play at Kansas, he would have to sit out a year in accordance with NCAA transfer rules before being eligible again, unless he can obtain enough credits to graduate before the end of summer school.
Self, who is in Colorado Springs, Colo., working to put together the U18 Men's National team that will compete in the FIBA Americas tournament in Canada later this month, did not immediately return a text message inquiring about Vick's situation.
Because KU followed up the departure of Vick, Malik Newman, Devonte' Graham, Svi Mykhailiuk and Billy Preston by signing just four players in the 2018 recruiting class, the Jayhawks, who have no seniors on the 2018-19 roster, do still have one scholarship available to hand out.
After exploring the idea of adding a graduate transfer throughout the month of April, Self has indicated in recent weeks that he now is just as likely to keep the scholarship available as he is to give it out.
Early entry players had until midnight Wednesday to remove their name from the draft list in order to retain their collegiate eligibility. Vick's mom said her son met the deadline and has been back in his hometown of Memphis working with a trainer he has known for years to stay ready for whatever comes next.
As long as he does not hire an agent, Vick will not be draft eligible in the 2018 NBA draft on June 21 in Brooklyn, leaving the G League and college as his top options.