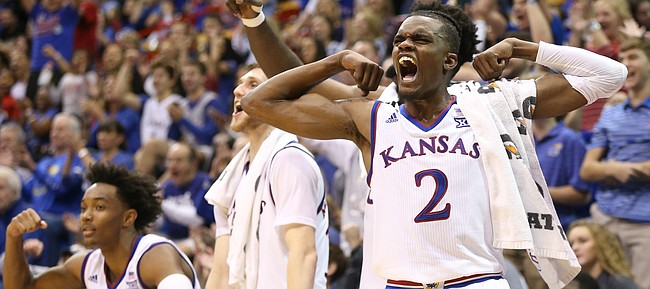 Kansas point guard Charlie Moore spent a year around Lagerald Vick but never truly got to play with him.
KU freshman David McCormack met Vick a couple of times on his visits to campus but never really got to know him.
Despite those two current Jayhawks having limited past interactions with the lone senior on this year's roster, both acknowledged recently that they had been thrilled by what they had seen so far from the ultra-athletic, 6-foot-5 guard who decided to return to KU after dabbling with the idea of leaving school a year early.
"I had no former relationship with him," McCormack recently told the Journal-World. "But every experience I've had has been positive. He's just definitely benefiting us by being here."
A week into his odd return to the roster, Kansas coach Bill Self told a group of reporters that Vick was working hard, carrying a good attitude and doing everything they had discussed when laying out the conditions for his return. Self also said that, because it had only been a week, he expected nothing less.
Today, now three weeks into his return, Vick appears to have maintained that early pace and is impressing his teammates with his effort and energy.
"Lagerald's been Lagerald," Moore told the Journal-World. "But he's a better version of himself. I think he's more focused than he was last year so I'm excited for him and I'm ready to play with him."
So far, so good in that department. Although they have not yet reached the point in the season when things count for real, both McCormack and Moore said Vick had been a good influence on the younger players so far and has taken seriously his role of a veteran who has been around the block a few times.
"Experience. Shooting the ball. His speed and quickness and just his intangibles. Those are key things," said Moore, listing off Vick's biggest assets.
"He's seen everything almost. He's played against just about everybody in the country so he knows what it takes to win games."
According to McCormack, those past experiences along with Vick's understanding of the demands of playing at Kansas for Self, have been helpful in bringing the younger players along.
"He's a great player and a great teammate and he brings great energy to workouts," McCormack said. "Being an incoming freshman, even a big, he just helps you coming off screen-and-rolls and tells you when to post up and when to be ready for the ball. Just hearing things like that repetitively helps me get a better feel for the college game."
None of that sounds like the quiet Vick that Kansas fans have come to know. But there always has been a distinction between the voice Vick uses off the court on the court. And the one he's using today is more vocal than ever.
"Oh yeah, he's been talking," Moore said. "He's definitely been talking."
One thing Vick has never talked about — at least not with Moore — is his new number.
After wearing No. 2 for his first three years with the Jayhawks, Vick will wear No. 24 for his senior season because No. 2 went to Moore.
The Cal transfer said he gobbled up No. 2 as soon as he heard Vick initially planned to leave because the number has special meaning to him.
"Two's my number," Moore said. "I wore it in high school, it's my birthday month, (Boston Celtics point guard) Kyrie Irving is one of my favorite players. Multiple reasons. I didn't have it at Cal because a senior had it, so I couldn't get it. When I got here, Lagerald had it. So I said last year, when we thought he was leaving, that I was going to take it."
Now that Vick is back, there has been no discussion between the two about who should wear No. 2.
Asked if he would have coughed up the number if Vick had offered some sort of compensation as sometimes happens at the professional level after players are traded or acquired as free agents, Moore laughed and simply said, "No. Probably not."
"I didn't even think it was a big deal," Moore added. "He hasn't brought it up and I haven't brought it up. And I talk to Lagerald all the time. That's my guy. He's excited. He's just ready to put on that uniform again."