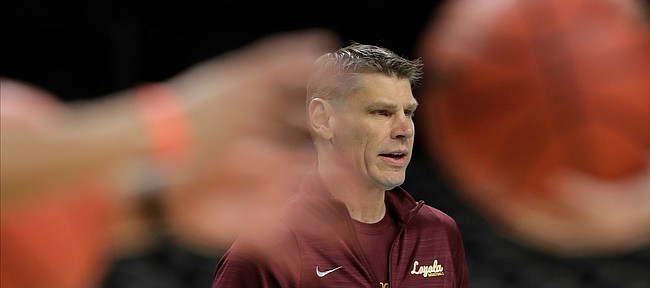 Loyola-Chicago basketball coach Porter Moser sure likes to drive. So much so that the last time he was in Lawrence, he took a break from recruiting the Hardwood Classic in 2017 and hopped in his car to take in the scene.
"I had a break and I went around and checked out the campus," Moser recalled to the Journal-World at this year's Hardwood Classic over the weekend. "What a beautiful place. It really is."
Naturally, one of Moser's must-see destinations was Allen Fieldhouse. And, actually, the eighth-year Loyola coach who led the 11th-seeded Ramblers to the Final Four, where they joined Bill Self and the Jayhawks in San Antonio last March, had been to Allen Fieldhouse before, coaching there in January of 1997, when he was an assistant on Texas A&M; coach Tony Barone's staff and the Aggies faced top-seeded Kansas during the first season of Big 12 basketball.
Since then — and even since last summer — things have changed a lot for Moser.
Nearly unrecognized by people outside of the industry during his last trip to Lawrence, Moser said he got plenty of attention this trip. Making a Cinderella run as one of the darlings of the NCAA Tournament will do that for a guy. And doing it with a couple of kids from the Kansas City area — guards Ben Richardson and Clayton Custer, of Blue Valley Northwest — will make it even easier to notice a guy like Moser in these parts.
Truth be told, Moser, who still has Custer on his roster and also added freshman-to-be Cooper Kaifes from Mill Valley High in Shawnee, made it a point to recruit this year's Hardwood Classic in hopes of striking gold in the Sunflower State one more time.
"One hundred percent," he said with a laugh. "It's been good. It was especially cool how good of a story Ben and Clay were, with the rest of those guys, and Cooper is going to be a really good player for us the next four years."
While Loyola's Final Four run last March — complete with crazy upsets and a heavy dose of Sister Jean, the Ramblers' 98-year-old good luck charm — put the program on the map in a national sense, Moser said it merely validated the hopes and expectations he brought with him when he took the job before the 2011-12 season.
To that point, Loyola had recorded 27 losing seasons in a 30-year stretch, so Moser knew the bar was low. And his main goal was to keep climbing the ladder, one rung at a time, year after year.
"It's great for the guys," he said of the recent success. "I'm so happy for the program, the university, just to get the excitement surrounding them because it's been dormant. It's been dormant for years. … It's really cool. You see people recognize it. They recognize it. It used to be when we'd call they'd be like, 'Loyola who?' We got that in the beginning. But this is what you want. You want to have a program where people know that the arrow's going up."
Never did Moser realize that better than during his team's return to Chicago after knocking off Kansas State in the Elite Eight in Atlanta. And the moment had a little something to do with driving.
When Moser first took the job and was moving into his new office, he found two black and white photographs in a drawer of the team's victory parade in Chicago following its win over Cincinnati in the 1963 national championship game.
"One was of the team holding up the trophy," Moser explained. "And the other was a photo of that team in a car coming down Sheridan Road and people surrounding them. The entire Sheridan Road was backed up.
"I put it up seven years ago in my office and I look at it every day. This year, when we beat Kansas State in the Elite Eight, the next day we landed at O'Hare airport, we had a police escort back to campus and as we pulled into Rogers Park about 10 more cop cars joined in and then as we were coming down Sheridan Road it just got more crowded and more crowded to where everybody literally got out of their cars with their phones and our bus got stopped. When we finally turned onto campus it was just a sea of people and I was like, 'I've had that picture in my office for seven years.'
"It was surreal. It was just crazy to see. Once you were in the moment, I didn't really realize how much the city was going nuts. But the months following that have been just as great. It's almost like I want to freeze time."