The next catch Mavin Saunders makes in a college football game will be his first in a Kansas football uniform, as well as his first recorded reception since late in the 2016 season.
Nevertheless, the former Florida State passing target enters the fall as one of more than 60 players on the John Mackey Award Preseason Watch List, which tracks potential nominees for the hardware handed out to the nation's top tight end.
Upon joining KU this past spring as a graduate transfer from FSU, Saunders, a 6-foot-5, 256-pound senior, didn't garner overwhelming buzz. But teammates did note the Bahamas native's potential.
Quarterback Miles Kendrick said Saunders' experience showed during practices and drills, as the tight end made plays.
"You can definitely see his physical abilities as far as blocking and stuff," Kendrick added.
Saunders played in 10 games in his final year with the Seminoles, but didn't record a catch. He made 10 receptions for 182 yards in his redshirt sophomore season of 2016.
Rivals rated Saunders a three-star prospect out of high school. Other recruiting services, such as ESPN and 247Sports, listed him as a four-star talent.
Including Saunders, the Big 12 has just four players on the Mackey watch list, where he is joined by Iowa State's Chase Allen, Texas tight end Andrew Beck and Oklahoma's Grant Calcaterra.
At this point it is unclear whether Saunders of junior James Sosinski will emerge as KU's top tight end or whether both will feature into the game plan.
Talks with Long
In the weeks ahead, KU football coach David Beaty plans on having much more thorough, football-centric discussions with the university's new athletic director, Jeff Long.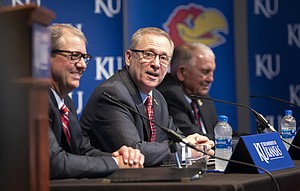 The former Arkansas A.D.'s official start date at KU isn't until Aug. 1, and because both the Beaty and Long families had July vacations planned in advance of Long taking over, the man in charge of the athletic department and the football coach have only spoke over the phone.
"But we have communicated quite a bit," Beaty said this past week, "and the thing that I really love about talking to him is his vision. I always believe that your vision pulls you. And as he speaks about his vision and he talks about how he wants to create a championship at KU in all areas. We share the same things when it comes to how you get that done."
The fourth-year football coach, who brings a 3-33 record into the 2018 season, predicted those shared values will make for a "terrific marriage" between Beaty and his new boss, Long.
"And the thing that he also has shared with us is he's completely and totally behind us," Beaty added, "and anything he can do to help, he's there to do it."
Players 'focused' on preparation, not speculation
Once KU chancellor Douglas Girod hired Long as the university's new athletic director, speculation grew that Beaty will be coaching from a hot seat in the months ahead.
While KU's football coach acknowledged he understood the presence of such public opinions, he doesn't anticipate outside noise distracting his players.
"Our kids are very focused. They have a lot of experience now," Beaty said, when asked whether he would have to find ways to help the Jayhawks tune out negative buzz surrounding his job security.
"I think it's something they've been able to draw on as they go through different things in their time here. And these changes, a lot of the guys on our team, they haven't gotten to interact with an A.D. on a lot of occasions," Beaty said. "So I'm not sure a lot of them really understand how an A.D. can truly help you and help a program. I think that's something we're excited about, seeing what Jeff Long's going to do to help this entire athletic department."
What the players do understand, Beaty offered, is "getting ready for the season."