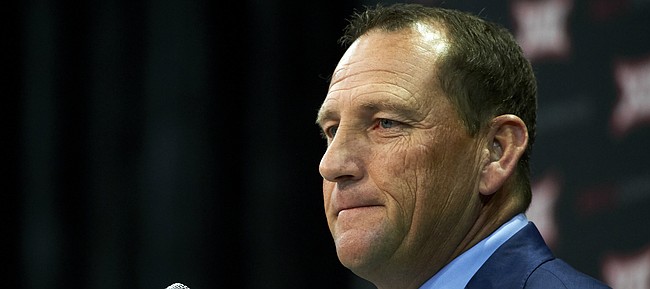 Frisco, Texas — Fourth-year Kansas football coach David Beaty revealed Monday that 39 scholarship players were on the roster when he took over the program in December of 2014.
By scholarship players, he meant athletes who came to KU on scholarship, not those who came as walk-ons and earned free rides.
It's a startling low number, all right, but it doesn't speak to whether Beaty has improved the scholarship situation via his management of recruiting, left it about the same or made it even worse.
The number, the best I can tell, includes just one Beaty recruit, Texas A&M; transfer LaQuvionte Gonzalez, who was dismissed from the program for nonfootball reasons after playing one season.
The 39 names appear later in this column. First, let's try to estimate how many players Beaty or his successor will have in the spring of 2019.
It's tough to estimate because there is no way of knowing how many players with remaining eligibility will leave the program for a variety of reasons ranging from career-ending injuries to academic deficiencies to dismissals to a desire to move closer to home to frustration over playing time and/or losing.
One way of trying to estimate is by using the same number that left after 2017.
That number is 13, although one, Taylor Martin, participated in spring football.
The other 12 who were listed on the roster a year ago had remaining eligibility and aren't on this season's roster: Shola Ayinde, Charles Baldwin, Isaiah Bean, Antonio Cole, Josh Ehambe, Chase Harrell, Bobby Hartzog, Travis Jordan, Ian Peterson, Tyriek Starks, Kenyon Tabor and Justin Williams.
Player turnover generally is a little higher in seasons where there is a coaching change, but let's not assume that here and keep the number at 13.
Based on names now on the roster, Kansas could have as many as 50 players in spring football: 11 rising sophomores, 14 rising juniors and 25 rising seniors.
Subtract the estimated 13 players who will leave for a variety of reasons before spring camp and KU will have 37 players.
Add the three offensive linemen from College of San Mateo who said in the spring they intended to play football at Kansas (as blueshirts) and the number grows to 40, one more than Beaty had in his first spring.
Once spring football 2019 starts, compare these 39 names from the spring of 2015 to the names on next spring's roster, if program policy at that time includes updating rosters as they change, a departure from the current way of doing business: Greg Allen, Kellen Ash, Courtney Arnick, Jacob Bragg, Taylor Cox, Montell Cozart, Darious Crawley, Michael Cummings, Ronnie Davis, Joe Dineen, Josh Ehambe, Kapil Fletcher, Gonzalez, Ben Goodman, Bobby Hartzog, Keyon Haughton, Tyler Holmes, Ben Johnson, Lay'Trion Jones, De'Andre Mann, Larry Mazyck, Schyler Miles, T.J. Millweard, Damani Mosby, Derrick Neal, Anthony Olobia, Tre' Parmalee, Tyler Patrick, Bryan Peters, Marquis Roberts, Tevin Shaw, Jordan Shelley-Smith, Fish Smithson, Colin Spencer, Tevin Shaw, Kent Taylor, Kyron Watson, D.J. Williams, Devon Williams and Daniel Wise.
The 49 players now listed on the roster who have eligibility beyond 2018, listed by their 2019 season classification:
2019 seniors: Hakeem Adeniji, Jelani Brown, Dayton Charlot, Julian Chandler, Codey Cole, Hasan Defense, Foster Dixson, Evan Fairs, Denzel Feaster, Kevin Feder, Antione Frazier, Elmore Hempstead, Khalil Herbert, Elijah Jones, Mike Lee, Kyle Mayberry, Willie McCaleb, Clyde McCauley, Jeremiah McCullough, Shaq Richmond, James Sosinski, Carter Stanley, Najee Stevens-McKenzie, Bryce Torneden and Andru Tovi.
2019 juniors: Kenny Bastida, Earl Bostick, Malik Clark, Cam Durley, Davon Ferguson, Quan Hampton, Chris Hughes, Kyron Johnson, Azur Kamara, Miles Kendrick, Dru Prox, Stephon Robinson, Kyle Thompson and Dom Williams.
2019 sophomores: Kenny Bastida, Jay Dineen, Joey Gilbertson, Corione Harris, Jacobi Lott, Ryan Malbrough, Jalan Robinson, Robert Topps, Nick Williams, Pooka Williams and Tekulve Williams.
Dealing in reality, one must conclude that Beaty has made a scholarship situation that seemingly only had one way to go (up) neither better nor worse during his three and a half years on the job.