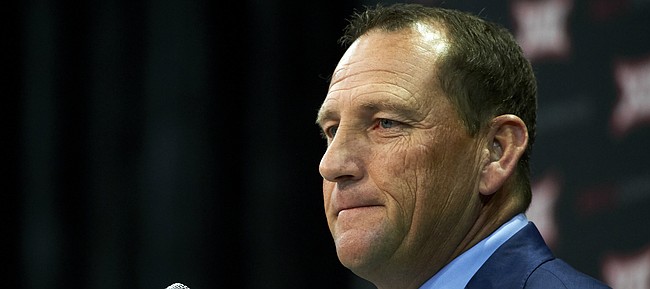 FRISCO, TEXAS — As David Beaty's breakout session with reporters drew to a close Monday afternoon at Big 12 Football Media Days, a question brought the fourth-year Kansas football coach back to the day he took over the program, in December of 2014.
The straight-to-the-point inquiry led Beaty to close his day at Ford Center at The Star with a staggering reply.
"When you first walked in the door four years ago," a reporter began, "how many scholarship players did you have?"
After asking a nearby KU media relations staffer if he should reveal the number, Beaty responded with 39.
"By the time we hit spring ball, we had 28," the coach added.
Football programs always are farthest from their limit of 85 scholarship players in the spring, when the previous year's seniors are gone and the full incoming signing class hasn't arrived. Still, the figure Beaty never referenced in public until Monday spoke to one of the largest obstacles the ever-rebuilding program has encountered in the past several seasons.
KU's scholarship numbers suffered uncommon blows prior to Beaty's arrival, with players leaving for various reasons as the program transitioned from head coach Mark Mangino, to Turner Gill, to Charlie Weis, to Beaty.
Kansas added 24 players with its 2015 signing class before the start of Beaty's debut fall in Lawrence.
Several weeks before his fourth season kicks off, Beaty said the Jayhawks will have 70 true scholarship players — not counting former walk-ons who have picked one up — competing, "if we're lucky."
Reflecting on the situation he walked into, Beaty said he doesn't know whether he or various assistants noticed what a challenge it was because they kept their heads down.
"We had to figure out, number one, how we stopped it. What did we have to do to fix this? And a lot of it had nothing to do with football. It had to do with retainment, because with numbers like that, if you lost one, it compounded," Beaty said. "You lost an initial (scholarship) and you lost an 85 and you lost a practice body, which meant another walk-on. So we had to figure out how to stop it."
Secondly, Beaty went on, KU had to make sure the players who did stay eventually graduated, in order to keep the program's Academic Progress Rate afloat.
"So we had to find a way to set the culture, retain players, but still set the culture and, along the way, understand the rules," he said. "So we had to get super creative."
The NCAA only allows a football program to sign 25 scholarship players per recruiting class.
"You can sit there and just do nothing, or you can start thinking out of the box like no one has ever thought in the history of college football," Beaty said. "Through the help of a lot of great minds here, we did. We created a few different tools to use what, quite honestly, I don't think anybody's ever had to think of."
In the meantime, Beaty said KU's coaches needed to not only practice patience, but also try and develop the scholarship players who were in place each season as best they could.
"Because we're not getting any more," he said. "So I don't want to hear you say, 'He's not good enough.' Develop him. They're not going to let us get another one. It's going to take us some time, and how do we make it up faster than the rules allow?"
The fourth-year KU coach, now 3-33 at Kansas, closed the session by stating he wouldn't "make any excuses" regarding the program's "really unique" plight.
"I'm not using that. I don't want to say anything else about that other than," Beaty said, before taking a six-second pause, "I am really proud of our staffs that we've had here."