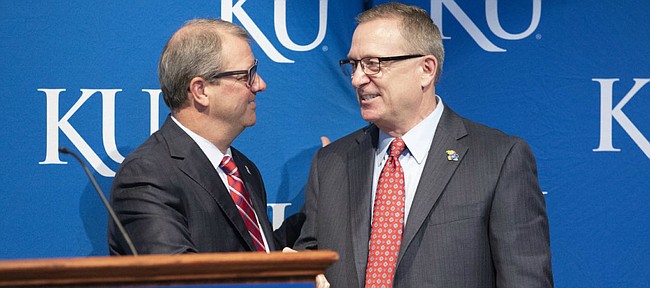 When athletic director Jeff Long officially starts his job at the University of Kansas on Aug. 1, he will begin overseeing a football program that hasn't produced a winning season since 2008 and has lost somewhere between nine and 12 games each of the past eight years.
During his introductory press conference inside the Lied Center Pavilion on Wednesday, Long referenced the football team's struggles in order to declare: "It's time to break the cycle."
The former Arkansas A.D. quickly added that doing so won't be easy, and stated David Beaty, who has compiled a 3-33 record in three seasons leading the Jayhawks, "is our coach."
As of yet, Long has not spoken with Beaty face-to-face. The football coach headed off to Florida with his family for vacation this past week. According to Long, Beaty called him about returning to Lawrence early in order to attend the new A.D.'s news conference, but Long insisted that Beaty and other KU coaches and staffers who had plans in place not alter them on his account.
Asked how much he has communicated with Beaty since accepting the position a week ago, and whether he outlined any expectations for the fourth-year coach and the team this coming fall, Long pointed out Wednesday was his first time on campus since signing his contract.
"So I haven't had a chance to have much conversation and, matter of fact, today, I will meet my athletics staff today for the first time," Long said. "So, you know, we haven't had any detailed discussions about the football program. You know, I need to get here and see firsthand. I know he's a coach. I know he's a good person. I know he works hard."
While Long stated he and Beaty had not conversed "in depth" about the program during their discussions, he looks forward to doing so.
"And look forward to (talking) to him about his approach and his coaches and recruiting and everything they do that's involved with the football program," Long added.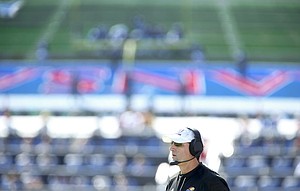 KU's 11th athletic director repeatedly indicated his assessments of the department in general and the football team specifically are in their earliest stages at this juncture.
Still, Long didn't mind revealing how he plans to measure success and progress when it comes to KU football. At least one benchmark, whenever it comes, will be the team's first postseason appearance since winning the 2008 Insight Bowl, in Mark Mangino's penultimate season.
"Well, big picturewise, I think, for our program, first, our goal is set to reach a bowl game," Long began. "So we'll strive to reach a bowl game. And once we reach that level, we won't stop there. Then, we'll move on to more games. And, ultimately, I'm not shy about saying, some day down the road, we're going to win the Big 12 championship. We've done it here in Kansas in the past and it's something we are certainly going to work every day and night to do."
Kansas tied for first in the old Big 12 North in 2007 and tied for first in the even-older Big Eight in 1968, but hasn't won a league outright since its Big Six title in 1930.
Before fielding questions, Long, during his opening remarks, said he wants to work with coaches at KU to "remove the obstacles to success." Considering the football team's 15-81 record since Mangino was fired following the 2009 season, some form of stumbling blocks must exist for the troubled program.
Long's initial appraisals, at least, he revealed, have dealt with finances, though he added he doesn't want to revolve everything around that particular angle.
"I just want to make sure that we have the resources we currently have committed to the right areas of the football program to help it be successful," Long said. "And then, it's obvious to me that my job will be to go out to raise more money and find new revenue streams for our program to support the football program, and really, all of our programs."
The former Arkansas and Pittsburgh A.D. wants to get KU football within "striking distance" on the resource front to make sure it can compete.
"You don't always need the best or the most. We're going to do more with less," Long said. "That's my nature."
Long's predecessor, Sheahon Zenger, of course, rolled out a $350 million fundraising campaign focused on KU football in September of 2017, before chancellor Douglas Girod fired Zenger this past May.
During his first public comments as Zenger's replacement, Long thanked KU alumnus and benefactor David Booth, whose $50 million pledge kickstarted efforts aimed toward renovating KU football's facilities and added Booth's name to Memorial Stadium.
"At this point, I need to get in and look at the plans of the stadium and understand better how they hope to get where they hope to get," Long said.
Initially, Long misspoke, referencing plans for a "new football stadium" instead of renovations, before quickly catching himself and joking the media shouldn't claim he's about to try and build a completely new venue. He said the eventual alterations to KU football's home should improve fans' access and enjoyment.
"That takes an assessment, as well," Long said.
As of his press conference, Long said he had seen neither the renovation nor fundraising plans.
The athletic department's website associated with those fundraising efforts, www.raisethechant.com, was not functioning on Wednesday. A KU spokesperson said the page was down for maintenance.
Although Beaty did not attend Long's KU debut of sorts, men's basketball coach Bill Self did. According to Self, some of his early conversations with Long dealt "a little bit" with football.
"I'll never know football like (Long) knows football," Self said. "Obviously, I believe it can be done here because we saw it firsthand be done. But I also know it's a process and it takes time and I understand where we're at now."
Long impressed Self, the coach said, with his philosophy on turning the football program around.
"Football's not an overnight fix," Self said of Long's approach. "Football is something that, obviously, can be evaluated and, sometimes, you're making progress a lot more than what fans see. Are you doing the right things to win the war and not the battle?"
---
More from Jeff Long's introduction as the new KU athletic director
---