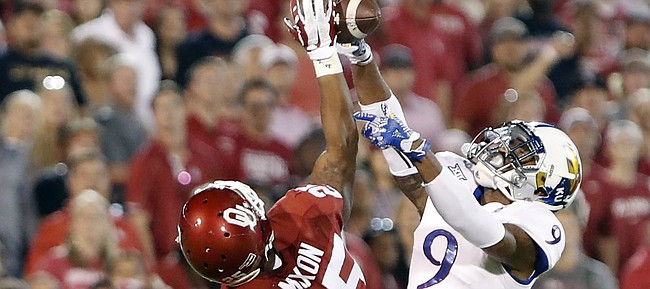 Long before Jeremiah McCullough ever gave any thought to playing football at the University of Kansas, he decided to follow the path of someone who did.
Looking to get out of Baltimore, "with all this trouble" he saw in his hometown, McCullough heeded the advice of a cousin, DeVante Thomas, who suggested heading west to play at Hartnell College, in Salinas, Calif.
Thomas turned his time at the junior college program into a spot at Western Kentucky. But it wasn't his own success story that he pitched to McCullough. Thomas, instead, referenced how another safety from Baltimore, Fish Smithson, went from Hartnell to KU, where Big 12 coaches named him a first-team all-conference defender his senior season.
McCullough never had met Smithson, but upon committing to the Jayhawks this past November he received a phone call from the former KU standout, now a safety in the NFL, with Washington.
Smithson offered McCullough, a 6-foot, 200-pound junior safety, congratulations, as well as advice on how to turn his opportunity into a triumph by staying humble and working relentlessly. The new Jayhawk left the conversation more sure than ever about his decision.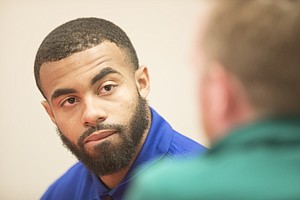 "I felt the love from Kansas from his experience. He loved it," McCullough related.
Same as his Hartnell teammate McCullough, sophomore safety Davon Ferguson, also from Baltimore, connected with Smithson upon committing to Kansas.
Ferguson, a 5-10, 197-pound sophomore, began texting with Smithson regularly after choosing KU.
"Fish is like a mentor to me," Ferguson said. "Checking up on me, letting me know if I need anything I can contact him. Fish has always been like a help, getting me through this process and getting me through the ins and outs of how this whole university is. That was a big part of me coming to Kansas. I had somebody who went here and been through it and know how it is. He had nothing but good things to speak about the university."
Although the defensive backs form Baltimore ended up at KU after playing at Hartnell — so, too, did 5-9, 170-pound sophomore cornerback D'Juan Moore — McCullough and Ferguson, who signed with Kansas in December, didn't plan on taking the exact same routes to a four-year program.
McCullough said KU — defensive line coach Jesse Williams recruited him and Ferguson — came through with his first "big offer." But McCullough didn't want to wait and see what else might materialize once he had a shot at playing in the Big 12.
"A lot of kids, they might wait around and it might not happen," he said.
In the meantime, McCullough told Ferguson to be sure to and seek out whatever future felt best for him.
"Listen, you've gotta make a decision on your own," McCullough shared of their conversation. "This is a decision for the rest of your life. Nobody else. Don't let nobody sway you just because of what they want to do. Do it for you."
According to Rivals, McCullough also had offers from Fresno State, Toledo, Utah State, Buffalo and Arkansas-Pine Bluff to ponder, while Ferguson weighed his KU scholarship opportunity against offers from Buffalo and San Diego State.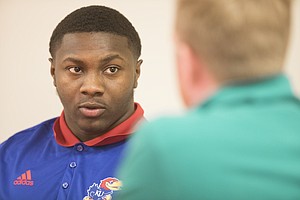 "We both had our own decision to make," Ferguson said. "But at the end we just felt this was the perfect place for both of us. He came up with his decision on his own. I came up with mine on my own."
Both are expected to provide some depth at safety for Kansas, as they join juniors Mike Lee, Bryce Torneden and Shaquille Richmond, seniors Tyrone Miller Jr. and Emmanuel Moore and others in the position group.
With a successful mentor just a text or phone call away, roommates McCullough and Ferguson enter their first season with the Jayhawks optimistic about their ability to help the program.
They anticipate coming in with so much in common — as former juco teammates who grew up in Baltimore and play safety — will aid their transition, too, as they will be able to relate to one another and talk through the experience.
"There's always a comfort level," Ferguson said of their unique situation and connection.