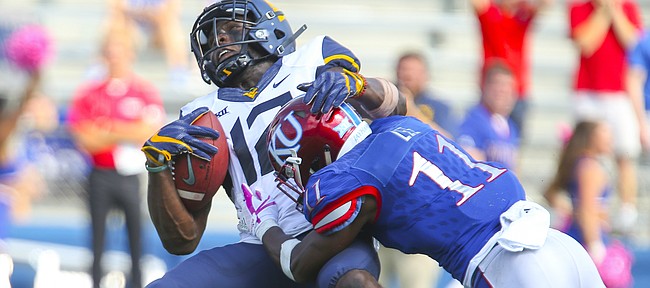 Ever since the early weeks of his first college football season, when he became a full-time starter as a true freshman, University of Kansas safety Mike Lee began standing out with his cutthroat open-field hits.
Those types of jolts made for thrilling video clips throughout each of his first two seasons, but Lee wants to become a more complete presence within KU's secondary this coming fall.
"I've been working on my game lately. Working on my feet. I know I can tackle. But most people don't think I can cover," Lee said during during a recent appearance on 1320 KLWN's Rock Chalk Sports Talk, with Nick Schwerdt.
Appropriately, Lee responded to such assessments by addressing his weaknesses over the course of the past several months.
"Working on my feet and just covering guys," Lee shared. "Just to prove myself, that I can cover, and I'm not just a tackler."
This summer Lee's preparation has included regular workouts with fellow KU safeties, as well as weekly sessions with receivers, as members of the two groups get in one-on-one repetitions every Saturday.
Prior to those encounters KU's defensive backs gather to warm up together and run through footwork drills, as Lee put it, "to get better."
Other critiques of Lee's effectiveness tend to focus on his history of missing tackles.
KU defensive coordinator Clint Bowen has stayed on Lee about that weakness since the safety from New Orleans became a regular in the lineup.
"Coach Bowen really be telling me not to try and hit everybody hard. You have to make some slight tackles," Lee said. "So really, all spring, all summer, I've been working on shimmying and keeping guys in front of me. Making solid tackles instead of every tackle being a hard tackle."
It's less difficult for Lee to contradict his love for high-impact stops when he is training or practicing against KU teammates.
So Lee has another reason to keenly anticipate the start of the season.
"When game-time comes, that's when all my anger come out and I can hit people, if I want, hard," Lee said.
Leading linebackers
The linebacking corps playing in front of Lee and KU's various defensive backs should be one of the most experienced units on the roster.
Between redshirt senior Joe Dineen, seniors Keith Loneker Jr. and Osaze Ogbebor and redshirt junior Denzel Feaster, the position group typically has taken charge for the defense during summer workouts, when coaches aren't around.
"They put a lot on us to make sure we run player practices," Feaster said of the linebackers. "The leadership on the team, being veterans and stuff, it's easier to get those kind of things going to help us get better."
According to Feaster, the Jayhawks have looked more business-like while going about their off-season work.
"Two years ago, a year ago, we didn't really have that senior leadership — not to talk down on the guys who came before us. It's just elevated now," Feaster said. "Shoutout to the whole coaching staff. They instilled in us the work ethic and we've just taken it and run with it as a team."
Taylor tough
While players such as Dineen, Lee and redshirt senior defensive tackle Daniel Wise are the faces of KU's defense, other Jayhawks who don't receive as much attention have made off-season progress, too.
Asked to identify a teammate he expects to see a lot from this coming fall, sophomore receiver Quan Hampton named senior cornerback Shak Taylor.
"That's who I go against every day in practice and he's a competitor. Like every snap," Hampton said. "No, he doesn't give up at all."
Hampton, 5-foot-8, recalled one matchup in particular with the 6-foot Taylor that didn't go his way.
"I had a go route and of course I run my route and Shak Taylor, he comes and he blocks the ball, he keeps me from catching it," Hampton related. "He stood over me and told me I would never catch it on him."