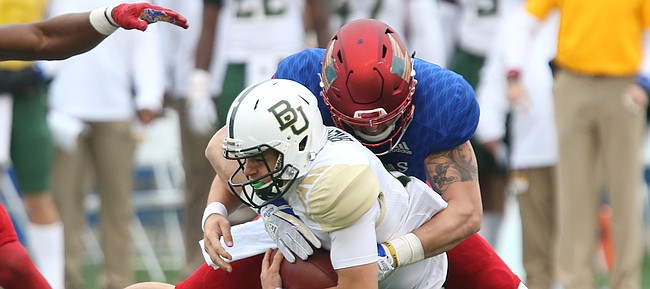 Those inquiring about what the upcoming season holds for Kansas football will direct their questions at head coach David Beaty and four of his players next week at Big 12 Football Media Days.
KU announced Monday that program veterans Joe Dineen, Daniel Wise, Steven Sims Jr. and Khalil Herbert will accompany Beaty to the Ford Center at The Star, in Frisco, Texas, for a day's worth of interviews, photo shoots, promotional videos and more.
No stranger to the festivities as a redshirt senior, this marks linebacker Dineen's third consecutive summer representing his hometown university at the Big 12's annual mid-July gathering. A former prep standout at Lawrence's Free State High, Dineen emerged as a second-team all-conference performer in 2017. He led not only the Big 12, but also all of FBS, with 7.6 solo tackles per game, set a KU single-season record with 25.0 tackles for loss and delivered 137 total tackles.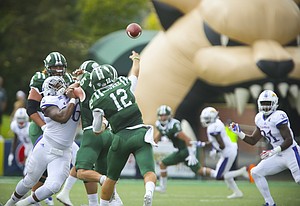 Another fifth-year senior for the Jayhawks, Wise, a defensive tackle from Lewisville, Texas, will make the trip south to media days for a second straight year. A first-team All-Big 12 selection by league coaches following his redshirt junior season and a second-teamer according to the Associated Press, Wise made 16 of his 53 total tackles behind the line of scrimmage and led KU with 7.0 sacks.
A senior who proved to be the Jayhawks' top receiving threat, leading the team in receiving yards, catches and touchdowns each of the past two seasons, Sims, from Houston, will make his maiden voyage to Big 12 Media Days. In 2017, Sims averaged a career-best 14.2 yards per catch and finished the season with 59 receptions, 839 receiving yards and six touchdown catches.
The youngest face representing KU football in Frisco, junior running back Herbert also will experience the conference's media showcase for the first time. Though injuries limited his impact in 2017, Herbert, from Coral Springs, Fla., led Kansas with 663 rushing yards and four rushing scores, while averaging 5.5 yards per carry.
The Jayhawks will join coaches and players from TCU, Texas Tech, Iowa State and Oklahoma this coming Monday at The Star, world headquarters for the Dallas Cowboys. A former standout at Lawrence High, OU defensive end Amani Bledsoe will be among the Sooners in attendance.
Big 12 Media Days wraps up on July 17, when representatives from West Virginia, Texas, Baylor, Kansas State and Oklahoma State take their turns in front of the cameras and microphones.