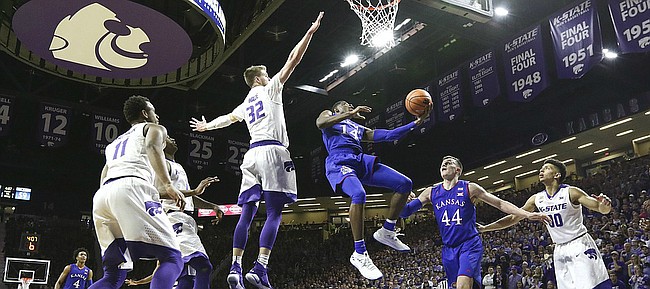 Manhattan — Gone is the first-year Kansas player who at times looked lost in thought, wondering how to fit in, what to do and what not to do.
Nine days after the calendar flipped to 2018 that player faded away.
In his place is a new Malik Newman. He has found himself, though not the same self who had Kansas and others tripping over each other in a recruiting battle won by Mississippi State.
This Newman isn't the scorer other teams spend a great deal of time wondering how they'll shut down. He's not the team's primary ball handler and will never be a shut-down defender.
But he has figured out how to fit in and he does so by embracing a utility role, doing whatever the team needs at the moment. A 3-pointer here, a drive there, and a whole lot of defensive rebounds.
Photo Gallery
Kansas basketball v. Kansas State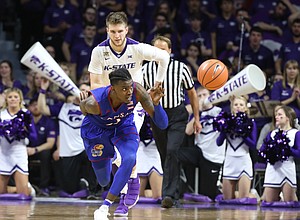 View a gallery from Monday night's game between the Jayhawks and Wildcats in Manhattan, Kan.
He figured out how to become a Bill Self player the moment he stopped trying to figure out how to become a Bill Self player. The way to do that is to stop thinking and start playing the most aggressive basketball of your life in every facet of the game.
In doing so, Newman made a discovery along the way. It turns out he's a darn good rebounder.
Newman, a red-shirt sophomore from Jackson, Mississippi, produced the first double-double of his college career in helping Kansas to drub Kansas State, 70-56, in Bramlage Coliseum.
He produced 13 points and 10 rebounds and was the player most responsible for Kansas breaking a 10-game streak of getting fewer rebounds than the opposition. KU owned the boards, 41-31.
Newman's soaring high enough to grab rebounds off the rim before anybody else can get to them.
Udoka Azubuike leads the team with 103 defensive rebounds, but Newman is gaining on him and has 99. He passed Lagerald Vick (95) Monday night.
How does he do it?
"I just try to see where the ball's going and just use my quick jumping ability before anyone can react to it," Newman said.
It's more than just rebounding. He's settling for jumpers less, driving to the hoop more.
"I think earlier I was out there overthinking, trying to play mistake-free basketball," Newman said. "When you do that you're going to look slow and look like you're not supposed to be out there. I just had to look in the mirror, find my confidence again and make winning plays."
Kansas senior leader Devonte' Graham has noticed the same trait bubbling to the surface in Newman.
"I think his confidence is going up," Graham said. "We know that he means a lot to the team. He can get on the glass and rebound for us defensively. I feel like he's been playing really well lately. He just needs to keep on that wave for us and stay aggressive."
Newman's Monday minutes supplied the best evidence of his value. He played all 40 for the first time this season. In the past four games, Newman is averaging 37.3 minutes, 18 points and 7.3 rebounds.
He sent credit to his coach Bill Self for developing confidence.
"When you know you have a coach who's on your side who wants you to succeed makes it a lot easier," Newman said.
---
More news and notes from Kansas vs. Kansas State
---