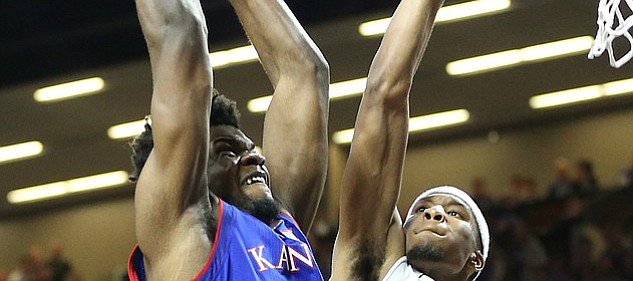 Manhattan — Leave it to Kansas State fans to be well-schooled on the strengths and weaknesses of every Kansas basketball team that walks into Bramlage Coliseum.
Monday night, more than hour ahead of KU's 70-56 victory in Round 2 of this year's Sunflower Showdown, that knowledge was on full display during KU's pre-game shoot-around.
In addition to the usual signs and chants — many of which focused on former KU freshman Billy Preston — the K-State faithful locked in on KU big man Udoka Azubuike at the free-throw line.
"That was, by far, one of the funniest pregame moments I've ever had," KU sophomore Malik Newman said after the victory. "Like, by far. He was embracing it, and I think he enjoyed it more than we enjoyed it."
Photo Gallery
Kansas basketball v. Kansas State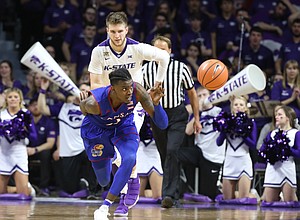 View a gallery from Monday night's game between the Jayhawks and Wildcats in Manhattan, Kan.
During his first five free throw attempts of the night, Azubuike heard it from the fans as he showed off his new form and attempted to get comfortable at the line.
As three full sections of fans rained noise down on KU's 38-percent free throw shooter, Azubuike misfired on his first attempt. Naturally, that drew a wild roar of approval. But Azubuike made the next one and, for a brief moment, waved toward the student section, asking for more noise. It came and he missed the next two before draining the fifth.
The charade continued a little closer to tip time and Azubuike hovered right around 50 percent during warm-ups.
For the night, Azubuike finished 2-of-5 at the free throw line, which actually raised his free throw percentage for the season from .375 to .377.
Happy Kansas Day
With Monday's Sunflower Showdown coming 157 years to the day after the state of Kansas' admission to the Union, it seemed only appropriate the state's oldest and most bitter rivalry would square off in celebration.
Monday's game marked just the sixth time in Kansas basketball history that the Jayhawks and Wildcats have faced each other on Kansas Day and KU now owns a 5-1 edge over K-State in games played on the state's birthday.
The Jayhawks' first-ever game on Kansas Day actually was a loss, as Nebraska Wesleyan knocked off James Naismith's Jayhawks, 52-37 in Lincoln, Neb., on Jan. 29, 1905. Six years later, on Jan. 29, 1911, the Jayhawks jumped into the win column on Kansas Day with a 27-14 victory over Missouri in Lawrence.
Somewhat appropriately, the Tigers are one of the two teams who showed up most on KU's schedule on Jan. 29 in the 120-year history of Kansas basketball. The other? K-State.
The Jayhawks are 5-2 all-time against Missouri on Kansas Day and now sit at 24-6 in games played on Jan. 29 all-time.
Jayhawks drop to No. 7
A mid-week loss to Oklahoma dropped the Kansas men's basketball two spots to No. 7 in the latest Associated Press Top 25 poll.
Kansas, which leads the Big 12 by one game over four teams tied for second, checks in as the highest-ranked team in the nation's No. 1-ranked conference, with Texas Tech (No. 10), Oklahoma (12) and West Virginia (15) all ranked in the Top 15.
Kansas State, which has won four straight and crawled into the Big 12 title race since losing by a single point in Lawrence earlier this month, was not ranked in this week's Top 25.
The top four in this week's poll remained the same — Villanova, Virginia, Purdue and Duke — while Michigan State and Xavier both jumped Kansas.
The Jayhawks extended their nation's best streak of consecutive weeks ranked in the AP Top 25 to 174 weeks (Villanova is second in active streaks at 86 weeks).
Despite falling two spots in the AP Poll, the Jayhawks actually made a move up in ESPN.com's latest Bracketology from Joe Lunardi. Lunardi now has KU as a No. 1 seed in the West region. Just four days ago, the Jayhawks were a No. 2 seed in the Midwest, according to Lunardi.
This and that...
Monday's victory in Manhattan — the second in a row for the Jayhawks — pushed KU to 18-4 or better for the fourth consecutive season and 7-2 or better to open Big 12 play for the second year in a row and 13th time in the Bill Self era... KU has now won seven straight over the Wildcats and is 5-1 in true road games this season, 8-2 in games played away from Allen Fieldhouse... Kansas, which has won seven in a row over KSU, now leads the all-time series, 195-93, including a 78-47 record in games played in Manhattan and a 26-4 mark at Bramlage Coliseum... Self is 31-5 all-time against K-State, 30-5 while at KU.