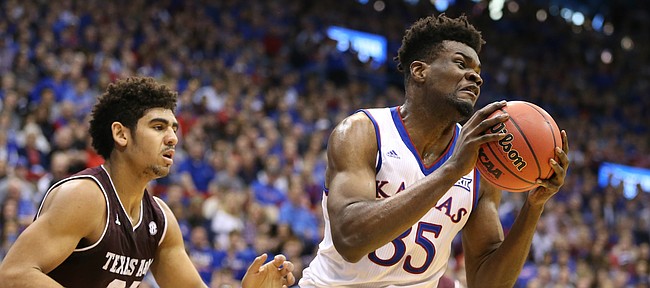 Defending without fouling was among the many things Texas A & M did well in the second half of a game it lost to Kansas in Allen Fieldhouse, 79-68, Saturday. 
As a result, Kansas didn't reach the bonus until 48 seconds remained, so the Aggies didn't employ the Hack-A-Udoka strategy. KU coach Bill Self removed Azubuike with 1:18 remaining, the point at which the visitors came within one foul of putting KU in the bonus. Kansas had a 10-point lead.
Azubuike played 22 minutes and produced eight points, six rebounds, four blocked shots and two assists. The one thing he didn't do was shoot a free throw.
That doesn't mean that Self felt as if he wasted the time he spent during the week giving his center one-on-one free-throw instruction.
Was he disappointed he didn't get to see Azubuike put the fruit of those lessons on display with 16,300 well-wishers looking on?
Photo Gallery
Kansas basketball v. Texas A&M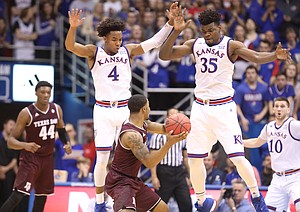 View a gallery of images from Saturday's game between the Jayhawks and Aggies at Allen Fieldhouse.
"Disappointed may be a stretch, but I was certainly looking forward to him having that opportunity," Self said.
Just because Self removed Azubuike this time, when the Aggies were on the verge of reaching the bonus, doesn't necessarily predict what he will do if given another tight game that plays out similarly to the fall-from-ahead, 85-80 loss to the Sooners in Norman, Okla. Azubuike went 0 for 6 from the line down the stretch.
"I think that's a lot different situation when you're trying to win a game and the game's won and you're just trying to preserve it than when it's a one-possession game with three-and-a-half minutes left," Self said.
As for what he will do in that situation, it's difficult to say.
On one hand, Kansas has a better shot to score points if it's running its offense even without a center on the floor than it does if the other team is sending Azubuike to the line with a .375 accuracy rate.
At the defensive end, leaving Azubuike on the bench is the equivalent to an open invitation for the opposition to have its best driver use a screen and take it to the rim with confidence.
Consider this: If the massive, athletic Azubuike had not lent help to alter Manu Lecomte's shot on a drive to the hoop in the Baylor game, might the Bears have won in Allen Fieldhouse? Good chance.
Plus, if teams have to resort to sending a walk-on onto the floor to foul Azubuike, as did Oklahoma, there is the downside for the opposition. Even when a team has its best team on the floor, trying to score on Kansas with its athletic center protecting the rim is tough. Having to try to score with a designated fouler in the lineup is almost like playing four-on-five.
It's not an easy call for the coach on either side of the Hack-A-Udoka quandary.
The only way it goes away, of course, is if Azubuike improves at the line.
So how's that coming along?
"We shot a lot of free throws this week," Self said of working with his center. "We worked on a lot of things and it actually looked pretty good, but it's a little bit different under pressure. It takes a lot of discipline not to revert back to what you know. He's been shooting it that way for a lot of years and we tried to change it in 48 hours."
Self didn't rebuild the engine, but did tighten a loose screw here, a flying elbow there. 
"It's not totally changed and it's not going to be totally revamped until the offseason, but it's something he has to address," Self said. "His technique certainly was better and more sound since the OU game."
Azbuike battled hard in the post from the outset, holding his ground physically against the Aggies' skilled post player, Tyler Davis.
By halftime, Azubuike had scored just two points, but also had produced six rebounds and four blocked shots. He was limited to 10 second-half minutes (six points, no rebounds or blocks) because he picked up his third foul on a technical pinned on him after a dunk.
Guarding Azubuike, Davis fell to the ground onto his back. Azubuike threw down a two-handed dunk and came down with legs apart so that one would land on each side of Davis. Azubuike then stared down at Davis and did so for too long for the ref to think he was just looking to make sure he didn't step on the defender, who at that moment recalled so many Kansas quarterbacks in recent seasons.
"I was disappointed in that," Self said of Azubuike putting himself in position to get slapped with a T. "I think those are selfish plays when you do something that hurts your team like that. He knew that was a personal foul and he knew he was going to have to sit the next five or six minutes and that's when we didn't play very well."
Azubuike makes KU a far better team at both ends of the floor, which makes it difficult for the coach to sit him on the bench, even at the risk of having to watch him attempt crucial free throws.
It's an issue that will make close games even more compelling to watch unfold at crunch time.
---
More news and notes from Kansas vs. Texas A & M
---