It's been a while since KU freshman Marcus Garrett delivered the kind of stat line he put up Saturday, during fifth-ranked Kansas' 79-68 victory over Texas A&M in the Big 12/SEC Challenge at Allen Fieldhouse.
The fact that Saturday's game was not nearly as hyped up as the past two conference showdown games involving KU and Kentucky — not to mention KU's status as an eight-point favorite in Las Vegas — did nothing to steal Garrett's focus from the task at hand.
Playing his second-fewest minute total since the start of Big 12 play, Garrett filled up the stat sheet to the tune of nine points, one rebound, two steals, one assist and one turnover.
Photo Gallery
Kansas basketball v. Texas A&M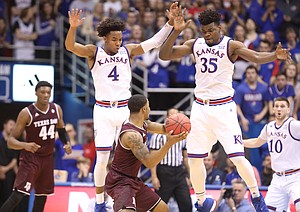 View a gallery of images from Saturday's game between the Jayhawks and Aggies at Allen Fieldhouse.
"I thought he was, other than Svi, the best player in the game," KU coach Bill Self said of his utility-knife freshman, who, once again, did whatever was needed at the exact perfect time to help the Jayhawks improve to 17-4 and win their fourth straight in the Big 12/SEC Challenge. "He does a lot of good things defensively and he made a couple of great drives and then, of course, knocked down a three."
All nine of Garrett's points — on 4-of-4 shooting — came during a stagnant second half that featured KU coasting to victory and the Aggies fighting like mad to make a game of it. His first seven points came during a 3:43 stretch midway through the second half and helped Kansas maintain a double-digit lead. And his biggest bucket came with the KU lead down to 10 — 72-62 with 4:40 to play — when Garrett drove hard to the rim 32 seconds after checking back in to give Kansas a little breathing room again.
But while those four shots and his uncharacteristic offensive involvement gave the Jayhawks a lift, Self said it was the freshman's defense that continued to earn him minutes.
"He did some things from a defensive standpoint that was probably better than what all our other perimeter defenders did," Self said. "I thought he played great. Best game he's had in a long time."
Podcast episode
After a 79-68 home win over Texas A&M, Kansas basketball coach Bill Self praised freshman guard Marcus Garrett for his defense and drives and how the Jayhawks used their speed to match A&M's size.
Smooth sailing?
After playing six consecutive single-digit, conference grinders following their 12-point home loss to Texas Tech in early January, the Jayhawks finally got to experience what it felt like to play with and close out a game with a big lead.
But just because the Jayhawks led by double digits from the 9:58 mark of the first half to the final horn did not mean things came easy on Saturday. At least not in the eyes of the Jayhawks themselves.
"I mean, we did sweat," said leading scorer Svi Mykhailiuk. "But it was just great to bounce back and get a win (after) the last game."
Added Self, asked if it was "nice to have one of these:" "Yeah, it is. But, still, though, it wasn't as comfortable as what I would've hoped. I think that we could've played a lot better the second half and been able to sub and play Silvio (De Sousa) and get Devonte' (Graham) off the floor and stuff, but those things didn't happen."
First-time familiar faces
Saturday's victory marked the first live KU game that Kansas signee Quentin Grimes had ever enjoyed.
Grimes sat court-side with his mother, a KU grad, to his right and former KU great Sherron Collins to his left, in the row behind the Jayhawks' bench. The milestone moment came just a couple of nights after the recently-named McDonald's All-American scored 45 in his prep team's 38-point victory.
Six or so seats to Grimes' right, former KU forward Jamari Traylor enjoyed his first game in Allen Fieldhouse since his final game as a player back in 2016.
Traylor, who has been playing professional ball in Greece, had been back in town just two days and planned his schedule so he would have to wait as little as possible to get back into his old home.
"I just need to get me one or two games back in here and I'll be good," Traylor said at halftime.
Big 12 bummer
With Saturday's victory, the Jayhawks once again did their part to keep the Big 12/SEC Challenge trophy in Big 12 country for another year. But the rest of the league did not come through.
After winning the the trophy during the first three years of the challenge and maintaining possession of the trophy after splitting 10 games with SEC foes in 2017, the Big 12 will have to give it up for the first time, thanks to a 6-4 edge by SEC programs in this year's event.
Only Kansas, Kansas State, Texas Tech and Texas came through with victories for the conference on Saturday, while Oklahoma, TCU, West Virginia, Baylor, Oklahoma State and Iowa State all lost.
Big 12 teams are now 29-21 all-time in the Big 12/SEC Challenge and the conference has posted a 57-41 mark in the last two conference challenge series, which includes a previous clash with the Pac-10 dating back to 2007.
The Jayhawks are now 7-2 all-time in conference challenges with two wins over UCLA and Kentucky, a 1-0 mark against Texas A&M and a 1-1 record against Arizona and Florida.
This and that...
Saturday's victory marked the fourth in a row for the Jayhawks in the Big 12/SEC Challenge and improved the Jayhawks to 4-1 all-time in the mid-season showcase. KU owns a 1-0 record vs. A&M, a 2-0 record vs. Kentucky and a 1-1 mark against Florida in the event... Saturday's win also gave Kansas its 10th straight victory over former Big 12 foe Texas A&M and pushed its all-time lead in the series with the Aggies to 21-1... In addition, the win moved KU to 17-4 or better for the fourth consecutive season and marked KU's 10th victory at Allen Fieldhouse this season.
https://www.youtube.com/watch?v=oaLXtibRHOM
https://www.youtube.com/watch?v=Z1COqn8k07w
https://www.youtube.com/watch?v=IiG_YD3wIJM
https://www.youtube.com/watch?v=jRz1ImjmzV4
https://www.youtube.com/watch?v=fUbhELGgU7U
https://www.youtube.com/watch?v=qY4Omo7gzkg
---
More news and notes from Kansas vs. Texas A & M
---