Wednesday, January 24, 2018
Now that the free throw misses heard 'round the world are a thing of the past — you know, like 16 hours old now — it's worth exploring where the Kansas basketball team and big man Udoka Azubuike go from here.
In the eyes of Kansas coach Bill Self, who put Tuesday's 85-80 loss to No. 12 Oklahoma squarely on his shoulders for a "bad decision" to leave Azubuike on the floor with the 12th-ranked Sooners employing the Hack-a-Dok strategy and putting the KU big man at the free throw line on purpose, the easiest place to start is by finding a way to help Azubuike become a better free throw shooter.
That may be easier said than done.
Azubuike entered Tuesday at 41.1 percent for the season and emerged following a 1-of-8 free throw shooting night — including 0-of-6 in the final four minutes — at 37.5 percent for the season.
Photo Gallery
Kansas basketball v. Oklahoma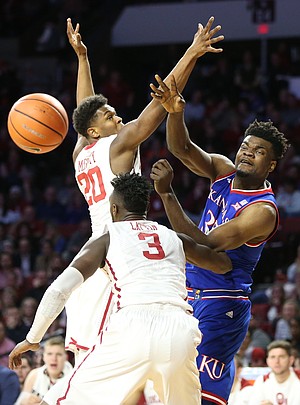 View a gallery of images from Tuesday night's game between the Jayhawks and Sooners in Norman, Oklahoma.
The native Nigerian who leads the nation in field goal percentage (77.4 percent) but has shot nearly all of the 130 field goals he has made (in 168 attempts) with one hand from inside of five feet or two hands via the dunk, never has looked comfortable nor competent at the line and it's easy to see the Sooners' strategy coming into play again at some point this season unless Azubuike addresses the issue.
While images of hours of extra free throws on his own — a la Landen Lucas last season — and an intense look at form, technique, stance and set-up all come to mind, Self said there was more to the fix than fundamentals.
"I think mentally he's got to accept what he needs to do and obviously not remember. He needs to have a short memory," said Self, who noted after Tuesday's loss that he hoped he had not killed his center's confidence further by leaving Azubuike in the game to miss those crucial free throw attempts. "But also, from a technique standpoint, we're not going to change his shot in February. It's not going to happen. If you're going to change a shot, you're going to change it as soon as the season's over and give it six or eight months.
"I've had boosters say, 'Shoot them underhanded, do this, do that.' I don't think that that's going to be the case moving forward. But the bottom line is he's just got to see the ball go in the hole."
Asked if he ever would use the strategy that Oklahoma coach Lon Kruger used on Azubuike, Self said sure. Asked if he ever had, the answer was no.
The philosophy behind Self leaving Azubuike on the floor instead of opting to sub him out in favor of reserve forward Mitch Lightfoot, an 82 percent free throw shooter this season (albeit on 47 fewer attempts than Azubuike), was rooted in showing in confidence in his young center.
And it might have worked had Azubuike (24-of-64 from the line this season) hit closer to his average and knocked in even just two of the six attempts he got. Instead, he came up empty and left Self and KU fans everywhere wondering what the give-away loss might lead to.
"Who knows if this will end up being something positive down the road because maybe he'll focus and concentrate and work on it harder because he didn't like how this felt," said Self, highlighting the glass-half-full mindset. "Who knows? Maybe if he works on it harder and gets better at it then when he's in pressure situation again, which he will be, maybe he'll shoot a higher percentage. I don't know."
What Self and the Jayhawks do know is that they'll do whatever they can to support Azubuike, in good times and bad. And they're confident that the sophomore big man will not let a sour ending at OU define his season.
One look at Azubuike's face while walking off the floor, and obvious frustration after each missed free throw, showed a player who took the moment hard. But also one who cared enough to get serious about working to make sure such a scenario did not cost Kansas again.
"Let me just say something The best free throw shooters are always your best shooters," Self explained. "And I don't think anybody thinks Dok's a good shooter from behind the 3-point line. And you could say the same thing about Shaq or other guys. ...But all athletes need a short-term memory. I mean, no matter what you do. You trip, you have to put it behind you and correct it. But this one will sting for a bit because he cares so much. But I think that he'll respond favorably from it."
KU senior Devonte' Graham, who said he did not see OU's strategy coming, agreed with his coach about the KU center's resolve.
"I felt like he knew the fouls were coming," Graham said. "He just didn't go up there and knock them down. … But I think he'll bounce back pretty good. Right now it's probably going to mess with him a little bit."
https://www.youtube.com/watch?v=VGfQjAW94CM
https://www.youtube.com/watch?v=fjYx65orXVo
https://www.youtube.com/watch?v=IBA7jyYqR48
https://www.youtube.com/watch?v=RPIUe6a1zRk
---
More news and notes from Kansas vs. Oklahoma
---