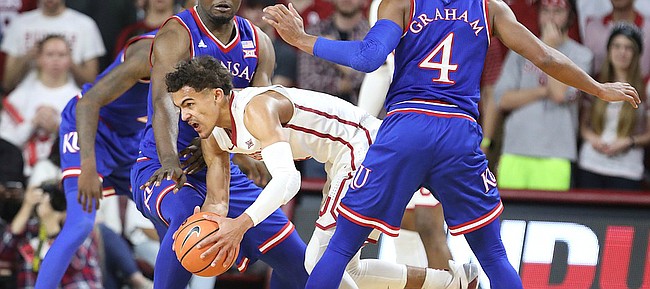 Norman, Okla. — Sometimes, it takes the great ones longer than others to fully trust less talented teammates.
It took Michael Jordan's fourth NBA coach, Phil Jackson, to convince the superstar that the road to championships is one traveled by teams, not individuals. Jordan won his first of six NBA titles with the Chicago Bulls in his seventh season.
It took Oklahoma freshman point guard Trae Young one bad week, two losses and a ball-hogging, 48-point game in an overtime loss to Oklahoma State to get the message.
Young put up a season-low nine shots and scored 26 points to lead Oklahoma to a come-from-behind, 85-80, victory at Lloyd Noble Center against Kansas, which remains alone atop the Big 12 standings.
Obviously, defeating the Big 12 leader doesn't equate to winning six NBA titles, but it's extremely impressive that a teenager could respond to the first serious criticism during his athletic career by blowing the ball-hog label to bits with a you-first, 40-minute virtuoso performance.
In one night, Young transformed himself from a shredding electric guitarist belting high-volume solos to a bass player, keeping everything together in such clean fashion.
Photo Gallery
Kansas basketball v. Oklahoma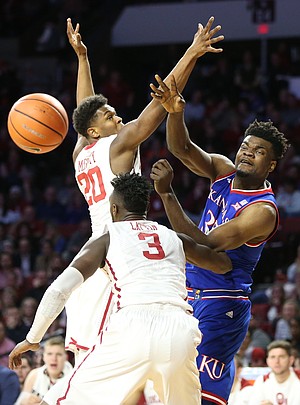 View a gallery of images from Tuesday night's game between the Jayhawks and Sooners in Norman, Oklahoma.
Young made 7 of 9 field goal attempts, 2 of 3 3-pointers and 10 of 12 free throws and had nine assists and four rebounds to go with his 26 points. He had averaged 9.3 turnovers in OU's past three games, but had just four Tuesday.
Young, whose first 3-point attempt came more than 24 minutes into the game, got the better of Kansas senior Devonte' Graham in Round 1 of their matchup, which will be replayed at least once and as many as three more times.
Graham did a nice defensive job on Young until tiring late in the game and the KU guard even was within shouting distance of a triple-double with 11 points, seven rebounds and nine assists. He had just two turnovers. But Graham's shot abandoned him on this night. He made just 4 of 19 field-goal attempts, 1 of 9 3-pointers and 2 of 4 free throws.
"I just missed shots," Graham said. "I told the guys in the locker room you can put this one on me just because I felt like I let the team down today. I felt like I had good shots, open shots. I just missed them."
It's never surprising when a born leader seizes blame for a loss, but Kansas likely would have won the game if the program's ultimate leader, coach Bill Self, who also pointed the finger of blame at himself, had not left his poorest free-throw shooter in the game to go 0 for 6 in the final 3:37.
Once the clock reached four minutes, Oklahoma coach Lon Kruger held his arms in the air and crossed his wrists, letting his players know to foul Udoka Azubuike early in every possession.
Those two coaching decisions won the game for Oklahoma and lost it for Kansas.
Self didn't deny that, but said he believes in keeping his best players on the floor in part because it shows them he believes in them and thinks in the long run that pays dividends.
Self's history shows that his stubbornness wins the Jayhawks far, far more games than it loses them, but put this one in the loss column.
Kruger's strategy, sure to be employed by fellow Big 12 coaches if Self keeps Azubuike in close games late, was the takeaway most will remember because it happened at the end of a comeback.
Give the teenager, Young, credit for smart tactical execution as well. He stubbornly went out to prove to the world that he's not a ball hog and so effectively reinvented himself so quickly.
"I mean, the way I played at OSU, I was overly aggressive and tonight I think I managed the game a lot better," said Young, who took 39 shots in the overtime loss in Stillwater. "Just showing I can manage a game and get my teammates involved and get them involved early."
Young leads the nation in points, assists and turnovers, so it's not as if he just discovered passing, but he definitely went out of his way to accent teammates in a bigger way than ever. They appreciated it.
"I felt like we were moving the ball a lot more and got a lot more open looks," OU's Christian James said.
Young set up James for the game-winning shot by driving and drawing the defense, then finding him open for a 3-pointer that gave the Sooners an 82-80 lead on the shot that stood up as the game-winner.
Young also assisted Brady Manek's insurance 3-pointer with 25 seconds left.
"I was just trying to make the right read," Young said. "My guys did a great job of preparing for this game, working on being focused, on knocking down shots and being ready when they're open."
At game's end, Young had the look of a steely-eyed professional who had been there, done that many times. His celebration was understated.
"I have a lot of respect for coach Self and their ball club," Young said. "They're a really good team. When you celebrate too much, it's because you're surprised. You surprise yourself. I expected to win."
Playing for his hometown university, Young had a big hand from start to finish in halting the Sooners' two-game losing streak. Both coaches had a big hand in the outcome in the final few minutes, when the Kansas center with the big hands continued his struggles at the inaptly named charity stripe.
---
More news and notes from Kansas vs. Oklahoma
---