Saturday, January 20, 2018
With apologies to the 1983 Chicago White Sox, there is no such thing as winning ugly.
Winning sends everyone home happy, from players to coaches to spectators to ushers to bar owners.
So how to describe Kansas' latest clutch victory without being able to call it winning ugly?
Let's just say Kansas 70, Baylor 67 had a great personality. Call it attractively flawed.
Kansas coach Bill Self used less ambivalent language.
"It was ugly," Self said. "It was ugly. Hopefully, we can correct some things moving forward."
Such as?
"Obviously, in the second half we were awful offensively," Self said.
Photo Gallery
Kansas basketball v. Baylor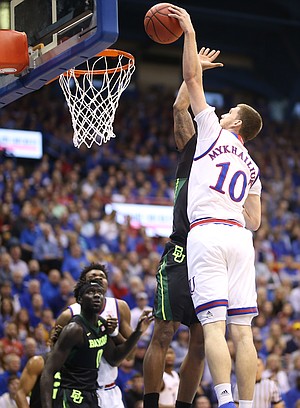 View a gallery from Saturday's game between the Jayhawks and Bears at Allen Fieldhouse.
So awful that for a stretch of game clock that ate 22 minutes and 17 seconds from late in the first half to late in the second, the only Jayhawk to score a field goal was center Udoka Azubuike, who made 4 of 7 during that stretch.
The rest of the Jayhawks combined to go 0 for 20 between Graham's 3-pointer with 7:34 left in the first half and Malik Newman's 3 with 4:20 left, which started him on a streak of scoring all 12 of the team's points for the next 3:11.
An 0-for-20 shooting stretch for all but one player and still winning is a beautiful accomplishment. Not that Azubuike (14 points, seven rebounds) was perfect.
After all, he made just 4 of 11 free throws on the same night Marcus Garrett made just 3 of 8.
"Two guys go 7 of 18 from the free-throw line," Self marveled. "That's hard to do. That's like a turnover. We only had 11 turnovers, but we probably really had 16 or 17 when you look at it that way."
During the post-game press conference, Graham said, "If we would've made free throws, we would've been in a little bit (less) of a predicament, too, right, Dok?"
Azubuike said later he has been working hard to improve at the line. When asked about it said he would consider adopting an underhanded method if his coaches suggested it.
The day started with news that Billy Preston would never suit up as a Jayhawk and it ended with the two players who will be counted on to soften the blow of his departure having particularly rough nights.
Mitch Lightfoot and Silvio De Sousa combined for eight scoreless minutes with one rebound, one blocked shot and five personal fouls.
"I think that everybody has been saying that since Nov. 10, if we don't get the big kid we're more vulnerable," Self said. "And I would have to agree with that. We are more vulnerable. We're playing with four guards out there and even our tall guards don't play big. But we also know how to win, for the most part. We compete pretty hard and we have two unbelievable seniors and we have a big guy down low who's hard to deal with if he gets it close to the basket. There are a lot of things a lot of teams would like to have about our team."
Vulnerable victors and such clutch finishers.
"Our margin of error is without question as small as it's been probably since we've been here," Self said. "That doesn't mean we can't win as many games, but there are going to be a lot of games like today. For us to win a lot of games we're going to have to eke out some and understand that's OK. That's acceptable to do that."
Clutch finishes are always acceptable because they send everybody home happy, regardless of how many flaws they witnessed.
https://www.youtube.com/watch?v=ju6J8G5kxL4
https://www.youtube.com/watch?v=H554kYl6jLM
https://www.youtube.com/watch?v=JLbqUm1bOvo
https://www.youtube.com/watch?v=jcnfeJhXV68
---
More news and notes from Kansas vs. Baylor
---