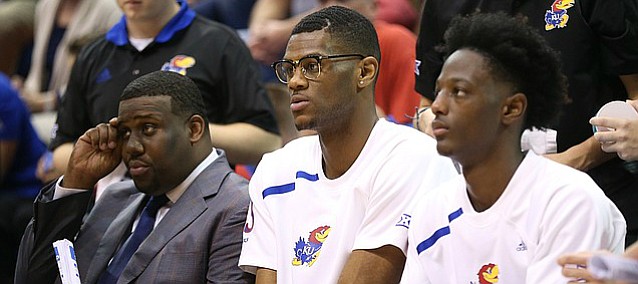 On the eve of his big performance during Saturday's 70-67 victory over Baylor, Kansas sophomore Malik Newman spent nearly all of his time hanging out with teammate Billy Preston.
It was not until Saturday morning that Newman learned that the Friday night hangout would be the last involving Preston and the Jayhawks this season.
"Ah, it was tough," Newman said of learning that Preston had signed with a professional team in Bosnia and was leaving Kansas for good. "I wish him the best of luck. I know he'll do great over there. But it was tough. That's a brother that we lost."
Added senior point guard Devonte' Graham: "His situation is definitely tough. Kid coming out of high school, coming in, thinking he's going to play in college, and then he didn't even really get to play — at all. But he's had a good attitude about it in practice and stuff like that, coming to practice, helping us out every day. You've got to wish him nothing but luck. His situation was kind of screwed up and you feel bad for him."
Photo Gallery
Kansas basketball v. Baylor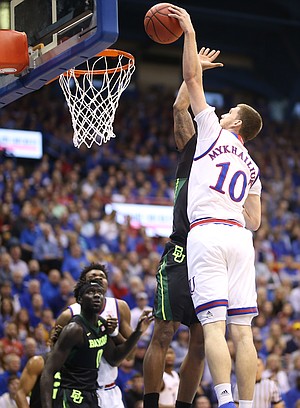 View a gallery from Saturday's game between the Jayhawks and Bears at Allen Fieldhouse.
Kansas coach Bill Self, who confirmed Preston's departure through a statement Saturday morning, said he had known about Preston's opportunity to join BC Igokea in Bosnia for three weeks. But it was not until a text message at 7:18 a.m. that Self knew it was a done deal.
"Of course (we're) disappointed," said Self, officially classifying the matter as "an NCAA reinstatement matter" for the first time. "The disappointment comes from us not having a finality to it, (not) from (the NCAA) not making a decision. ... Just to be real clear, so fans don't think (certain) people are at fault; it took some time to get the information to them in a final package because if you get it to them and it's incomplete, it drags on longer and longer. Then there were follow-up deals, 'We have more questions, we have more things.' And we thought we were getting close, real close. But I think the team in Bosnia put pressure on (his mother) Nicole (Player) and Billy.
"We had been told (by the NCAA), 'Hey, we don't disagree with what you're saying, we're not saying we agree. But we are saying that we are not quite ready to make a final determination on it. I don't blame anybody, to be honest with you. I just hate it. I hate it for him because he didn't get to experience what college basketball's all about. Hopefully he'll go over there and kick butt and put himself in a position to be a higher draft pick because he went over there."
In addition to continuing to praise Preston's contributions as a good teammate, Self said the Kansas basketball program always made it a priority to help Preston and his mother determine "what's best for Billy."
"The decision was made that (they) want to stay at Kansas," Self said. "But (they couldn't) stay and not get anything out of it. I mean, think about a kid that talented not even playing this year."
As for where things go from here, Self said the only silver lining in the matter was that the team never had Preston in the rotation so they would not have to get used to playing without him.
"The good thing is, if there is a good thing, we know who we've got," Self said. "We know how we need to practice. So you could look at that as a positive. But what KU fans and what we missed out on, this young man has Top 10, Top 15 type talent."
As for where KU stands with the NCAA, and, specifically, if he thought Preston's situation was in any way tied to Adidas or if the university had anything to worry about in regards to any other infractions, Self said that, too, appeared to be in good shape.
"He didn't play," Self said. "So there's not a situation with forfeiting games. It's in the hands of the NCAA and I've got to believe that they feel like we've been totally up front and presented all the information to them to the point where they wouldn't look at us in a negative way whatsoever."
Podcast episode
Kansas basketball coach Bill Self discussed his team's 70-67 victory over Baylor at Allen Fieldhouse, including Malik Newman's star performance in the second half and KU's solid first-shot defense against the Bears. He also talks about freshman forward Billy Preston leaving for a pro team in Bosnia.
Big and bigger
After watching the Jayhawks tear up the Bears' zone during the first six minutes of the game, KU coach Bill Self decided to take his first look at his newly available, two-big man approach.
After a brief stint on the bench, Udoka Azubuike hopped up at the 12:03 mark of the first half and joined Silvio De Sousa for the next 1:40 together.
During that time, neither team scored and Azubuike missed a pair of free throws while De Sousa picked up a personal foul battling for a rebound.
While the KU newcomer continues to gain comfort, it was clear during his early minutes that he's still doing a lot of thinking and trying to keep his head from spinning. At one point, before stepping to the free-throw line after drawing a foul, Azubuike had to tell De Sousa to tie his shoe.
"We've got to put them out there some. But that was about the most ineffective thing that I've ever seen with that lineup in," Self said. "Silvio, he didn't get anything done today. But it's not from lack of effort. He just didn't have a great day."
Big 12 race update
Saturday's victory might have only counted for one win for the Jayhawks' overall record, but it wound up counting for two in the Jayhawks' lead in the Big 12 race over two of the league's toughest contenders.
Before KU's game with Baylor even tipped off, both Texas Tech and Oklahoma lost, on the road at Iowa State and Oklahoma State, respectively. Those results, along with KU's victory, give the Jayhawks a two-game lead over the Red Raiders (15-4, 4-3) and Sooners (14-4, 4-3) as the teams near the midway point of this year's conference race.
West Virginia, which lost to KU last Monday in Morgantown, W.Va., bounced back with a 35-point home victory over Texas on Saturday, which kept the Mountaineers (16-3, 5-2) just a game behind Kansas.
Just one week ago, all four teams were tied for first atop the Big 12 standings.
"It's a big stretch," Self said. "Any time you win two games, regardless of how you do them, that's huge. It's huge to be able to do that. And it's too early in the season to wish for certain teams not to win. It's too early. In the last two or three weeks, there's no question. Whoever's competing with us, we always hope they lose. Even if they're playing each other, we hope they both lose."
Moment of silence
Prior to Saturday's National Anthem the Kansas public address announcer asked the crowd for a moment of silence for Kansas legend Jo Jo White, who passed away earlier this week at the age of 71.
Graham said after the game that Saturday's win was for White. And although Self said the team did not specifically talk about dedicating the game to the fallen Jayhawk, he was not surprised that Graham did.
"I know Devonte' thinks about stuff like that," Self said. "If you've been around here a long time you certainly respect tradition and you're going to know of and respect Jo Jo. He was an A-plus individual."
This and that...
Saturday's victory pushed KU to 16-3 or better for the fourth consecutive season and 6-1 in Big 12 play for the second year in a row. ... The Jayhawks now have won 11 in a row over the Bears to push their lead in the overall series to 30-4, including a 15-0 mark at Allen Fieldhouse. ... KU is now 8-2 at Allen Fieldhouse this season and 766-112 in the building all-time, including a 228-12 mark under Bill Self. Self is now 22-4 all-time against the Bears.
---
More news and notes from Kansas vs. Baylor
---