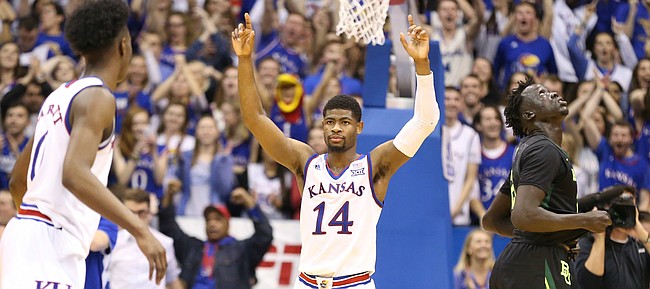 Kansas sophomore Malik Newman has been around KU coach Bill Self long enough to have heard one of Self's favorite sayings at the end of tight games, with the Jayhawks leading or trailing.
"Coach's motto, every time the game gets close, is players make plays, coaches don't win games," Newman said.
On Saturday evening at Allen Fieldhouse, the 10th-ranked Jayhawks saw a heck of a player make all kinds of plays down the stretch to pull out yet another too-close-for-comfort Big 12 victory, 70-67, that Kansas nearly lost control of down the stretch.
Despite opening the game by making seven straight shots and building a 18-5 lead, the Jayhawks, who led for all but 21 seconds of the game's first 34:25, actually found themselves trailing for much of the final five minutes.
Baylor, which trailed 38-27 at halftime and by as many as 13 points early in the second half, took its first lead of the game — 56-54 — when Nuni Omot drained three free throws after being fouled by Svi Mykhailiuk in front of the BU bench on a 3-point attempt with 5:31 to play.
Photo Gallery
Kansas basketball v. Baylor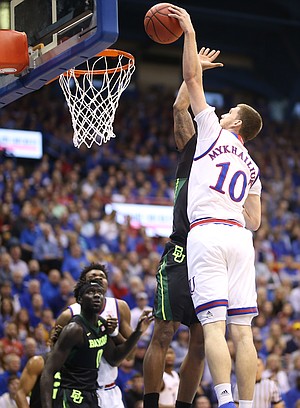 View a gallery from Saturday's game between the Jayhawks and Bears at Allen Fieldhouse.
Just 53 seconds later, the BU lead was up to five and the Bears (12-7 overall, 2-5 Big 12) were in complete control.
That's when Newman took over. During what can only be described as one of the most impressive individual stretches of KU's season to date, Newman scored 12 consecutive Kansas points — the first three of which calmed the Jayhawks' nerves and gave KU hope, and the last two leading to Kansas reclaiming the lead — to help erase a Baylor lead that grew to as many as six at the 2:50 mark and save the day for the home team.
Newman's run included a little bit of everything, but mostly was the product of what Newman called, "that will to win."
First was the 3-pointer that made it 61-59. Then came two free throws off of a hard drive that pulled Kansas to within 65-61, a trip that foreshadowed what was to come. On the next three Kansas possessions, Newman drove harder each time, first drawing a foul to convert an old-fashioned three-point play and then getting two more tough buckets at the rim to finally give KU a 68-67 lead again with 1:09 to play.
"He was aggressive," Self said. "He's the only thing we had going. Malik just bailed us out."
When you're having the kind of night Newman had on Saturday, you tend to just find yourself in the right spots.
That's not to take anything away from the brilliant offensive game that Newman turned in, but a handful of the sophomore guard's 24 points, which came on 7-of-11 shooting and a 7-of-7 clip at the free throw line, came with Newman working his way toward the ball and the ball just kind of finding Newman at the same time.
"I think so. I honestly think so," said Newman, asked if sometimes things just bounce your way.
That was just after Newman explained his mindset in those frantic final minutes.
"I was just trying to be aggressive and make plays and try to help us win," Newman said. "Just being in the right place and just trying to hunt the ball down. I was able to go in there and get seven rebounds tonight, and, down the stretch, that's when I thought I rebounded the best."
If there was any criticism at all of the way Newman helped will Kansas off the brink of an unheard-of third home loss in the same season, it came from senior point guard Devonte' Graham (15 points, eight rebounds, seven assists), the team's leader in just about every way, including energy and emotion.
"I wish he would just show a little bit more emotion," Graham said. "When he gets 12 straight, say, 'Let's go,' or something. He just had the killer face on. But I'm happy for him and definitely glad he helped us get that win."
Podcast episode
Kansas basketball coach Bill Self discussed his team's 70-67 victory over Baylor at Allen Fieldhouse, including Malik Newman's star performance in the second half and KU's solid first-shot defense against the Bears. He also talks about freshman forward Billy Preston leaving for a pro team in Bosnia.
KU's latest victory, which featured another step forward defensively — to the tune of 40-percent shooting by the Bears — did not come without some drama. In the final 18 seconds, Baylor had both a chance to win and a chance to tie, but each time the Jayhawks' defense stood tall.
Asked after the victory if he felt like his team's close calls, particularly at home, had sent a message to the rest of the conference that the Jayhawks were vulnerable, Self did not disagree. He also did not apologize.
"We are more vulnerable," Self said. "But we also know how to win and we also compete pretty hard and we've got two unbelievable seniors and we've got a big guy down low that's hard to deal with if he gets it close to the basket. There's a lot of things about our team that a lot of teams would like to have. But our margin for error is, without question, the smallest it's been, probably since we've been here.
"That doesn't mean we can't win as many games. But it's going to be a lot of games like today. For us to win a lot of games, we're going to have to eke out some and understand that's OK, that's acceptable to do that."
Next up, the Jayhawks will held south to Norman, Okla., to take on national player of the year candidate Trae Young and the Sooners at 6 p.m. Tuesday night.
"I'd love to eke out one Tuesday," Self said.
---
More news and notes from Kansas vs. Baylor
---