Tuesday night, the Kansas basketball family, and basketball in general, learned that one of is all-time greats had passed, as the family of former KU legend and Boston Celtics great announced the death of Jo Jo White
In addition to some touching tributes from those who knew him best and loving thoughts from various members of the KU basketball world, White received all kinds of love across the Internet from those sharing stories about how they grew up pretending to be him in their driveways or doing everything in their power to make sure they watched him play every time they possibly could.
White, who died at age 71, had that kind of affect on people throughout his life. And to the end he remained as good of an ambassador for Kansas basketball and KU as anyone who ever lived.
With that in mind, Jeff Bollig and Doug Vance were kind enough to agree to allow the Journal-World to run a chapter both about and by White from their book, "What It Means To Be A Jayhawk."
Here is that section in its entirety.
• Editor's note: When stories are retold, certain details occasionally go missing. In discussing the Texas Western game below, White recalled that his team was down by a point at the end of the first overtime, but the game was actually tied, which set the stage for a second overtime.
Author's Introduction
Jo Jo White easily qualifies as one of the greatest players to ever suit up and represent the University of Kansas. A three-time All-Big Eight and two-time All-America selection for the Jayhawks, White was a member of the 1968 USA Olympic team and enjoyed an 11-year career in the NBA.
White's jersey was retired and now hangs in Allen Fieldhouse. In addition, his number 10 jersey has been retired by the Boston Celtics.
During his years as a member of the Jayhawk basketball team under head coach Ted Owens, he scored a combined 1,286 points. He led KU in scoring in 1968, averaging 15.3 points a game. White was a catalyst in KU's run in the NCAA Tournament in 1966 and 1967. He guided the Jayhawks to the NIT finals in 1968 and 1969. In addition, he served as an assistant coach at KU in 1982-83.
Jo Jo White's words
I grew up in St. Louis and was the youngest of seven children. I played my basketball throughout St. Louis, so I was fortunate. Each year I got better as I was developing and growing. I ended up getting about 250 offers to go to college and I knew nothing about KU. My high school coach, Jody Bailey, chose KU as one of the five schools I would visit.
When I got the opportunity to come and visit the campus, I had the greatest experience I could imagine. And, I got to see one of the greatest players ever to run a football in Gale Sayers. This was one of the selling points on me coming back to school in the fall.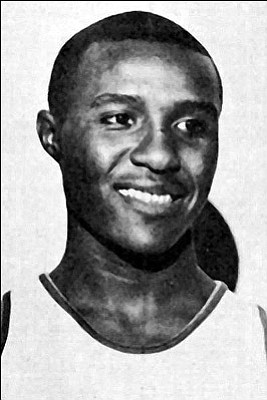 Sam Miranda was the guy who recruited me at KU. I didn't know Ted Owens until I arrived at KU. I knew all about Sam and I have a lot of admiration for him. He brought a lot of the Marine tactics to the table in training us for the season. I remember we were out running in a field and I asked Sam if doing this had anything to do with basketball? We were running in the trees and seeing cows and stuff as we trained. We run up hills and we ran at the football stadium.
At the time, we didn't understand what this had to do with playing basketball. We soon learned that the training Sam took us through turned out to be the most important thing in terms of basketball and our success.
I started my high school career coming in and playing half a season, starting at midterm. So, I had to follow up with another half, which made it a full season. I was able to graduate at midterm and Kansas wanted me to come to school then. Of course, freshmen at that time had to play one year on the freshman team before you could play varsity. So, by coming a half a year ahead of time, played half of the season on the freshman team and playing the other half the following year. Then, at mid-season, I had a choice of either going up to the varsity squad or waiting until the following season. The varsity team was really good that year and Coach Owens decided since I was, kind of, killing their backcourt players on the varsity squad, it would be best for the team if I started playing at midyear.
I replaced Riney Lochman in the starting lineup. Riney was a terrific individual. He told Coach Owens that he would step down out of his starting position and allow me the opportunity of starting in the backcourt because he felt that it would add to our opportunity for success. I have a lot of admiration for him. He was an outstanding player who took an unselfish position to become the sixth man so I could be a starter. We went from beating teams by a margin of 10 points to about 22 points a game. It upped the tempo when I came up and I have Riney Lochman to thank for stepping down and allowing me to start.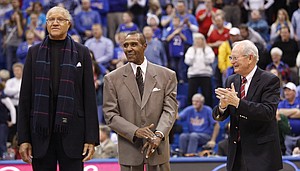 Ted Owens was more than just a coach to me. He was like a father figure and he intrigued me. He was fundamentally sound. He really instilled in us the importance of not being tricky, but being efficient on the floor. He taught us why it was important for your teammates to know exactly what you're going to do out on the floor. He was one of the true fundamentalists in the game, as far as coaches go. I believe that, right now in our game, we're lacking what Coach Owens was teaching. Rules have changed now and they don't allow our young players to get all of what this great man and coach gave us in terms of the basics of the game.
Walt Wesley was one of my teammates at KU and he was the first big man that I have ever played with in a game. Here's a guy that was 6-foot-11 and I had never played with or against a guy his size with that talent. As the years went on, he got better and better. He had a great work ethic. Walt had a turnaround jump shot that was deadly and a rolling hook shot across the middle. When I first came to KU, I was told to get Walt Wesley the ball. I was saying to myself, well, I could shoot it too. I mean, why am I getting it to him? But as I worked with him, game in and game out, I soon understood why our coaches wanted us to get him the ball in the low box. Every day, he was out working on his shot, to the point were he was pretty automatic inside.
The opportunity to play in Allen Fieldhouse was second to none. I thought I had died and gone to heaven when I came to school at KU. I had visited five schools and getting to see a game in Allen Fieldhouse and experiencing the atmosphere was a selling point. It was a pleasure and honor for me to play there for four years. I tried to give the fans everything I had each and every time I played on the floor. I felt that I had a good relationship with the KU fans and it's one that still goes on. Every time I walk into Allen Fieldhouse, I feel that same kind of uplifting feeling because the fans haven't changed. They are even better.
I suppose the game everyone always remembers from my playing career at KU was the 1966 NCAA Tournament game against Texas Western. We felt, as a team that year, we had a great chance to win it all. Texas Western, in my opinion, was the most athletic team that we had faced all year. It was a game that went back and forth in terms of both teams leading by as many as five to six points. It was about the biggest lead one team or the other had throughout the game. Both teams competed at a high level. I felt, personally, that I had the handle of the game. Regardless, if we went down three or four points, I was able to come up with steals or at the right time hit shots to keep us in the game.
I'll never forget we were down one point and they had the ball. Time was running down and they missed a shot. We got the rebound, called a timeout, with seven seconds left on the clock. We went into the huddle and I said, as a freshman, let me have the ball. I mean, how much can we do in seven seconds? The coaches agreed.
I started down the middle once the play started and they closed the middle up. I reversed my dribble and went down the left side of the floor. I glanced at the clock at the same time and saw three seconds left on the clock. I put up the shot and as I let the ball go, I hit the floor, bounced up, and ended up on this lady's lap. I'll never forget, she had her arms around me and she was hugging me. Everyone was screaming. I looked across the floor and the coaches were hugging each other, jumping up and down. Then, the official comes out of the backcourt and says my foot is on the out of bounds line. I couldn't believe that.
I've watched this game until there are only silhouettes on the screen and it never showed my foot on the out of bounds line. The official made the call and for me to get upset and rant and rave was not going to change the call. I've seen it 500 times. You can question a call once the official has made and nine out of 10 times they are not going to change it. It's someone else's opinion whether or not the basket is good, or you're out of bounds. He chose to say my foot was out of bounds. So, I had to accept that.
The next morning I thought the sun was shinning brighter than ever outside. I didn't have any ill feelings, other than that was an opportunity for us to win the whole thing. In our minds, we had the best team and one controversial call made the difference in winning versus losing.
I will say that my four years at Kansas was, perhaps, the greatest experience in my young life. I wouldn't trade those years for anything in the world. Even now, with the rule changes and players able to come out early, I think our young athletes are really missing the most important growth period in their life by not staying in college all four years.