Twenty years ago Wednesday, a giant returned to Allen Fieldhouse.
His name was Wilt Chamberlain. He, somehow, still managed to squeeze into his old letter jacket and he was in Lawrence for the first time in more than 20 years.
During a season in which the Kansas basketball program will celebrate the 10-year anniversary of its 2008 national title and the 30th anniversary of its 1988 championship, it seemed wrong to let the 20-year anniversary of the return of one of the game's true giants pass without mention.
The story goes that bad feelings about the racism he encountered decades earlier, along with the severe disappointment and shame he felt over losing the 1957 national championship game in triple-overtime to North Carolina, kept Chamberlain from returning to the place at which he became a basketball legend.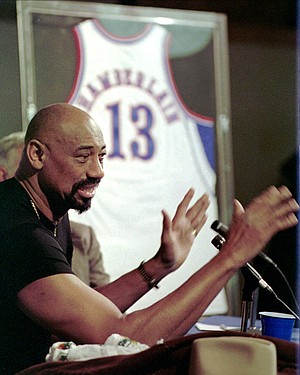 But on Jan. 17, 1998, Chamberlain was back to officially be recognized by KU and see his No. 13 jersey raised into the rafters at Allen Fieldhouse.
No more than 18 words into his introduction of Chamberlain — or Wilt "The Stilt," as the basketball legend was affectionately known — longtime KU radio broadcaster Max Falkenstien was interrupted by a loud roar from the adoring crowd in attendance that night.
Chamberlain, however, was not nearly as lucky. He was only able to get out three words before being interrupted by a similar, but even louder and more deafening, roar.
Throughout the six-minute ceremony during halftime of a Kansas win over Kansas State, Chamberlain's eyes and face were filled with emotion. The first sign of tears came after Falkenstien read off Chamberlain's career averages — 29.9 points and 18.9 rebounds per game at Kansas. And when Chamberlain finally did speak, he cleared his throat often and spoke with an occasional tremble in his voice.
"It was a devastating thing for me, because I felt as though I let the University of Kansas down and my teammates down," Chamberlain said of that loss to UNC. "But when I come back here today and realize that it was just the loss of a game, and how many people have shown me so much love and warmth, I've learned over the years that you must learn to take the bitter with the sweet. And how sweet this is right here. All right. I'm telling you now."
"I'm a Jayhawk," Chamberlain continued. "I know now why there's so much tradition here and so many wonderful things have come from here, and I'm now very much a part of it and very proud of it. Rock Chalk Jayhawk."
With that, another roar came from the 16,300-plus who were standing the entire time.
Hours before that now-famous speech, however, Chamberlain delivered a speech of a different kind — this one of the more informal variety and in the KU locker room.
Then-freshman center Eric Chenowith was lucky enough to be there. And on Wednesday, Chenowith relived the day with the Journal-World.
"It was the coolest thing," the former KU center said via telephone from his work in California. "He came to the locker room and we had just under an hour with him, and we just hung out with him and talked with him. He was an open book and as friendly as could be. When the coaches left, that's when it really got fun. We were trying to find out what dorm room he lived in and one of us even asked him, 'So, 20,000, huh?'"
According to Chenowith, Chamberlain merely grinned and quietly confirmed the legendary tale about his sexual exploits.
Most of the locker room chatter that day, though, was about basketball. And Chenowith said he counts the experience as "one of the greatest memories of my basketball life."
"The one thing I remember was Wilt Chamberlain was larger than life," Chenowith said. "I mean, he just completely filled the room. He had this cowboy hat on and when he came in, I shook his hand and it was like shaking hands with his shoulder. He had such a firm handshake. I'm thinking about it now and I'm getting chills about it. It was just so cool to meet him. It was like meeting the president or something."
Chenowith, a 7-footer himself, said he was tickled to death by the fact that Chamberlain not only still had his letter jacket, but also actually wore it.
"It still fit him. It was a little tight, but that was special," Chenowith recalled.
Having grown up in Southern California and played at Kansas, Chenowith said he was always in awe about the legend of Chamberlain.
"The coaches always preached about the list of big guys at KU, and it didn't take long to realize you wanted to be a part of that," Chenowith recalled of his own recruitment. "Knowing the mystique of Wilt, any big guy wants to follow in those footsteps, obviously. And I think mystique is the perfect word for him. I mean, he was Wilt."
As for the lasting memory of that moment with his team in that locker room, Chenowith said for all of the laughs and interesting stories Chamberlain shared, one thing made the whole experience a bit overwhelming.
"He just kept saying, 'I love what you guys are doing. You guys are a great team, I'm rooting for you.' And we were looking around the room going, 'How cool is this?'" Chenowith recalled. "That was a hell of a year to come into the program. One hundred years of Kansas basketball. A Top 5 team. Meeting Wilt. I mean, wow."
https://www.youtube.com/watch?v=BbxrzeUIzpI