Tuesday, January 16, 2018
The Kansas basketball family on Tuesday lost one of its true legends, when Hall of Famer Jo Jo White died at the age of 71 from complications of pneumonia, brought on by dementia, after having a benign tumor removed from his brain earlier this decade.

White, a two-time All-American who played at Kansas from 1966-69 for head coach Ted Owens, was KU's Most Valuable Player for three consecutive seasons.
Best known nationally for his standout career with the Boston Celtics following his time at Kansas, White, a St. Louis native, also was a seven-time NBA all-star, a two-time world champion and the MVP of the 1976 NBA Finals.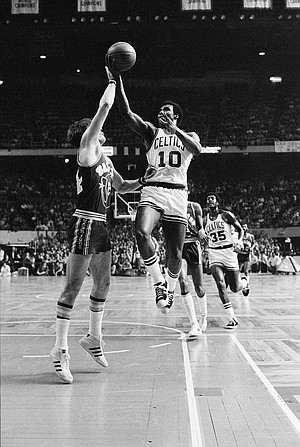 Current Kansas coach Bill Self spent some time around White but not nearly as much as he would've preferred.
"I'd like to say I did, but I didn't know him well," Self told the Journal-World shortly after learning about White's passing on Tuesday night. "He obviously was a KU legend and, when you talk about KU greats and you're trying to fill that five of the best who ever played here from a talent standpoint, most of the old-timers put Jo Jo in that group."
White's name and No. 15 jersey hang in the south rafters at Allen Fieldhouse and his No. 10 jersey also was retired by the Celtics.
During his KU career, White tallied 1,286 career points — good for 31st on KU's all-time list — and led the Jayhawks to two conference championships, three Big Eight holiday tournament titles and two NCAA Tournament appearances.
The most famous run came during the 1966 NCAA Touranment, when White and the Jayhawks ran into Texas Western in the Midwest Regional finals in Lubbock, Texas, and played in one of the most dramatic games in NCAA Tournament history.
With Texas Western en route to becoming the first team in NCAA with an all-black starting lineup to win a national championship, White and the Jayhawks nearly derailed history.
With KU and Texas Western locked in a heated overtime battle, White found himself with the ball in his hands in the waning seconds and heaved a 35-foot shot toward the basket that fell through the hoop and appeared to give Kansas the victory.
But referee Rudy Marich blew his whistle and ran to the spot where he said White had stepped out of bounds. The shot was waved off and Texas Western went on to win, 71-70 in double overtime.
"It appeared from where I sat that Owens asked White if he was, indeed, out of bounds," longtime Texas Western/UTEP sports information Eddie Mullens told NCAA.com for a 2015 feature titled "One Small Step." "White nodded his head and Owens immediately turned back to his huddle. All business. All class."
Added White in the same article: "To be perfectly honest, my foot was out of bounds on the play. I had already set up for a shot before it came around to that particular shot. And they called it."
"He was such a classy man, had a beautiful family and just represented himself so well and KU," Self said Tuesday. "And then he went on to have not just a good pro career with the Celtics but a great career. I know Coach Owens is going to be pretty torn up about it because he thought the world of him."
Self was right.
"I was stunned today when (White's wife, Debbie) called to tell me that he had passed away," Owens told KU Athletics on Tuesday evening. "He made an incredible contribution to Kansas basketball. People say, you know, 'What was Jo Jo's greatest strength?' And his greatest strength was that he had no weaknesses. He was just the absolute complete player, so unselfish, his teammates loved playing with him."
The last time Self saw or spoke with White was at the point guard's induction into the Naismith Memorial Basketball Hall of Fame in 2015.
"I always strived to be the best," said White, during his induction speech. "I tried out for my high school junior varsity team. I got cut. So what did I do? I went out for the varsity team and made it."
"He was not only a special player, but a very special person," Owens said. "He certainly played a huge role in our lives."
Added the Celtics organization in a statement: "We are terribly saddened by the passing of the great Jo Jo White. He was a champion and a gentleman; supremely talented and brilliant on the court, and endlessly gracious off of it. Jo Jo was a key member of two championship teams, an NBA Finals MVP, a gold medal-winning Olympian, and a Hall of Famer. His contributions to the team's championship legacy may have only been surpassed by the deep and lasting impact that he had in the community. The thoughts and sympathies of the entire Celtics organization are with the White family."