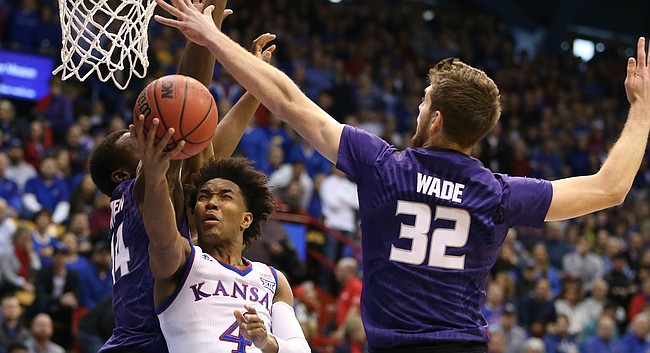 The way a typical sports fan's sports brain is wired, now more than ever, it's natural to focus on the next great addition on the cusp of joining your favorite team.
If the wait for Silvio De Sousa had stretched on for years instead of weeks, imaginations might have grown him into a combination of Wilt Chamberlain, Danny Manning and Joel Embiid.
Instead, as coach Bill Self predicted, he won't be ready to show much for two or three weeks. De Sousa played four minutes against Kansas State in his debut Saturday, threw a pass that Jerry Rice couldn't have caught and, afterward, marveled to teammates at the difference in the speed of the game between high school and college.
None of that means that De Sousa won't help the Jayhawks in time. It just means that Self wasn't spewing coach-speak when he said February will be when he's ready to make KU better.
The lack of depth and size without De Sousa and Billy Preston has made it tough to watch Kansas lose so many battles on the boards and surrender more inside buckets without thinking about what the team would look like with them.
Consequently, the players who have hustled their way to a 4-1 Big 12 record and one-fourth share of first place haven't quite received the plaudits they have earned. The perimeter players have adjusted impressively and center Udoka Azubuike, who showed great footwork in the post Saturday, is on the come.
The shortage of inside scoring translates to this team needing to shoot a higher volume of 3-pointers without losing accuracy. KU ranks eighth in the nation in 3-point percentage (.415) and 11th in 2-point percentage (57.9). That doesn't happen without excellent ball movement, smart shot selection and hot shooting.
Tonight's a tough matchup because West Virginia's relentless work on the offensive glass matches up with a KU weakness, and the Mountaineers' relentless defensive pressure tests a team's depth. If KU's Morgantown losing streak grows to five, that doesn't taint the credit this team deserves for staying in the hunt.