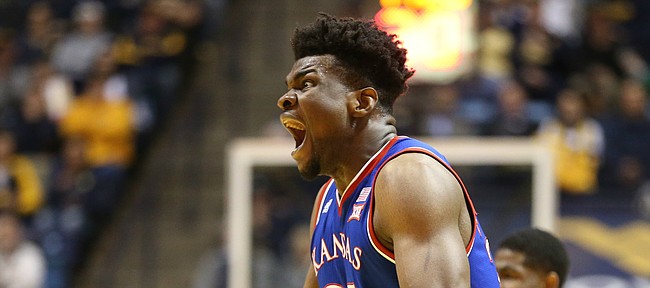 Morgantown, W.Va. — Two different Kansas basketball teams took the floor at WVU Coliseum for a Big Monday thriller won by Kansas, 71-66, on a furious late comeback from a 16-point deficit.
The Jayhawks who played when sophomore center Udoka Azubuike sat nursing foul trouble looked small, slight of build, no match for a shot-blocker freed to block the rim no matter who attacked it.
When Azubuike sat, Sagaba Konate was fresher, not having to jostle for position with KU's big man for most of the half. Konate ran the floor like a guard, getting back to protect the rim against Kansas players looking to attack in transition and he had a blast doing it. He blocked five first-half shots, none in the second half.
Azubuike played six first-half minutes and had nobody to blame for that but himself. He was slapped with a technical for his first foul and picked up his second foul in careless fashion.
Photo Gallery
Kansas basketball v. West Virginia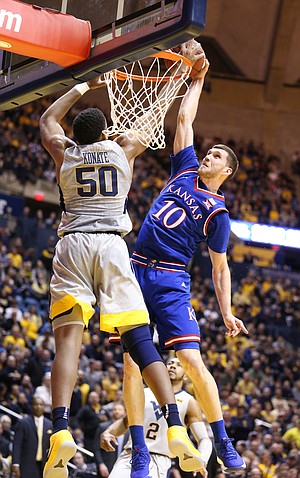 View a gallery of images from the Jayhawks' Big Monday matchup against the Mountaineers in Morgantown, West Virginia.
He played 14-second half minutes until fouling out with 1:01 left, which wasn't necessarily the worst thing considering his free-throw shooting challenges.
West Virginia won the first half, 41-28, Kansas the second half, 43-25.
Sure, there were even bigger factors, such as KU doing a way better job of taking care of the ball after the break, and Devonte' Graham and Svi Mykhailiuk taking over when the Jayhawks went on the game-winning run.
But Azubuike's game-changing presence was undeniable. In the 20 minutes he played, Kansas outscored the Mountaineers by 20 points. In the 20 minutes he sat, West Virginia had a 15-point advantage on the scoreboard.
"It's hard for us to score if we can't play through a center," Self said of one of the differences between the halves.
Azubuike totaled 10 points and nine rebounds, didn't have any turnovers, and picked up a block and a steal.
"At halftime, we told him to come out and be aggressive, those two fouls are over," Graham said. "You have a whole new half. Come out and rebound, do the little things to help us win, and he did that."
Although most of Konate's blocked shots in the first half came in transition, his presence wasn't felt as much by KU's guards when Azubuike was in the game. 
"Any time Dok's in the game the defense is worried about him," Graham said. "Either the big man's going to be on him and that opens up driving lanes for us or they're going to dive and trap and give us open shots. So any time he's in the game, it's a positive for us to be able to play free."
While Kansas played free in the game's final 10 minutes, West Virginia lost intensity, didn't apply the same defensive pressure, left their coach wanting far more out of them.
"They just out-toughed us," Bob Huggins said after his team couldn't hold a 12-point lead in the final 12-and-a-half minutes. "They just wanted it more than we did."
West Virginia made just 5 of 27 3-point shots and Huggins was more upset with the latter half of that stat than with the lack of accuracy.
"I think all those 3-point shots honestly is a lack of toughness," Huggins said. "That's the easy way out. You get a little pressure so you start kicking your leg out and shooting 3s."
Kansas won a game without shooting well from beyond the arc (.348) and the more minutes Azubuike can play and the more he improves, the less reliant the Jayhawks will become on needing hot shooting nights.
Azubuike still has so much to smooth out in his game, but Monday counted as another important step forward for the raw talent, who helped KU stage another amazing comeback at West Virginia's expense.
---
More news and notes from Kansas vs. West Virginia
---