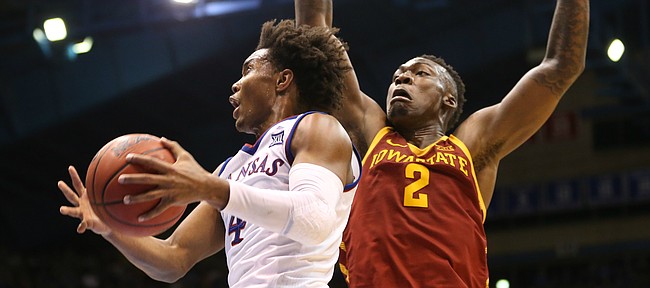 A couple of victories against two of the Big 12's lower-tier teams were enough to improve the Kansas basketball team's place in the Associated Press Top 25 this week.
Losses this past week by Arizona State and Xavier, previously ranked ahead of the Jayhawks, propelled KU to the No. 10 spot in the latest poll, released Monday, after KU's home wins over Iowa State and Kansas State.
Still, three other teams from the Big 12 remain ranked ahead of Kansas (14-3 overall, 4-1 Big 12): No. 4 Oklahoma (14-2, 4-1), No. 6 West Virginia (15-2, 4-1) and No. 8 Texas Tech (15-2, 4-1).
The Jayhawks, of course, face their biggest road challenge of the season to date on ESPN's Big Monday (8 p.m. tip-off) when they play at WVU.
TCU remained in the AP Top 25, as well, at No. 24. The Horned Frogs were No. 16 last week, and dropped eight spots following overtime road losses at Texas and Oklahoma.
AP Top 25 — Jan. 15, 2018
No. 1 — Villanova
No. 2 — Virginia
No. 3 — Purdue
No. 4 — Oklahoma
No. 5 — Duke
No. 6 — West Virginia
No. 7 — Wichita State
No. 8 — Texas Tech
No. 9 — Michigan State
No. 10 — Kansas
No. 11 — Xavier
No. 12 — Cincinnati
No. 13 — Gonzaga
No. 14 — Arizona
No. 15 — North Carolina
No. 16 — Arizona State
No. 17 — Auburn
No. 18 — Kentucky
No. 19 — Seton Hall
No. 20 — Clemson
No. 21 — Tennessee
No. 22 — Ohio State
No. 23 — Michigan
No. 24 — TCU
No. 25 — Miami