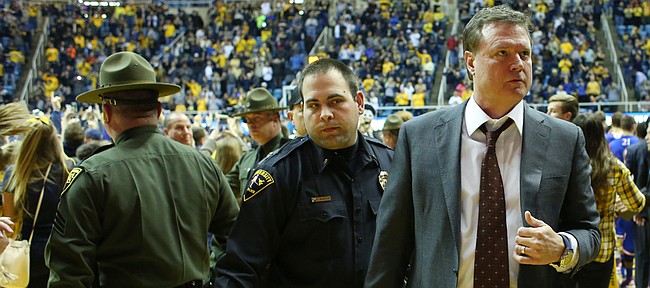 No. 10 Kansas Jayhawks (14-3 overall, 4-1 Big 12) vs. No. 6 West Virginia Mountaineers (15-2 overall, 4-1 Big 12)
Time: 8 p.m. | Location: WVU Coliseum, Morgantown, West Virginia
TV: ESPN | Radio: IMG Jayhawk Radio Network
Log on to KUsports.com for our live game blog coverage and follow the KUsports.com staff on Twitter: @KUSports @mctait @TomKeeganLJW @bentonasmith @nightengalejr @chasenscott & @nickkrug
Keys for Kansas
1. Play loose and let it fly
With so much talk about KU's losing streak at West Virginia and how difficult is has been for the Jayhawks to play well inside WVU Coliseum over the years, the Jayhawks know that they're going to have to play one of their best games — if not the best — of the season to have a chance in this one.
While a handful of young guys will be experiencing it for the first time, guys like Devonte' Graham, Svi Mykhailiuk and Lagerald Vick know all too well what it feels like to walk out of the arena after being worked over by Bob Huggins' squad.
And with tonight's game representing the last shot for Graham and Mykhailiuk to feel a different vibe on the way to the bus, you can bet that both KU seniors are going to do everything they can to get themselves and their teammates in the right frame of mind to come out with a victory.
"It's going to be a big one," Graham said. "Hopefully, we can come out with a W, because I don't want to go 0 for 4 there."
Asked what it would take for the losing streak to end, Graham pointed to playing less timid and more like this team does in front of the Allen Fieldhouse fans, as hard as that might be to replicate.
"I think everybody just has to come with an aggressive mindset," Graham said. "The way they play and press, we've got a lot of guys that can attack them and get them in foul trouble or just make plays for each other. And we've obviously got to take care of the ball."
2. Attack the press
West Virginia's "Press Virginia" mantra is a way of life in Morgantown, not just a strategy on the basketball court. But too many WVU opponents help make the Mountaineers' nasty press effective by letting it get into their head before the game even begins.
Graham and KU coach Bill Self said the best way they've found to beat the press is by attacking it with confidence and using crisp passes, quick decisions and unselfish play to get the Mountaineers on their heels a little bit instead of pushing forward with an eye on a steal.
West Virginia leads the Big 12 in turnovers forced at 19.9 per game, which ranks third nationally, and also in turnover margin at plus-7.9, which is second nationally.
WVU also leads the conference in steals per game (9.9, sixth nationally) and enters this one averaging 39.6 rebounds per game, with a plus-4.8 rebound margin.
Following Saturday's win over K-State, KU coach Bill Self said he had a lot of film work ahead of him in the next 24 hours, with the goal being to find some way — any way — to bring calm to a chaotic environment.
"You would think a formula would be multiple ball-handlers," Self said. "But we've had Frank (Mason) and Devonte' go up there and had problems with that. With (WVU guards Jevon) Carter and (Daxter) Miles out there, they create so much havoc. And, if they take Graham out, now you're putting the ball in somebody else's hands that hasn't had the ball in his hands all year long. So we've got to come up with some stuff."
3. Azubuike must be huge
The Mountaineers are not just quick and creative on defense. They're also big. Three players in the starting lineup standing 6-foot-8 and three more on the bench standing 6-8, 6-10, 6-11, the Mountaineers often play 10 deep and let that size and depth wear opponents out.
That puts the onus on KU sophomore Udoka Azubuike to create problems for that WVU front court on both ends of the floor.
While staying out of foul trouble on the defensive end is a must, Azubuike also must mimic the job he did against K-State as an offensive weapon, posting up deep and strong and getting a position that either forces the opposition to foul or leads to easy buckets.
"He definitely did," said Graham when asked if Azubuike posted up better than he had all season against Kansas State. "And coach has been on him about that, posting deeper so the trap can't come and making quick moves. He definitely got their bigs in early foul trouble, so he's doing a good job. We just have to keep throwing him the ball."
He'll need a rest. And the addition of 6-9, 245-pound freshman Silvio De Sousa — eligible for his second game as a Jayhawk — could help in spurts. But De Sousa's inexperience and Mitch Lightfoot's lack of size aren't going to be enough inside for Kansas in this one.
The Jayhawks need Azubuike to have one of his best all-around games to have a chance.
Mega Matchup
KU junior Lagerald Vick vs. himself
It's been a rough couple of weeks for Kansas guard Lagerald Vick. Not long ago, he was leading the Jayhawks in scoring and hearing all kinds of "next level" talk associated with his name. Now, he has not 10 points in a single game in KU's last four outings.
To say Vick has disappeared entirely would be unfair. The 6-foot-5 junior has come up big twice late in the second half in each of the Jayhawks' last two games, grabbing two big offensive rebounds and scoring in a win over Iowa State and hitting back to back 3-pointers — both of which tied the game — late in the win over K-State on Saturday.
After ripping off a four-game stretch in which he shot 23 of 41 from the floor and exploded for 58 points in those four games, Vick is just 11 of 28 — both makes and attempts are down — in his last four games for 28 points.
Despite the struggles, Vick's minutes have not suffered as a result. The Memphis native has averaged 31.3 minutes per game during his mini-funk.
While those signs-of-life moments have been good for both Vick and the Jayhawks, there's no debating the fact that it's hard to see Kansas making its way to a 14th consecutive Big 12 regular season title without Vick finding his touch again.
The Mountaineers are one of the best offensive rebounding teams in the country (ninth in the country at 14.5 offensive boards per game, compared with KU, which ranks last in the Big 12 in allowing offensive rebounds), so if Vick wants a place to focus in this one that does not have to do simply with scoring, hitting the defensive glass and helping the Jayhawks value every possession for dear life would be a good place to start.
If he's able to, that could lead to better numbers in all aspects of his game, and his experience, athleticism and ability to score inside out could end up being crucial for Kansas in a tough road environment like West Virginia.
Jayhawk Pulse
In what was, on paper, their easiest remaining week of the season — two home games against teams ranked outside of the Top 50 — the Jayhawks had to scratch and claw to survive.
Such is life in the Big 12 Conference this season, and, with Kansas set to enter a stretch that includes two road games at Top 10 opponents in a three-game stretch, the Jayhawks are going to have to take their focus, execution and effort to another level to survive the way they did last week.
First up is the always-nasty road trip to West Virginia, where Kansas has lost four consecutive games and, worse than that, almost never played well, win or lose.
The travel is long, the Mountaineer fans are ruthless and the game almost always comes on a short turnaround and ends with a court-storming by the home crowd as the sound of John Denver rains down from the loud speakers. All are factors that figure to make an already difficult game even harder.
West Virginia trails the all-time series with Kansas, 7-4, but owns a 4-1 edge in games played in Morgantown. The Mountaineers also are 4.5-point favorites in this one and both the players and the WVU fan base know that, if they want to be the team that ends KU's Big 12 title streak, this is one they have to have.
"It'll be a fun atmosphere," Self said. "Our guys like those."
Probable Starters
No. 10 Kansas
G – Devonte' Graham, 6-2, 185, Sr.
G – Malik Newman, 6-3, 190, Soph.
G – Svi Mykhailiuk, 6-8, 205, Sr.
G – Lagerald Vick, 6-5, 175, Jr.
C – Udoka Azubuike, 7-0, 280, Soph.
No. 6 West Virginia
G – Daxter Miles Jr., 6-3, 200, Sr.
G – Jevon Carter, 6-2, 205, Sr.
F – Wesley Harris, 6-8, 200, Soph.
F – Lamont West, 6-8, 230, Sr.
C – Sagaba Konate, 6-8, 260, Soph.