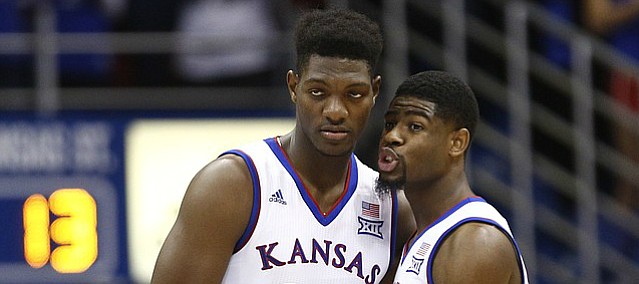 Silvio De Sousa's first official game as a Jayhawk probably will not be remembered for his time on the floor.
But just before recording one foul and one turnover in four first-half minutes of KU's 73-72 victory over Kansas State on Saturday at Allen Fieldhouse, the freshman forward received one heck of an ovation from the home crowd when he checked into the game for the first time with 9:42 to play in the first half.
At the sight of De Sousa — pronounced Deh-Soe-Suh — simply walking down to the scorer's table, many KU fans in attendance rose to their feet, celebrating the arrival of the 6-foot-9, 245-pound forward from Angola, who graduated from IMG Academy a semester early to join this year's Jayhawks.
That was the last round of applause he received on Saturday, but it does not figure to be the final ovation this season.
"It's definitely going to help," said senior point guard Devonte' Graham of getting an extra body in the front court. "It's going to take him a little bit of time to get adjusted to the college level. Coming straight out of high school, and then in the middle of the season, is tough. So it's going to take him a while. He said it felt different playing out there than it did at IMG. But he's definitely going to help us out in the next couple weeks."
Added KU coach Bill Self, who said he told De Sousa around 9:30 a.m. Saturday that the NCAA had certified his amateur status: "It was more than what he bargained for. And I asked him if he was fine and he said, 'Coach, I'm great.' And I also asked him, 'Were you ready for that?' And he said, 'No.' That was a different element. We've only coached him for two weeks and I don't think we've seen the left-handed hook pass out of bounds. Guys, it's not fair to expect too much, but he's going to be fine. It's just going to take him a couple weeks."
Photo Gallery
Kansas basketball v. Kansas State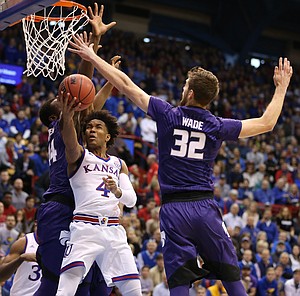 View a gallery of images from Saturday's game between the Jayhawks and Wildcats at Allen Fieldhouse.
Self, who had hinted that the ruling might come Friday, said he believed that a couple of people in the NCAA office who had not yet seen De Sousa's case needed to review the information Saturday morning before giving KU the all clear.
"Our people did a great job getting that stuff to them as quickly as possible, everything they requested," Self said. "And then they had to digest it and this was the earliest they could make that decision. It's not a killer for us. Even though we would've liked for him to be eligible every game (this semester), he wasn't ready to help us yet. ... He'll pick up stuff quicker now because he knows."
No Preston update
With De Sousa finally in the mix, the off-the-court focus for this team is down to the situation involving freshman Billy Preston, who has yet to play because of a compliance issue involving a vehicle he was driving during a single-car, non-injury accident in November.
Like De Sousa's was, that situation is currently in the hands of the NCAA and the Jayhawks are awaiting word on Preston's eligibility status for the rest of the season. To date, the 6-10, 240-pound McDonald's All-American has been held out of competition at KU's choosing as a precaution. And Self said Saturday that he did not know when KU would receive any news.
"We know we've got Silvio now so we'll play to that," Self said. "And I don't have any information on Billy at all. I think it's probably ridiculous of me to keep asking every four hours, 'Is there anything?' They're going to let me know when something happens. And I promise you, when something happens, we'll let you know.
"They're not even related in any way, shape or form, obviously, but we haven't been given, to my knowledge, anything that would give us a timetable at all."
Confidence in Graham
After picking up his second foul at the 12:32 mark of the first half, Graham was called to the bench, where he sat for 2:50 of game time before returning to the floor to close out the half.
The move was a gamble, considering Graham's importance and the fact that K-State guard Cartier Diarra was noticeably trying to put a third foul on the KU leader. But Self said he never blinked at the decision and Graham said he appreciated it.
"I think you could play Devonte' and Svi (Mykhailiuk) better than anybody with two fouls," Self said. "I trust him and Svi more than anybody to play with two fouls."
Both Graham and Mykhailiuk finished Saturday's game with four fouls in a combined 73 minutes on the court.
Stoppages OK
Saturday's game featured a handful of stoppages by the officials, who on a few occasions went to the monitor to review a play or make sure they got a call right.
Asked if that made it hard for the home team to find a rhythm — particularly in the second half — Graham said he did not mind the break in the action.
"It was actually big stops," he said. "Lagerald (Vick's) three was a three and I think they actually called it a two at first so (them calling it a three after reviewing it) was huge. And then the one that went out of bounds (off of K-State but was initially awarded to the Wildcats), I actually asked the ref if he could review it because I thought it went out of bounds off them and he said he was positive that it was their ball. And then coach (Self) asked him and thank God we got the ball. Coach has a little more pull than I do."
This and that...
Kansas is now 14-3 or better for the fourth consecutive season and 4-1 or better to open Big 12 play for the 12th year in a row... The Jayhawks now have won six in a row against the Wildcats and lead the all-time series with K-State, 194-93... KU has won 12 straight over K-State inside Allen Fieldhouse... Saturday's contest was the third consecutive game in the series decided by three points or fewer... Kansas is now 9-1 in one-poing games dating back to the 2010-11 season... Graham's 23-point outing marked his ninth consecutive game in double figures and his 15th of the season. He now sits in 26th place on KU's all-time scoring list, ahead of Marcus Morris, Adonis Jordan and Richard Scott and just 45 shy of Wilt Chamberlain... Mykhailiuk's 3-of-6 mark from 3-point range gave him 117 3-pointers for his career, moving him into 11th place on KU's all-time list, just two shy of passing Adonis Jordan for 10th place.
---
More news and notes from Kansas vs. K-State
---