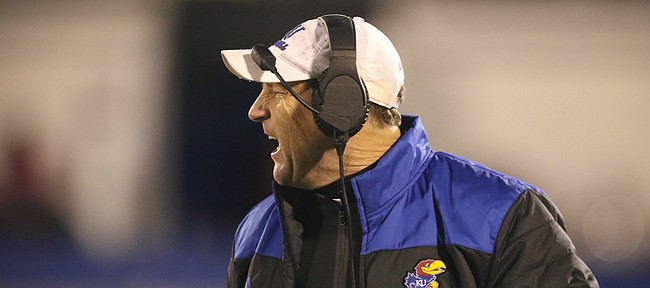 With a new NCAA rule allowing college football staffs to add a 10th full-time assistant coach going into effect this week, it appears University of Kansas head coach David Beaty has found his next hire.
FOX Sports' Bruce Feldman reported Thursday night the Jayhawks plan to bring on Jeremy Springer, a Texas A & M quality control aide for special teams and tight ends.
According to Feldman, Springer will work as KU's special teams coordinator.
That position had been manned the past two seasons at KU by Joe DeForest. Before DeForest joined Beaty's staff in early 2016, he coached safeties and coordinated the West Virginia defense, in 2012. DeForest then coached safeties at WVU from 2013-15, while also coordinating special teams for the Mountaineers.
A shift in responsibilities for DeForest moving forward, while remaining at Kansas, could be a possibility. KU hasn't announced any such move for DeForest, nor Springer as its newest assistant coach on Beaty's fourth staff at Kansas.
Springer is the twin brother of former KU linebacker Justin Springer.
Jeremy Springer played college football at UTEP, from 2009 to 2011.