Wednesday, January 10, 2018
Quick. Think back to Tuesday night's 83-78 Kansas basketball victory and count up all of the times you saw Bill Self's Jayhawks having fun on the floor.
Now think back to how many times you saw those kinds of images in the handful of games that came before Tuesday.
See the difference?
Photo Gallery
Kansas basketball v. Iowa State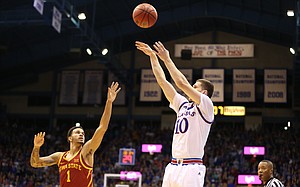 View a gallery of images from the Jayhawks' Tuesday night matchup against the Cyclones at Allen Fieldhouse.
The fun factor certainly was back inside Allen Fieldhouse during 12th-ranked Kansas' latest victory and both the home crowd and the Jayhawks themselves fed off of it.
"It has been missing," said sophomore guard Malik Newman, who tallied a career-high 27 points and was responsible for some of the Jayhawks' most enjoyable moments on Tuesday night. "We were discussing it before the game and even in shoot-around. The last two times we played in front of our fans, we hadn't been great. So tonight we wanted to come out and give them something to cheer about and have energy for and just feed off those guys."
Newman often filled his role by draining outside shots that did in the Cyclones. After one such jumper, the sharp-shooting Mississippi State transfer retreated to mid-court, waving his arms in the air to get the crowd even more into the game than it already was.
On two or three other occasions, it was senior point guard Devonte' Graham, whose big-moment reaction was the picture of emotion and fired up the building and KU's bench.
But while Newman and Graham each had their moments of fun, KU coach Bill Self said he thought the rest of the roster would do well to follow in their footsteps a little more.
"I think about five of them did," Self said. "I think there was still a couple or three that didn't. Svi (Mykhailiuk) and Devonte', they're seasoned. They're tough. Without question. But we have some mood swings with our other players and that's got to be eliminated or you're never going to max out. But I do think that was better (Tuesday night)."
The way Self sees it, having fun and bringing energy to the floor never should be a problem for the Jayhawks in their home building, particularly the younger players.
"I would think it would be harder for Devonte' and Svi to be geeked up than it would be a young kid," Self said. "You know, if I'm a young kid and I get to play in that atmosphere, I would be so excited each and every time. And I feel like Marcus (Garrett) and Udoka (Azubuik) and certainly Lagerald (Vick) and Malik can do a better job of playing to that."

"I think that we play cool to often and I don't know that it's intentionally. I just kind think that's our personality."
By playing to that, Self's not talking about hamming it up for the cameras after every shot. He's talking about playing with fire and passion and squeezing every drop of momentum and juice out of every play that creates it.
"I remember when I played, and if I was a freshman and I got to play in anything like that I would be so excited," he said. "You'd jump a little higher than you normally do, you'd definitely be quicker than you normally are and I don't think we're quite there with all eight of our guys yet."
One of the bigger offenders is Azubuike, whose rim-rattling dunks often fire up the crowd but rarely get the big fella going.
Asked if he would like to see more external reactions and demonstrations of fire from Azubuike after those big moments, Self responded with a simple, "Sure." He then joked that, on some occasions, like and-one free throw situations, Azubuike, might not be feeling to overjoyed because, "he's probably thinking about the free throw."
"I do think that I would like to see maybe some more of that," Self added. "I would like to see him rebound, though, too."
https://www.youtube.com/watch?v=GK9MjhVuwhY
https://www.youtube.com/watch?v=Hol83THSRSI
https://www.youtube.com/watch?v=s7ceLDEvmUY