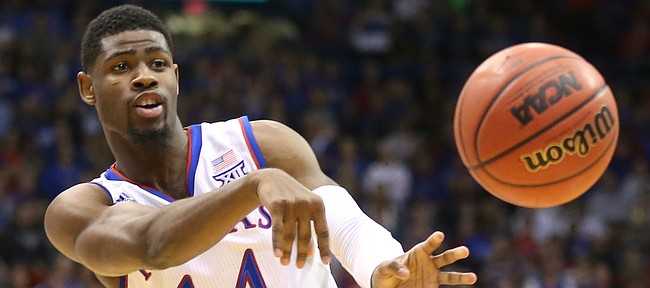 If someone told you a McDonald's All-American would join the Kansas basketball team in time for Tuesday night's game against Iowa State in Allen Fieldhouse, you would take that deal, right?
Wait, it gets better. The NCAA Clearinghouse has nothing to say about it, won't in any way restrict him from playing.
It could happen. Malik Newman could show up Tuesday night for Kansas and stick around for the rest of the season. As for what player has been wearing Newman's No. 14 jersey for the first 15 games of the season, nobody knows.
It hasn't been the player coach Bill Self watched drop jaws in practice during his red-shirt season at Kansas after transferring from Mississippi State.
"I didn't figure this last year at all, or this summer," Self said. "I thought he was one of our better athletes and certainly had a chance to be one of our better scorers, if not our leading scorer."
Instead, Newman ranks fifth on the team in scoring (9.9 points per game), lost his starting assignment to freshman Marcus Garrett the past three games, and is coming off a one-point effort that wasn't his season low in scoring. He went scoreless in 31 minutes at Nebraska.
Newman averaged 13.5 points six games into the season and scored a season-high 17 points in the final game of that streak, vs. Toledo. He had made 50 percent of his 3-point shots to that point. In the nine games since, he's shooting .243 from 3.
Beyond the shots not dropping, he just hasn't had that McDonald's All-American look to him.
"He's a thinker," Self said. "He's gotten slow because he's thinking too much. … I know that the reason for him not really playing as well or as productive of late isn't physical. He's just frozen from a mind standpoint."
Self then made a prediction.
"He'll play better moving forward," Self said. "We've talked. He knows we need him to play well. The players have told him what they need from him. The biggest thing is just confidence."
This week presents as a good an opportunity as any for a slumping player to get well because both games are at home and both visitors — Iowa State and Kansas State — are projected to finish in the bottom tier of the Big 12 standings.
Self said he had a talk with Newman recently and shared a bit of what he said and what outcome he had hoped that would trigger.
"I told him just be aggressive, try to score, don't worry about anything other than being aggressive, to try to free him up," Self said. "He's going to be fine, but he's probably hit a low point since he's been here for sure. I don't know. I can't speak for Mississippi State."
In his final eight games at Mississippi State, Newman averaged 22.3 minutes and just 6.6 points. He came off the bench in his final five games for Ben Howland's Bulldogs.
Newman averaged 13.1 points in his first 21 college games and then faded, making many wonder if Howland just wasn't the right fit for him. It would be tougher to make that case now.
Even when he was shooting well to start this season, Newman didn't have a breakout game.
"It hasn't gone as scripted," Self said. "If you look at it, he's still averaging 10 points a game halfway through the season. If we can get 12 to 14 out of him in the second half, I think we'll be in pretty good shape."
Self isn't looking for Newman to adopt the defensive-stopper role, but does want to see more out of him as a scorer. The coach talked about what Newman can bring to the team if he hits stride.
"I think he's got personality," Self said. "I think he brings energy to the court, but what he does is he can go get his own shot. He's never going to be Bruce Bowen (five-time, first-team NBA all-defense selection), but he can be a guy who can go get his own shot. He has gotten better defensively, but he hasn't been near as aggressive in making plays on the offensive end."
Newman can't solve the problems that come with KU's lack of size and depth as it awaits word on possible additions Billy Preston and Silvio De Sousa, but if Newman has as much potential as advertised, he can give the team a boost in a way that makes it feel as if a new player has been added to the roster.