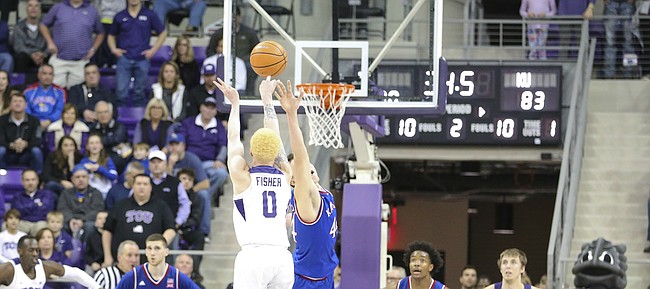 Fort Worth, Texas — Mitch Lightfoot doesn't always look as if he belongs playing minutes that matter for perennial national college basketball powerhouse Kansas.
Against bigger bodies he sometimes looks too small, too weak.
Too often he has the look of a playing-out-of-position backup center.
And then there was Saturday night in Schollmaier Arena, where Kansas survived ever-improving, former Big 12 doormat TCU, 88-84.
Lightfoot looked more like a savior in the close-call victory and his timing couldn't have been much better. Kansas needed him and he delivered.
Photo Gallery
Kansas basketball v. TCU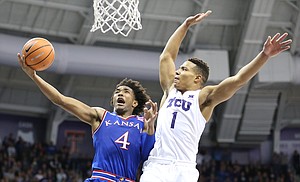 View a gallery of images from Saturday's game between the Jayhawks and Horned Frogs in Fort Worth.
"Mitch, we couldn't have won the game without Mitch," Kansas coach Bill Self said. "Mitch was fabulous."
The Horned Frogs didn't have anyone wide enough or thick enough to stop 7-foot sophomore Udoka Azubuike from scoring when he gained advantageous position.
Azubuike scored more than a point a minute, which made it all the more frustrating for him that he didn't have the chance to play many minutes.
Azubuike made 6 of 6 field goals and 2 of 4 free throws for 14 points. He also fouled out in 13 minutes of action. His foul trouble very easily could have cost the Jayhawks the game if Lightfoot hadn't ridden to the rescue, if he hadn't been the team's most valuable inside player on the night.
Lightfoot's turnover-free game included nine points, a 3-pointer, seven rebounds, and six blocked shots. Lightfoot made his last block his biggest one.
TCU sophomore guard Jaylen Fisher, limited by constant foul trouble to 14 minutes, time enough to tally 16 points, had a hot hand for the Horned Frogs, despite not being able to stay in the game for long stretches.
When Fisher had the ball with 32 seconds left, all 6,894 spectators in the intimate arena anticipated he would find a way to put up a 3-pointer. To that point, Fisher had made 4 of 5 treys. Another swish from the top of the key would have tied the game, 83-83.
Fisher eyed the rim. Lightfoot, who had switched onto him, eyed Fisher. In deliberate fashion, Fisher went up for the shot. Staying under control and at a safe distance so as not to risk a foul, Lightfoot easily blocked the shot, sending Kansas on its way to a strong finish.
Devonte' Graham (28 points, six assists), again the best player on the floor, had the ball in his hands most of the night, but from his point of view it belonged elsewhere at the game's end.
"He got the game ball for sure," Graham said of Lightfoot. "He was ready to come off the bench and produce. All coach asked him was to play hard, protect the rim and do the little things to help us win."
That's what Lightfoot did, but that's not all he did. He also showed off his shooting touch, hitting a 3 from the top of the key.
"Coach told me once the first one went in he knew I was putting up another one," Lightfoot said.
That one didn't go in, but that didn't keep it from being his night.
All nine of his points, four of his rebounds and four of his blocked shots came in the second half.
"That was a big block," Self said of the one that denied Fisher a shot at tying it, "but he had six. He was active. Mitch is a good athlete. He's just not real big."
Azubuike is big, too big for TCU to handle, but he got in his own way with foul trouble. KU played just as well with Lightfoot in the game, outscoring the Horned Frogs by three points during his 26 minutes. 
TCU grabbed 19 offensive rebounds and in part because of Lightfoot's efforts didn't convert enough of them into points to win the game.
---
More news and notes from Kansas vs. TCU
---