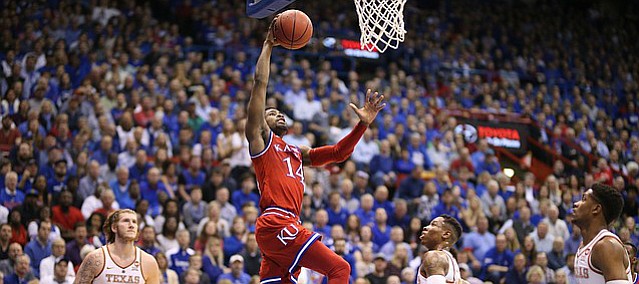 Shaka Smart's responsibilities as coach of the University of Texas basketball team include making his way to the scorers' table to do a postgame interview with the Longhorns' radio crew, win or lose.
It's one of his easier duties as coach, but this night came with a twist that made it a little tougher than normal after his team lost to Kansas, 80-70, on Monday night, Senior Night, the last night at Allen Fieldhouse.
"You see all the trophies lined up next to each other," Smart said. "It was almost cruel and unusual punishment."
The 14 trophies represent the longest conference winning streak in the history of college basketball. The aptly named Smart seldom is at a loss to explain anything, but that number almost tied his tongue.
Photo Gallery
Kansas basketball v. Texas (senior night)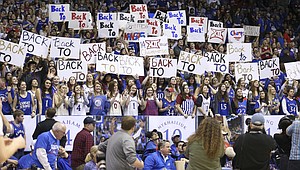 View a gallery of images from the Jayhawks' Monday night game against the Longhorns on Senior Night at Allen Fieldhouse.
"It's really unique because this league is so good," Smart said. "You look around the other big-time leagues and you just don't see that. Obviously, they have a a great home-court advantage, but it's more than that."
He listed some other qualities, but the more factors he listed, the more he seemed at a loss to explain how it all adds up to 14 in a row.
"They have a phenomenal coach and coaching staff, really good talent, even this year," Smart said. "The guys know who they are and what they need to do for the team and they seem to have a single-minded purpose. Even with all that, you have to do a lot more than that to win 14 in a row."
Think of all the obstacles that stood in the way of Kansas breaking a tie with UCLA, which won 13 conference titles in a row.
Oklahoma created a November/December buzz thanks to freshman point guard Trae Young's crazy vision and shooting range.
Texas Tech's unheralded, high-flying freshman duo of Jarrett Culver and Zhaire Smith led the Red Raiders to a 12-point victory in Allen Fieldhouse on Jan. 2 and went on to show that game was no fluke until fading when senior star guard Keenan Evans suffered a toe injury.
Always tough West Virginia took a turn in the national spotlight by defeating Virginia, which has lost just twice this season.
McDonald's All-American Billy Preston, a potential starter, never played a minute, driven out of college basketball by a Dodge Charger, the money with which it was purchased never quite explained well enough for him to earn eligibility, which led him to end his wait and head overseas to play professionally.
Signs that this could be the year that the streak ended started to pop up during recruiting season. Most recruiting analysts predicted Kansas would land center DeAndre Ayton and point guard Collin Sexton, but at the last minute, Ayton headed to Arizona, Sexton to Alabama.
That left Devonte' Graham as the lone point guard on the roster; Udoka Azubuike, with all of 11 games of college basketball experience, as the only center.
A lack of depth, it seemed, would prevent Kansas from title No. 14.
Wrong.
"It takes five guys," Smart said. "They definitely don't have a lot of depth, but they've got a really good five out there at any given time and they obviously have (Marcus) Garrett and (Mitch) Lightfoot to come off the bench, and (Silvio) De Sousa a little bit. They didn't have margin for error all year long and they've been fortunate, not losing anybody (to injury). The guys know their system, know their roles."
Kansas coach Bill Self found a solution to the lack of depth at point guard. He played Graham 40 minutes night in and night out.
Azubuike steadily improved throughout the season to become the player he was Monday night. He dominated a Texas team playing without shot-blocking monster Mo Bamba, one of the nation's top big men. Azubuike dropped 20 points, eight rebounds and five blocked shots on the Longhorns.
"He's a tough matchup because if you double him, they really make you pay," Smart said of Azubuike.
Kansas made 7 of 16 3-pointers and with the emergence of Azubuike give opponents a no-win, pick-your-poison choice on how to defend the Jayhawks, the greatest defenders of conference titles in the history of college basketball.
---
---
---
---
More news and notes from Kansas vs. Texas
---