It turns out that KU's two-point victory over Texas Tech last weekend in Lubbock, Texas, was worth more than Kansas clinching a share of Big 12 title No. 14 in a row.
It also was worth the No. 6 spot in this week's Associated Press Top 25.
Powered by their victory over then-No. 6 Texas Tech, the Jayhawks jumped up two spots to No. 6 in this week's poll. Texas Tech, meanwhile, fell six spots to No. 12.
No. 20 West Virginia rounded out the Big 12 teams in this week's Top 25 by moving up a spot from last week, and TCU and Oklahoma both received votes.
Photo Gallery
Kansas basketball v. Texas (senior night)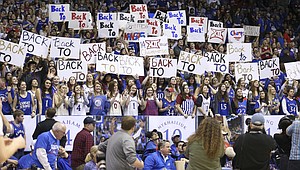 View a gallery of images from the Jayhawks' Monday night game against the Longhorns on Senior Night at Allen Fieldhouse.
KU sits behind a top 5 of Virginia, Michigan State, Xavier, Villanova and Duke, yet the Jayhawks remain projected as a No. 1 seed in the upcoming NCAA Tournament by ESPN's Joe Lunardi in his Bracketology feature.
Entering Monday, Lunardi had eight Big 12 teams (everyone but Iowa State and Oklahoma State) in the field of 68, with both Baylor and Texas in the "Last Four In" section.
Bye, Bob
Seniors Devonte' Graham, Svi Mykhailiuk and Clay Young saying goodbye to Allen Fieldhouse for the final time on Monday night drew plenty of recognition.
But a man who had been working games in KU's home building for twice as long as that trio combined also signed off for the final time in his 34-year career on Monday.
Jayhawk Radio Network producer/engineer Bob Newton, who has been a fixture with KU Athletics and worked games for three different head coaches and with more than half a dozen different broadcasters since 1984, ran the board for the last time inside Allen Fieldhouse.
Newton, who will turn 70 next month, will continue to work with the team through the rest of the season and will call it quits for good after the spring football game in April.
Newton's son and daughter, Bill and Christy, flew in for Monday's game to surprise him before tipoff.
Weekly honors
Graham picked up a handful of weekly honors for his monster week last week, earning the Big 12 Player of the Week nod and The Naismith Trophy's Player of the Week honor.
In wins over Oklahoma and Texas Tech, Graham averaged 24.5 points per game and carried Kansas to two key victories.
For the season, he is averaging 18 points, seven assists and four rebounds per game, and he is on pace to become the first KU player ever to average seven assists and double-digit points in the same season.
He already is one of just three players in Kansas basketball history to record 1,500 points, 500 assists and 175 steals in his career.
Joining Graham in the weekly honors was sophomore Malik Newman, who was named co-Big 12 Newcomer of the Week after averaging 16 points per game against OU and Texas Tech.
Andrew Jones update
Texas guard Andrew Jones, who has missed most of the 2017-18 season after being diagnosed with leukemia in early January, was released from the hospital on Saturday night and has started receiving treatments on an outpatient basis.
"My doctors tell me I am continuing to show improvement and that is really encouraging," said Jones, who actually played against KU in the first meeting on Dec. 29, scoring five points in nine minutes. "I'm really thankful for all the love and support that has been shown to me and my family. It has truly been overwhelming."
At least some of that love has come from Lawrence, where Jones' friend and former foe, Marcus Garrett, is nearing the end of his freshman season.
Asked recently about his relationship with Jones, Garrett recalled battles on the high school hardwood.
"He's a great competitor," Garrett said. "He wants to win more than he wants to lose. That's all you can ask for."
As for how closely he has been following Jones' battle with leukemia, Garrett said he's been watching closely on Instagram and Twitter.
"So I've been following him and just praying for him, hoping that he can recover well," Garrett said.
The Jayhawks on Monday wore warmup T-shirts that read "Jayhawks Hope Fight Cure" with the initials "AJ1" on the backs.
This and that ...
KU's victory on Monday night gave the Jayhawks 24 victories for the 13th consecutive season and delivered KU's 18th outright Big 12 Conference championship (in 22 seasons) and NCAA-record 61st regular season conference championship overall ... The Jayhawks now are officially the No. 1 seed in the upcoming Big 12 tournament, March 7-10 in Kansas City, Mo. ... KU leads the series with Texas 31-8, including a 14-1 mark in Allen Fieldhouse ... KU finished the season 14-3 at Allen Fieldhouse, making the Jayhawks 243-13 at home under Bill Self and 771-113 all-time in the venue.
---
---
---
---
More news and notes from Kansas vs. Texas
---